Produce Quality Content
The most important step in your efforts to grow your business with Instagram is to create high quality, engaging content. As mentioned in the previous chapter, Instagram favours content that they think is likely to engage users. Therefore, you need to produce and post content that your audience is going to engage with. Once the algorithm knows that you produce content that people like, it will favour your content over other accounts and put you in front of new audiences.
What makes good content is individual to businesses and varies across industries. Whilst Instagram says that the platform doesn't favour video content, a video or a simple GIF is more likely to capture a user's attention and can be a great way to communicate important information without requiring the user to read your caption.
Learn how to create Insta moments in your venue
Post Frequently
As important it is that you post high quality content, it is important that you post consistently on your page. There is a couple of reasons for this.


1. Algorithm
Yet again we have to bring up the algorithm, but it is important to understand how it works in order to be successful on Instagram. Just as the algorithm favours accounts that post quality content, it will favour accounts that post regularly.
2. Your Followers
People follow your account because they like your brand, and while no one wants to follow a page that spams their feed, what's the point in following an account that never posts?
Use Hashtags
By using relevant and targeted hashtags, you can increase the reach of your posts and get discovered by new people, which in turn translates into more engagement, new followers and, hopefully, new customers for your business. Hashtags organise and categorise content and via Instagram's search tool, you can search for specific hashtags or tags as the App calls them, to find content that has used that specific hashtag. As with everything, there are best practices to follow.
1. Number of Hashtags
While you can use up to 30 hashtags on Instagram, many marketers are of the opinion that it looks spammy and recommend that you keep it around
3
-
5
t
ags per post.
2. Use Branded Hashtags
To help create awareness of your brand and build up a content bank under a hashtag, use branded hashtags related to your products or services. It can be as easy as your business name or you can create a hashtag for a certain product or a specific campaign. Remember to keep them short and simple so that they're easy to remember!
3. Use Relevant Hashtags
You want to use hashtags that can connect you to potential customers so if you're a local business, consider using location-based hashtags. For example, if you're a restaurant in Sydney, you may look at using hashtags like #sydneyrestaurant and #sydneyeats. As a general rule, try to avoid using broad hashtags with huge amounts of posts, like #food (515 million posts), as your content is unlikely to get found.

4. Post Your Hashtags at the End
Add your hashtags at the end of your post and preferably separate them from the caption with a minimum of one line of space, we like to use three lines, to make it easier to read and look better. To insert lines, press return, add a full stop, hit return again and repeat.
Use Geotags
Not completely dissimilar to a hashtag, a geotag is the specific location of where you or users store the Instagram content. If you have a physical location, add it when you publish your posts. Whether you're a local business or a global brand, using geotags can be used to increase reach. The geotag allows you to showcase your products and offerings for current and potential customers who may look at the tag. It's also a good way for you to interact with people who have visited your business and to try and convert them into followers.
Post at the Best Time for Your Audience
If you know when your audience is on Instagram, you can post your content at this time and your posts are more likely to make it into their feed. To find out what the best time for your audience is, head to the Professional dashboard, click on Total followers and scroll to Most active times. Here you can see spikes in your Instagram engagement, allowing you to pinpoint the days of the week and the times of the day that your audience is most active.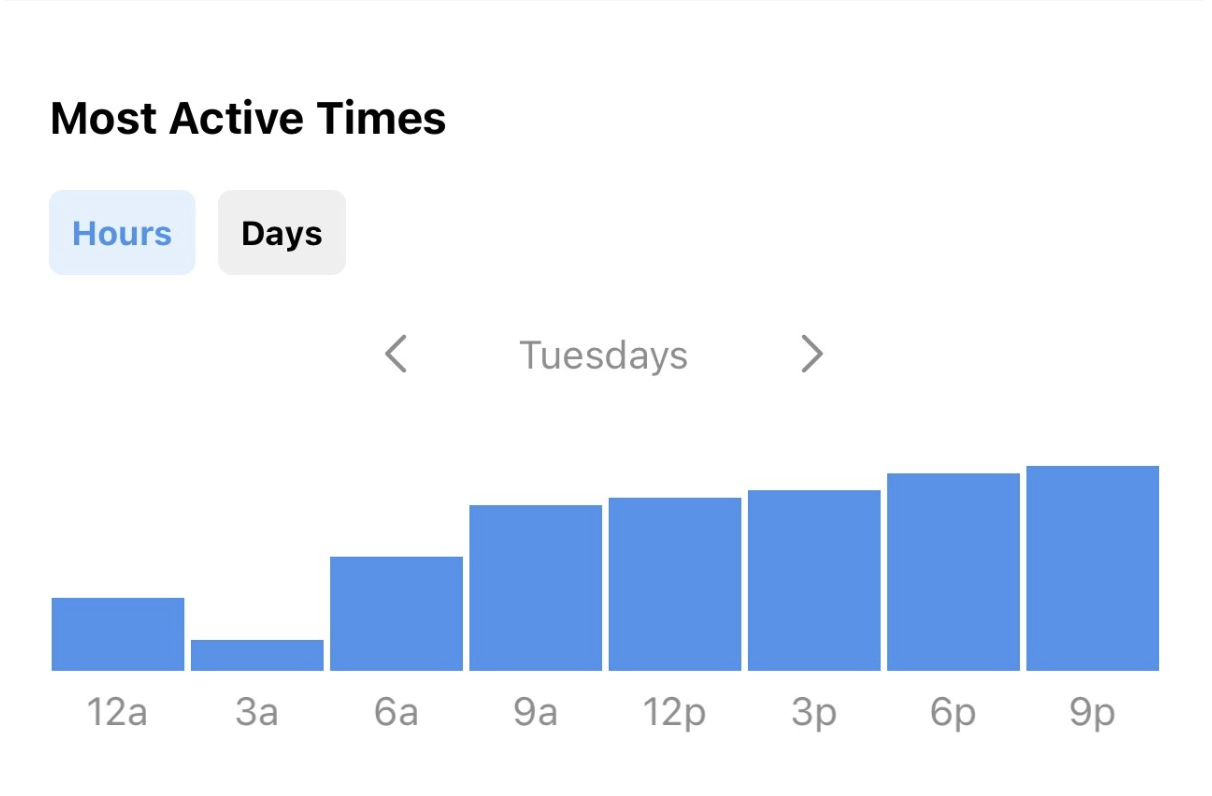 Post User-Generated Content
User Generated Content (UGC) is any content created by people rather than businesses, and it's one of the most effective ways to increase your engagement and reach. UGC is more authentic as it comes from customers and can help your business with credibility. Additionally, UGC posts traditionally have a higher engagement rate and conversion rate than non-UGC posts.
The best way to find UGC on Instagram is via the geotag of your business, that is if you have a physical location; posts that you've been tagged in; and via your brand's hashtags. It's also important to engage with UGC as it may help you grow your following.