Facebook is a major part of people's lives and Facebook advertising is an important tool for businesses to connect with their audience. As we discussed in the previous chapter, the Facebook algorithm can make it difficult for you to organically reach your audience but with Facebook ads you can get your content in front of not only your audience but the people who are most likely to be interested in your business.
Exposure
The fact is that there are over 1.6 billion daily active users on Facebook, and these active users are potential customers. Showing your ads to this massive user base with the ability for them to share the ad to even more potential customers give you very high exposure.
Targeting
The information that Facebook holds gives you the ability to target your exact audience. You can specify age, gender, interests, behaviour, location, and much more, to target who you want to see your ads.
Cost and Speed
Advertising on Facebook is much cheaper than traditional forms of advertising such as billboards and television commercials. It is also much faster than traditional advertising as it is instant, with no waiting on production and print turnaround.
Reporting
Unlike some other forms of traditional advertising, Facebook Ads are completely measurable. All the data is laid out for you to see. The reports are also in real-time, allowing you to see the most up to date information on your ad campaigns. Real-time reports give you the ability to make changes if the ad campaign is not performing well.
For more information on why you should advertise on social media in general, check out our blog here on the 10 Benefits of Social Media for All Businesses.
Get Started with Facebook Ads
In order to get started with Facebook Ads you must create a Business Manager account and an Ad Account. We also recommend that you create and install a Facebook Pixel before you get started, as well as understand the difference between a boosted post and an ad.
Facebook Business Manager
The Business Manager is a tool that helps you manage your business and you can't create Facebook Ads without the Business Manager. To create an account, follow the below steps but please note that you need to have a personal Facebook account to verify your identity.
Go to facebook.com
Click Create account
Enter the name for your business, your name and your work email address.
Enter your business details and click Submit
Ad Account
The final step you have to do in order to set up a Facebook Ad is to create an ad account within the Business Manager. Your Ad Account must be linked to a credit card or a PayPal account for payments.
Go to Business settings
In the left column, click Accounts and click Ad Accounts
Click + Add
Choose one of the options presented: Add Ad Account, Request access to an Ad Account or Create a new account.
Follow the prompts to complete the set up.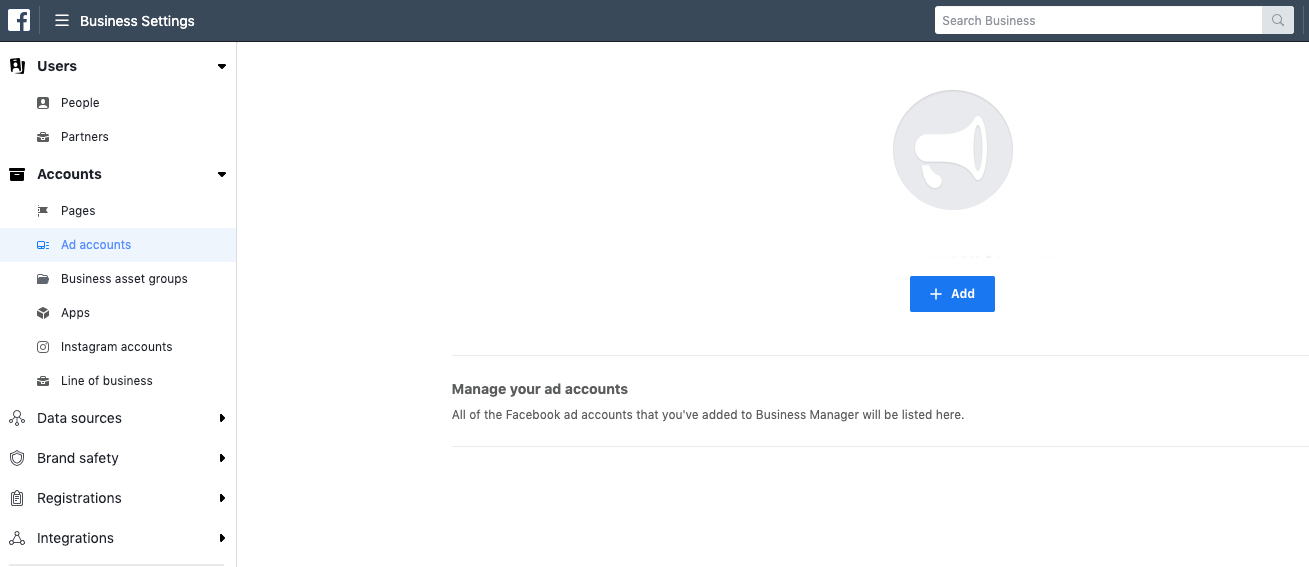 Facebook Pixel
The Facebook Pixel is a code that you install on your website to collects data that will help you track results from your Facebook ads and allows you to build audiences for future ads and remarket to people that have already shown interest in your business.
Even if you're not using Facebook ads at the moment, you should install the Facebook Pixel as it will be helpful for you if you decide to so do as it starts collecting data as soon as it's been activated. Learn how to do it here.


Boosted Post vs Facebook Ad
Depending on the goals of your business, you may find that boosting posts are sufficient to reach your objective. Other times, ads are required.
Whilst a boosted post is still considered an ad, a boosted post is a post published on your business page that you add money to in order to promote it to a targeted audience. This is the simplest way to advertise and you boost the post directly from your business page, and as such boosted posts don't require that you have Ads Manager. When you boost a post, you select your audience, a call to action, your budget and the duration of your campaign.
A Facebook Ad on the other hand, can only be created through Ads Manager and offer more advanced solutions than boosted posts. Generally speaking, if you want engagement or to increase brand awareness, boosting a post is a great way to increase the visibility but to create more advanced campaigns, Ads Manager is preferred. For best results, use a combination of boosted posts and Facebook ads.
Learn more about the difference of Boosted Posts and Facebook Ads.
Set Up Your Ads
Once you've set up your Business Manager Account and Business Page, you can follow the below steps on how to create a Facebook Advertising Campaign. Facebook advertising campaigns can be broken down to three parts; campaign, ad sets and ads. You need all three to run an ad. Learn more about the different terminology in the Ad Glossary.
Choose a Campaign Objective
The very first step in creating an ad is to choose a Campaign Objective. Choosing the right campaign objective is what will decide if your campaign is successful or not. The objective needs to serve your overall goal with the campaign and tells Facebook how and where to spend your budget to get you the best results. There are three objective categories with further objectives within.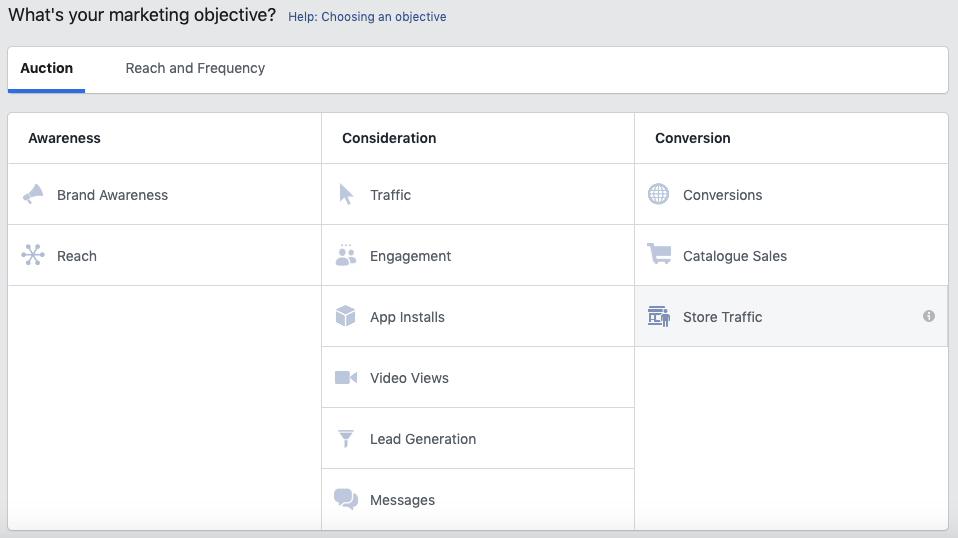 Awareness
As the name suggests, this objective aims to increase awareness about your business and offering.
Brand Awareness: Increase people's awareness of your business, brand or service.
Reach: Show your ad to as many people as possible in your target audience.
Consideration
The consideration objective wants people to think about your business and seek more information.
Traffic: Drive people from Facebook to a URL, such as your website's landing page, a blog post, app, etc.
Engagement: Reach people more likely to engage with your post. Engagement includes likes, comments and shares.
App Installs: Send people to the shop where they can download your business's app
Video Views: Share videos of your business with people on Facebook most likely to watch it.
Lead Generation: Collect leads for your business. Create ads that collect info from people interested in your product, such as sign-ups for newsletters.
Messages: Connect with people on Facebook, communicate with potential or existing customers to encourage interest in your business.
Conversions
Basically, this objective is used to encourage people to take action on your business.
Conversions: Encourage people to take a specific action on your business's site, such as having them to add items to a cart, download your app, register for your site, or make a purchase.
Product Catalogue Sales: Show products from your e-commerce store's catalogue to generate sales.
Store Visits: Promote your brick-and-mortar business locations to people that are nearby.
2. Choose Your Audience
There are many ways to target your desired audience. One of which is to use the demographic and interest options. This is usually utilised when targeting new people who haven't previously interacted with your business. Demographic constraints include location, age, gender and language. You can further define this audience in the Detailed Targeting section, which allows you to choose thousands of different demographics, interests and behaviours. For example, you could target a 45-50-year-old man that has recently moved and is interested in cricket.
The second way of targeting your desired audience is by using Custom Audiences.
Custom Audiences allow you to target people who have already had an interaction with your business, whether through Facebook, Instagram, your website, your email marketing and more. There are a number of categories of Custom Audiences to choose from:
Customer File: upload or import a data list and Facebook will cross-match it to find their Facebook profiles.
Website Traffic: using the Facebook Pixel and conversion tracking, you can target to those who have visited your website.
App Activity: target people who have completed a specific action in your app
Engagement on Facebook: target people who have interacted with your content on Facebook, including events and video content.
Engagement on Instagram: target people who have interacted with you content and profile on Instagram.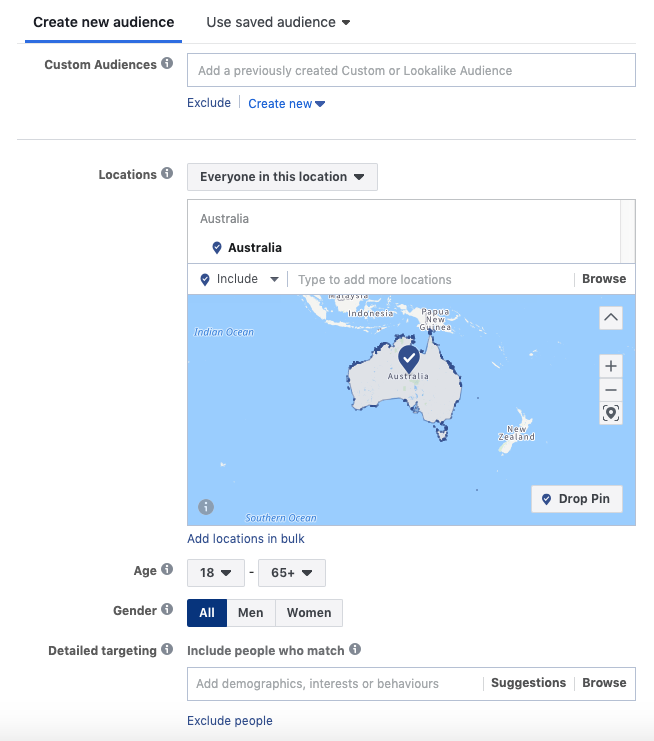 3. Choose Your Ad Placement
Ad Placements are the places where your ads appear and includes Facebook, Instagram, Audience Networks and Messenger, which give you access to extend your ad reach away from social media and into apps and websites. Each placement has further placements within as Instagram Feed and Instagram stories etc.
Knowing the best placement is important as it allows you get the best results but if you've only just started using Facebook Ads, it may be difficult to know what placement works best for you. Facebook will choose Automatic Placements by default and a good way to select your placement is to consider your target audience and where you think they are more likely to spend time and attention.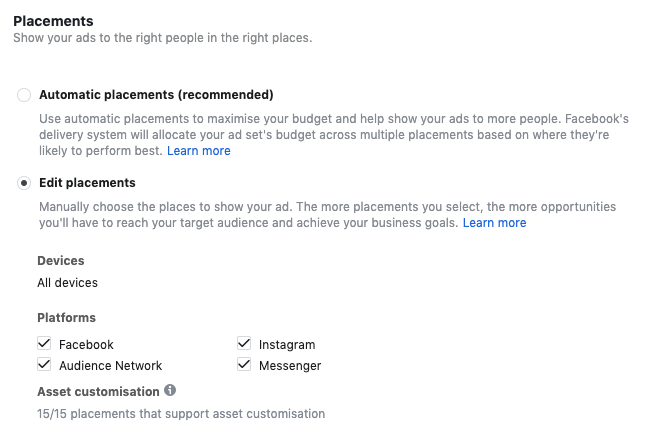 4. Choose Your Budget
As the name suggest, the budget is the amount of money that you want to spend for people to see your ad and there are two types of budgets.
Daily Budget: The ad will run continuously throughout the day, and Facebook will pace your spending per day.
Lifetime Budget: The ad will run at a specified length of your choosing. Facebook will pace your spending for this set time period.
Within budgeting you can also access the following features:
Scheduling: Customise start and end dates as well as hours of the day and days of the week you want your ad to show.
Optimisation and Pricing: You are able to choose if you want to bid for your object, clicks or impressions. You are also able to choose between lowest cost and target cost bidding, with lowest cost getting you the lowest cost results and target cost will make your bid meet that cost on average.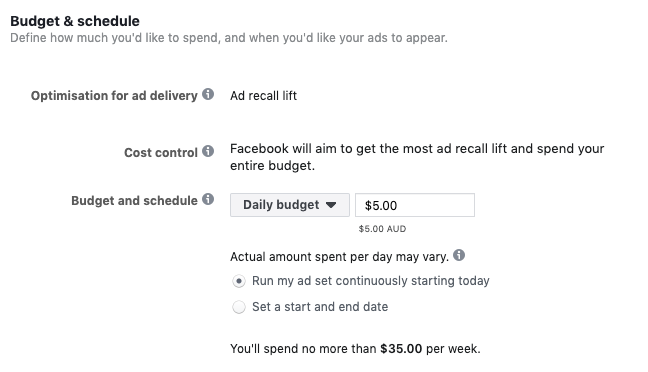 5. Create Your Own Ad
The final step of setting up your ad is creating the actual ad, I.e. select your image or video, write the copy and select where you want to direct people. Just like there are different formats for Facebook Page Posts, there are a number of options for the creative of your ad.
To ensure that ads are visually appealing, Facebook allows you to customise the ads for different placements and you can upload photos and videos with different specifications to best suit your placement.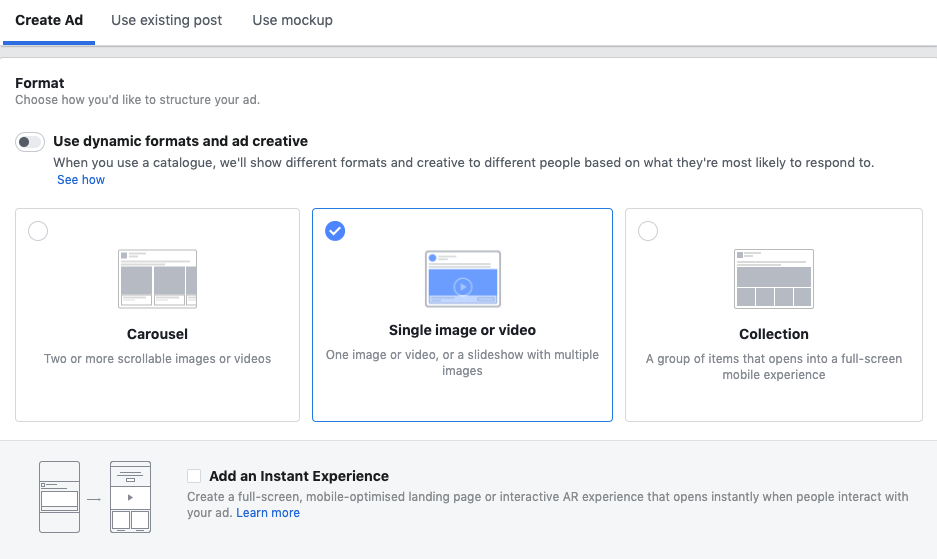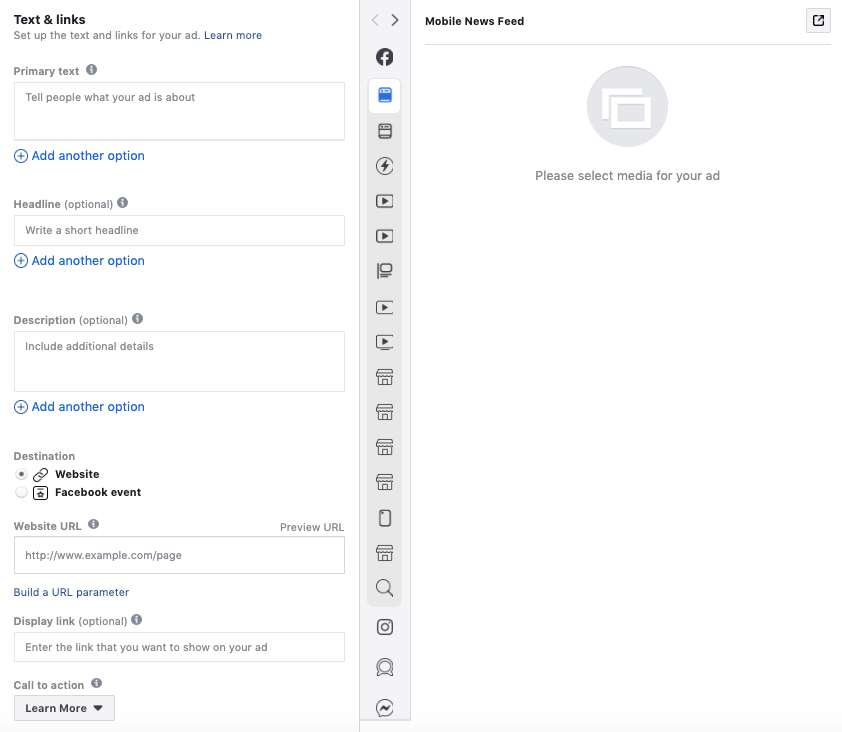 Measure Ad Results
As with all advertising it's important to analyse your Facebook ads results to measure the effectiveness of your ads, but also to be able to create better ads in the future. Facebook Ads Manager collects a range of ad performance data, presented in Ads Manager, but it can be tricky to know what figures to look at and whether they should be considered successful or not. By selecting a few key metrics and setting up a custom report in Ads Manager, you will be able to get a quick overview.

Metrics
Impressions
The Impressions tell you how many times that your adverts were seen. It may include multiple views by the same people.
Reach
Reach shows you the number of people who have seen your ad at least once. It won't count the same person twice. Your Reach is affected by your budget and targeting so if your reach is low that's an indication that you may have to spend more money or broaden your audience. However, this depends on the objective of your ad and if your targeting is very specific, if you're only advertising to people that have already engaged with your website for example, a lower reach is to be expected.
Clicks (All)
When Facebook talks about clicks, they refer to all clicks on an ad including post likes, comments, shares, link clicks etc.
Link Clicks
Link Clicks is perhaps one of the most valuable metrics to look at, especially if you campaign objective is Consideration or Conversions. Link clicks are the number of times someone clicked on a link within your ad that led to the destination you selected. It's a good metric to measure the interest that your ad generates.
CPC (all)
CPC is short for cost-per-click and the number tells you how much you on average are spending for a click on your ad.
CPC (cost per link click)
The average cost you spend for a link click. If this number is high, it's an indication that your ad isn't converting and you may want to review your ad creative and copy.
Cost Per 1,000 Impressions (CPM)
The average cost to show your ad 1,000 times. This number is likely to fluctuate from day to day and some days it may be cheaper. Basically, it's about supply and demand so try and mix up your audiences to get it to a point you're happy with. This number is related to your overall ad budget and your targeting.
CTR (all)
The CTR, short for click-through rate, shows the percentage of people clicked on your ad compared to how many impressions it had. Average CTR in Facebook ads across all industries is 0.90%.
CTR (link click-through rate)
The CTR shows the percentage of times people saw your ad and clicked on a link.
Frequency
This metric will tell you the average number of times each individual has seen your ad and is calculated by Impressions divided by Reach. It's important to keep an eye on the Frequency, as a high frequency means you're oversaturating your audience and they may stop paying attention or even hide it.
Underperforming Ads
As with all marketing, it's not always that your Facebook ads will perform the way you want them to and they may not be anywhere near achieving your business goals. The good news is, underperforming Facebook Ads can be fixed (or turned off) and the disappointing results can often be explained by a few common mistakes.
Design
One of the main reasons for an ad to underperform is usually related to the design of the ad, I.e. the images, graphics or video that you have used. The primary job of the creative is to capture peoples' interest so think about the objective of the campaign and your audience when you review your design and ask yourself the following questions:
Will someone stop scrolling to view this image or video in their News Feed?
Have we used our own content, instead of generic stock photos?
How much text is on my image & is it relevant to the intended action?
Does the image appear to be high quality?
Does the image reflect our branding?
Copy
Another vital part of your ad is the ad copy. Your ad may have a great strategy and creative, a well-defined audience and a solid budget, but if the copy is lacking, that can really break your ad. People have short attention span and your copy has to be clear and easy to understand. Again, think about your objective and your audience and perhaps ask a friend, colleague or copywriter to look over your copy and see if it resonates in the way you would expect. Don't forget to check for any spelling mistakes!
Audience
Perfecting the Audience can be the hardest part of running Facebook ads and it's important that you really think about who your customers are. If your ad isn't performing, take a close look at your audience, can you narrow it down further or should you expand it?
If you're finding it difficult to figure out what interests to add, the Business Manager has a useful tool, Audience Insight. This tool allows you to add in the location, gender etc. of your audience as well as interests, and Facebook will tell you what other interests people that match that criteria may have, as well as what pages they may like.
To access this tool:
Click on the icon in the top left corner
Under Plan, click Audience Insights.
Budget
To have a successful Facebook advertising campaign, you need to look beyond the quick, low-cost of the 'Boost Post' button and try a more complex approach, which also often means that you need to up your budget. If you're not able to increase your Daily or Campaign Budget, cut down your ad sets. That way you can allocate more budget to the right ads, to get them in front of the right people.
Frequency
Just as mentioned under Metrics, you must look at the Frequency. If you have great impressions but not a lot of clicks, your frequency may be too high. Even if you see an ad five times, you may only click on it once.
Start over
If all else fails, stop the ad and start again. Perhaps try with another objective, new creative and rewrite the copy. Sometimes you need a fresh start but remember to take the lessons learned from previous ads into consideration.
Want to know how we can help you and your business with our Facebook marketing services?