Your owned channels refer to channels that your business created and as such have full access to. You decide yourself how you portray your brand, what content you share and when you share it on these channels. Your owned channels are the cornerstone of your marketing and it's vital that you spend time and effort on building them. The downside is that it can be time consuming to manage your channels and difficult to see results without a strategy.
Website
Your website is one of your most important channels and is often one of the first points of contact with your customers. Think of your website (and your other digital channels) as a billboard and ask yourself the question – if this was a billboard that I paid for, what would I say and how would I say it? Whatever the answers are, they should be applied on your website and remember, you may just have one shot to make a good impression so when you build or update your website, it is important that you consider the following:
Branding
It is important that you always stick to your business' branding and with branding we're not just referring to your logo but to your menus, the in-venue collateral, your tone of voice and even the atmosphere you have in venue. Ultimately, you want the website to communicate your brand story and what people can expect when they visit your venue. Think about your brand, what it is, how you want it to be perceived and how it is perceived before you design your website.
Photos
Have you ever been to a website that has a blurry photo of food, very obviously taken by a mobile phone with poor lightning, and thought to yourself - I must try this place? You probably haven't and neither have other people. It may seem like a big cost but we can't stress the importance of professional photography enough. Invest in quality images for your website and ensure that your website is visually appealing and why not try and combine your photos with videography. However, ensure the photos are an accurate representation of what the product looks like in real life. We've all seen an Instagram vs Reality photo of a Big Mac and it isn't pretty.
Copy
The text on your website is just as important as your imagery as it helps with SEO and with telling your brand story. It's important that you write the text aligned with your brand's voice and that it is written to your targeted audience. Don't forget to check for spelling mistakes!
Correct Information
Always make sure that the information on your website is correct. This includes everything from your contact details and opening hours to menus and specials. Not only will it annoy your customers if the information is incorrect but it also hurts your SEO.
Customer Experience
It is important that you think about your website from your customers' experience. Is it responsive? Is the menu easy to find? Is it easy to contact you or to make a booking? People have little patience and if it's not working or they can't find what they are looking for, chances are they'll move on.
SEO
The final point to consider is your SEO (Search Engine Optimisation). In simple terms, SEO is the process of improving your website's performance in organic search engine results. Search Engines has 'crawlers' that go through websites and gather all the content they can find on the internet in order to build an index. The index is fed through an algorithm that will try to match the data available with your search query. Basically, you want to make sure that your website shows up when people search for key words related to your products and services.
There are a range of steps to follow to improve on-page SEO but a good start is to go through the below checklist:
Relevancy:

research keywords and update your website regularly to include the keywords that people are searching to find your product and service.

Accuracy:

make sure your website isn't full of spelling mistakes and broken links but check that everything is working and that the website loads quickly.

Mobile friendly:

it's important that your site is optimised for mobile as Google will favour mobile-friendly websites.
Social Media
As of 2019, 3.5 billion people used social media on a daily basis and the usage is continuing to increase. While your website previously was the very first point of contact with a customer, many people now utilise social media first. 90% of Instagram's users follow at least one business, and 60% say they discover new products or services on Instagram. Needless to say, social media is an effective and cost-efficient tool to target new and current customers and should be utilised by all businesses. By combining photos and videos with text and links to your website, you can effectively communicate your offering and for best results, your social media accounts should be updated frequently. Social media is also regarded as the new SEO, as Google reads social media websites for data just as it does for any other website.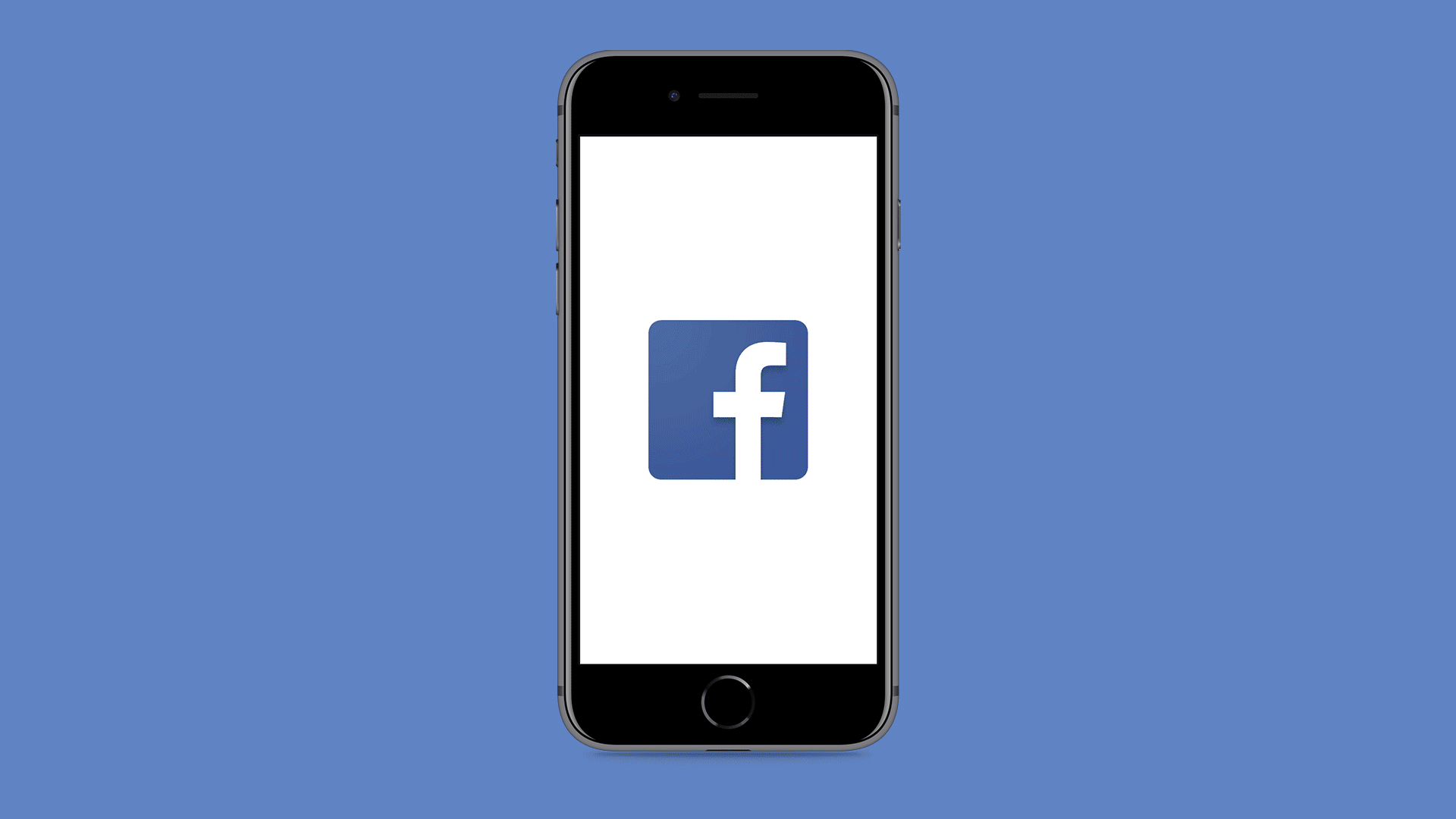 Read more about the benefits of Social Media.
Facebook
Facebook is the biggest social network in the world, the world's third most used website and was the eighth most downloaded app from the Apple App Store in 2019. Since launching in 2006, Facebook has provided businesses with a way to easily reach existing and potential customers and it comes as no surprise that there are over 90 million business pages on Facebook.
Facebook is a great tool to communicate your business' offering and upcoming events and you should regularly share content on your Facebook page. There are a number of different post types available and you can choose to post immediately or schedule posts for later, making it easier to maintain consistent posting.
As a business, you can advertise on Facebook and it's an important tool to connect with your current and potential customers. The Facebook algorithm can make it difficult for you to organically reach your audience but with Facebook ads you can get your content in front of not only your audience but the people who are most likely to be interested in your business.
Learn more about using Facebook for your business in our guide HERE.
Instagram
Instagram is one of the most popular social media platforms (after Facebook and YouTube) and has over 1 billion active users every month. It has proven to be a powerful marketing tool and if your business isn't on Instagram, you might be missing out on valuable customers. Before you get started using Instagram for your business, you need to make sure you have a business profile to get access to tools and functionality that a personal profile doesn't have, as analytics, advertising and more.
Much like Facebook, Instagram is a great platform to communicate your brand and offering to your audience. You should post frequently on your feed and stories and as Instagram is more visually oriented, you should aim to create high quality, engaging content. Find out more on scheduling Instagram posts with Bulk.ly's guide.
Learn more about how you can use Instagram for your business in our guide HERE.
LinkedIn
Whilst LinkedIn is popular amongst big brands, particularly to strengthen employer value proposition (EVP) and brand reputation, it may not be a suitable marketing tool for hospitality venues. It is certainly worthwhile to set up a business page for recruitment purposes and to further strengthen your online presence. It won't hurt sharing content but let's be honest, you are not likely to increase the number of patrons in for happy hour by posting on LinkedIn.
Snapchat
In June 2019, Snapchat had 210 million daily users and it's undoubtedly a popular platform, especially among millennials and Generation Z. So, is Snapchat suitable for you? Again, the answer depends on your audience, your brand and what you are trying to achieve. If you are operating a nightclub and are targeting a younger demographic, perhaps Snapchat is a great platform for you but if you are targeting a slightly older demographic, it is probably not worth your time. Don't use Snapchat just because you think that you should but let your target audience and brand inform the decision. If you do decide to use it, let your audience know that you exist on the platform and make sure you keep the content authentic, casual and fun.
Twitter
Since launching in 2006, Twitter has been a powerful social networking tool and has widely been used by people, celebrities, global brands and news magazines etc. In June 2018, Twitter had over 236 million average monthly users and there are no doubts that you can reach a large audience on Twitter. In our opinion however, it is not worth the time for hospitality venues to be on Twitter and with the rise of Instagram, which is a lot more visually appealing, it's hard to see the benefits. That being said, Twitter can be a good platform for a reputable chef or bartender as a complementary platform to share news and recipes.
Pinterest
While Pinterest certainly is a great platform to find inspiration and share content that links back to your website, it really is only of value if you upload content with popular keywords, if you frequently share content, perhaps recipes, on your page or if you have an e-commerce for cookbooks, merch or similar.
If you are going to use Pinterest for your business, it's essential that you always include a link to your website to drive traffic.
TikTok
A new player to the game in late 2019, TikTok is a video sharing app. While it's impossible to cover every one of TikTok's categories of contents, some of the top types of content are comedic skits, lip-synching, memes and hashtag challenges.
TikTok boasts 500 million monthly active users worldwide, and according to Oberlo, it took Instagram six years from its launch to get the same amount of monthly active users that TikTok achieved in just under three years. As of the first quarter in 2019, TikTok is the most downloaded app in Apple's App Store with 33 million downloads in a single quarter. 
Learn more about TikTok in our guide HERE.
Email Direct Marketing
Email Direct Marketing (EDM) can be an effective tool to communicate with your existing customers. The people on your mailing list have voluntarily signed up to receive emails (if you're following the privacy laws that is) and are what we consider "hot leads". They are likely to be interested in new offerings and events and you should actively work on building your database.
When you send out an EDM there are a few things to think about:

Subject line:

make sure you create a subject line that entices people to open the email and read more.

Structure:

structure your EDM by using clear headlines and call-to-actions.

Content:

keep it short and sweet! If you add too much information you run the risk of overwhelming the readers and it's better to keep the copy straightforward and direct people to your website for more information.

Images:

use images to break up the copy and to keep people interested.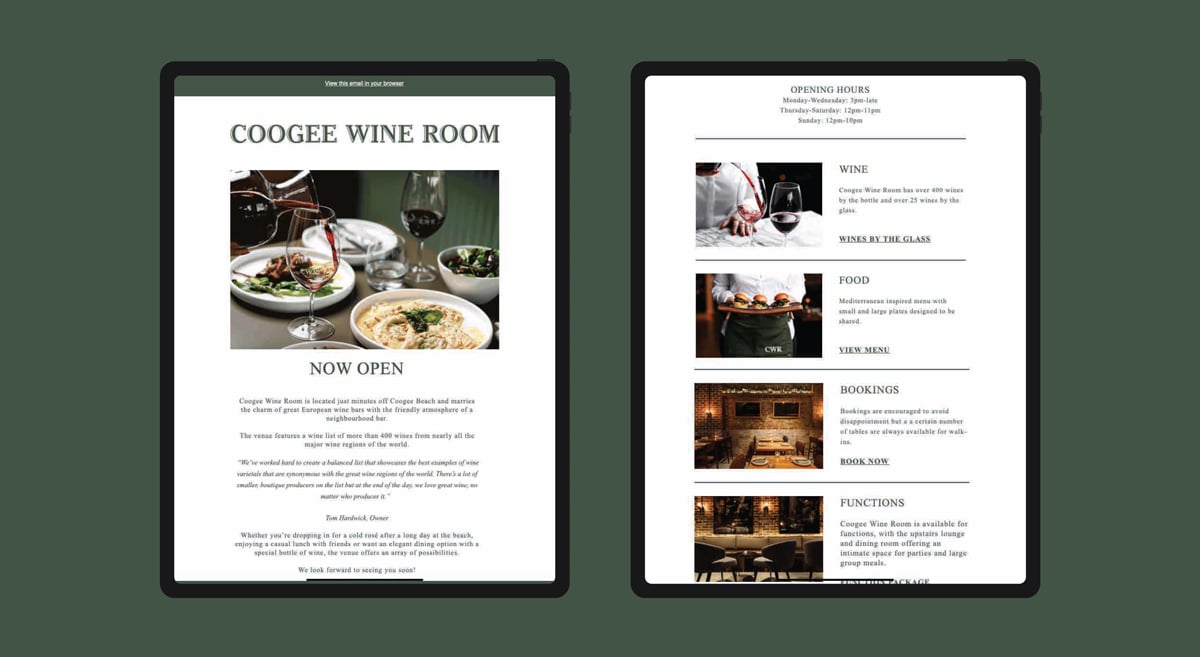 EDM for Coogee Wine Room designed by Distil
A good rule for your email marketing is to send one email per month. You don't want to spam people, but you want to make sure you are at the front of their minds. However, if you don't have anything new to talk about, it may be better to not send one.
Online Listings
Everything you do online is part of your digital marketing efforts and includes your listings on various platforms. Online listings are a great tool for new customers to find you and the list of different online listings available for businesses is endless. Where you choose to list your venue largely depends on your business goals and your audience but we would recommend that you claim all listings associated with your business, and at a minimum the below mentioned ones. That way, you can ensure the information is correct and can use the platforms to communicate your brand.
Google My Business
Your Google My Business listing is a free profile offered by Google that allows you to connect with current and potential customers across Google Search and Maps. Your Google listing can appear via Direct searches (a customer directly search for your business name or address), Discovery searches (a customer search for a category, product or service that you offer and your listing appears) and Branded searches (a customer search for your brand or a brand related to your business).
As a business, you should claim your listing in order to control the information and always make sure that it's up to date. You can add photos and videos and add your contact details and other useful information and, similarly to Facebook, you can also post photos and offers to your profile. By sharing relevant content, you are telling Google that your business is legit which will help with authority. Basically, the more you legitimise your business, the higher Google will rank your listing and the higher you rank, the higher you appear on Google search.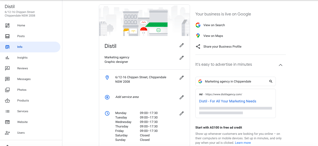 TripAdvisor
TripAdvisor is best explained as an online guestbook where people share their experiences from holidays and restaurants or bars. Your venue's TripAdvisor listing is a great platform for potential customers to find you and it's important that you keep the information up to date. In addition, TripAdvisor offers businesses to advertise on the site. By promoting your restaurant in exclusive sponsored placements, the ads can drive traffic to your listing. The ads are targeted to a specific audience of diners searching for a place to eat in your area and are particularly helpful if you don't appear in the top venues. There are three options available for ads; $2.07 per day, $2.76 per day and $3.45 per day and during peak tourist season, we recommend that you allocate a budget for TripAdvisor Ads to ensure your venue listing is visible for users looking for options.
Zomato
Zomato is a restaurant search and discovery platform for both restaurants and users. The aim of the site is to help people discover new places in the nearby area and to improve diners' experiences, they also offer online bookings. Similar to Google My Business, you can upload menus and photos, add information and respond to reviews. Depending on the nature of your business, Zomato may not be relevant for you but if you're a restaurant, it can be a useful tool to reach new customers and as it is free, it won't hurt to get involved.