This is one delicious SEO strategy you're going to wanna wrap your hands around.
Getting found through search is much like crafting that perfect, delicious homemade burger; without the mustard, there's something not quite right about the overall product.
Here are all the ingredients that come together to make your SEO strategy what it is: (hopefully) juicy.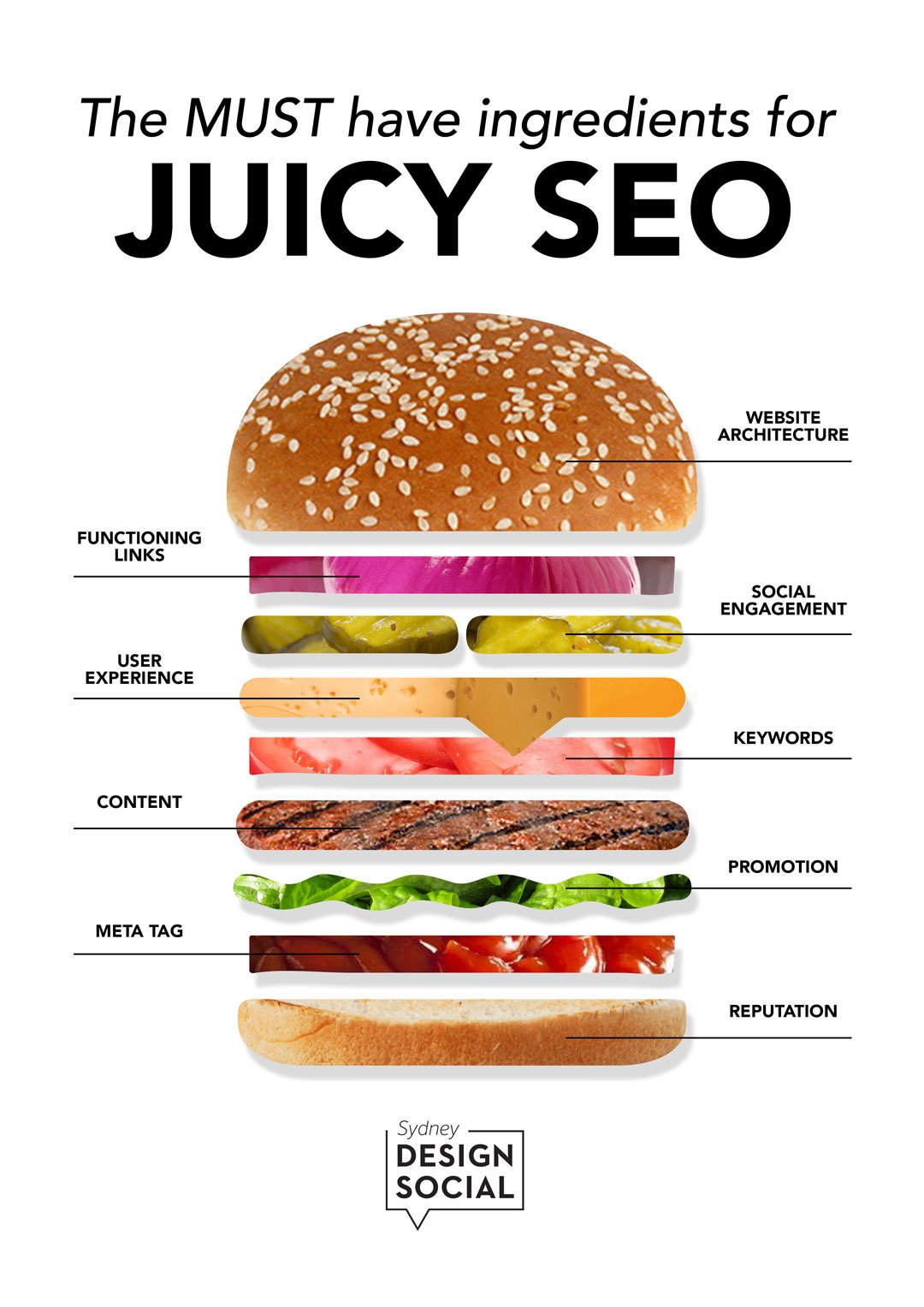 Start with a firm base:
Reputation
Are you ready to own your SERPs (or, Search Engine Results Pages)? This is where your reputation comes in, i.e. where you exist online and how. To manage your reputation, it's important to collate all the websites and social profiles that your brand 'owns'.
You don't have to be across every social media platform or have many websites (and mentions) to manage your SERPs, in fact, it's better to have fewer and a higher quality reputation. It's not enough to simply have these profiles, but to do an audit of each to increase your probability of ranking (and owning your reputation overall), for example:
Use your correct business name across all profiles
Optimise your profiles, including your photo, bio, links and content
Be active on the platforms or don't use the platform at all
The Secret Sauce:
Meta Tag
Meta tags are the secret sauce, because they describe your page content to search engines and website visitors, appearing in the HTML code (secret). However, not all meta tags are created equal: good vs. bad meta tags do exist. Let's take a look at what's helping you rank in 2019.
Title Tag <title> - how search engines read the title of your website; supported by all website browsers including Chrome, Safari and Firefox. Google typically shows 55-64 title characters.
Meta Description <meta name = "description" content= "content here"> - an essential element as although not used for ranking, it plays a significant role on your click-through rate.
Alternative Text (Alt Text) Tag - search engines are unable to read images without the use of 'alt text'. This needs to be short and to the point, use a maximum of 50-55 characters.
According to Advance Web Ranking (2019), these are the meta tags you should ignore (i.e. Google won't consider these when ranking on SERPs):
Site verification
Copyright
Geo meta tag
You do make friends with salad:
Promotion
An important part of the entire process: working to increase (or promote) the ranking of a website in search results or for specific keywords. To understand this, there are two types of SEO:
Internal Optimisation (On-page SEO): the promotional efforts applied directly to the website.
External Optimisation (Off-page SEO): the promotional efforts outside of the website in question, i.e. links directed to the page, social interactions, etc.
When trying to influence how a website ranks on search engines, some SEO consultants push morality to the side when in the promotion-phase, which can be divided into what is known as the SEO 'hats':
White hat SEO - this is aimed at creating a positive user experience, but not necessarily to increase search rankings directly.
Black hat SEO - this is used to manipulate what the search engines seek as relevant and important content using techniques such as purchasing links and keyword stuffing.
Grey hat SEO - a mix of the two methods above; aimed at long-term results rather than the quick-fix tactics of black hat SEO.
This is the patty:
Content
When it comes to SEO, content is the core ingredient to showing up on Google for your keywords. Without high-quality content optimised for search engines, you're missing the crux of your juicy SEO burger.
SEO content is specifically written so that the website in question can rank for their targeted keywords - and blogging is a huge part of this. According to Hubspot, websites with regular blog posts get 350% more traffic than those without.
Google have made it clear that without this crucial part of your strategy, your success with SEO will be limited. Content marketing helps your website increase organic traffic - and turn your browsers into potential customers.
Spread liberally, but don't overdo it:
Keywords
As previously mentioned, keyword stuffing is an SEO no-no - but this doesn't mean forgoing optimising your website overall. SEO blog Moz claims that not all keywords are created equal, as the keywords you choose to target will impact the organic traffic you receive as a result.
In order to break through the competition and be found on Google, focus on implementing long-tail keywords in your SEO strategy. These keywords have a more defined audience, for example, instead of 'Sydney pub' you may want to consider 'dog-friendly Sydney pub' as your search term.
Add the in the crowd favourite:
User Experience
Back when SEO first became a 'thing', many website administrators would create content and add information based on how it would show up in rankings - not considering how it would function for the customer. A core component of SEO today, is the user's experience on your site.
Gone are the days where you could spam your keywords throughout a page to rank, now Google places emphasis on how long users stay on your website and how they interact with your content as a factor in considering good vs. bad content.
You either love it or hate it:
Social Engagement
Are social media and SEO linked? The answer isn't direct, but it can play a part in how you measure your brand's amplification. If no one is engaging with your content on social, it can be a similar situation over on your homepage.
When searching for a brand or your own business on Google, you may find that what pops up first is your Facebook or Instagram page in the results. Consistent, quality posting on social can create these results for your business, meaning your website and social profiles show up on search engines - but, like regular SEO practices, this is not an opportunity to spam your audience and create keyword-heavy content just to 'boost' your rankings.
Bring it all together:
Functioning Links
You've created your SEO strategy with good, informative content at the forefront that your audience are searching for, but this doesn't necessarily mean you will rank. So, now what?
This is where your authority comes into play. Inbound links are HTML hyperlinks that point from one website to another website. According to Moz blog, they're like SEO inbound links are like 'real-life reputation' - they create confidence in your brand across the web. A high amount of these links, on high authority websites, will signal to Google that the information on your website is 'worth' something. You can view Google's full Search Quality Evaluator here.
Complete your masterpiece:
Website Architecture
The last piece of the puzzle… or the bun on top of your juicy SEO burger. The better your website's structure, the higher your ranking will be on search engines. Often a website's architecture is overlooked, yet it is critical to your SEO performance - and adds to the overall user experience.
Whether your website is brand new or you're going through a revamp, start by creating a site hierarchy as a way to organise your information on your website. An SEO-friendly URL structure should follow this hierarchy - and rank the importance of your pages for Google. Your website architecture is something that grows with your website, and includes all the elements of your juicy SEO.
By considering all of these elements of SEO, your website (and overall user experience) will be all the better for it. Unsure how to implement for your business? We're here to answer all your burning optimisation questions!