Menu Design
What to Think Of
Have you ever gone to a restaurant and taken a look at the menu only to feel confused and baffled about what to order? A menu is a very important aspect of a café or restaurant but is often overlooked. It is one of the key factors that influence how much people are willing to spend and whether they choose to return to your establishment.
A good menu design should communicate clearly what food options are being offered and should make customers want to order. There are a number of components that require attention when it comes to designing an effective menu.
The First Impression
Making a good first impression can create a positive experience for customers and result in big benefits. A good impression could be anything, from the beautiful artwork on the cover page, to the funny headers that leave you giggle a little bit, to the way the menu is bound. This is where you want the personality of your brand to come across.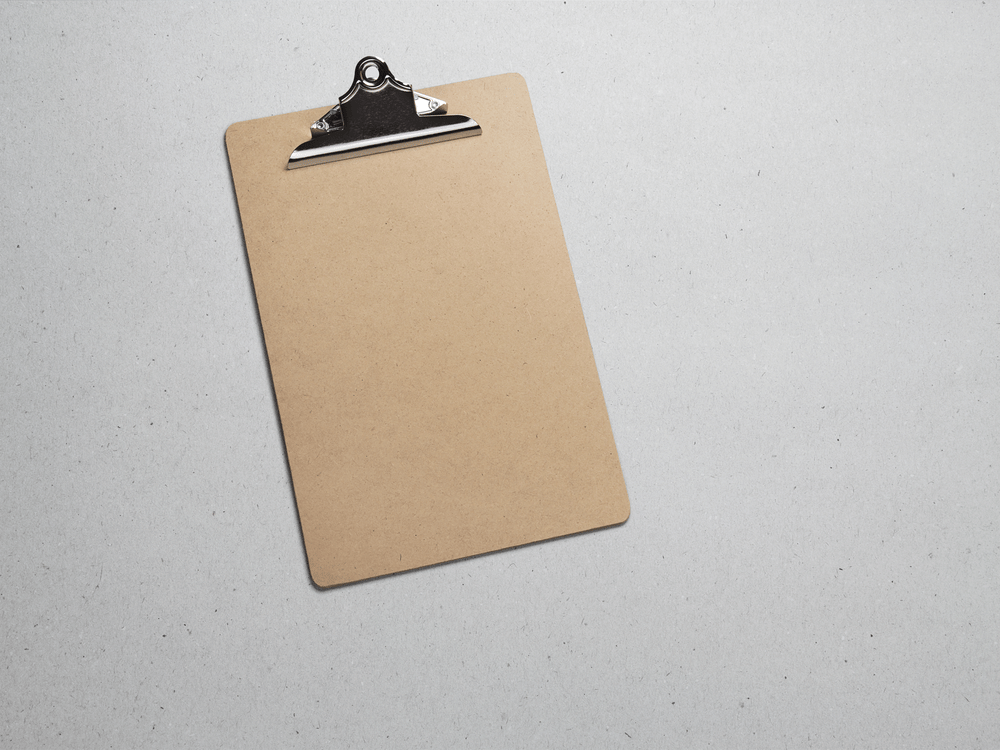 Pick a Font that Fits Your Brand
Typefaces can help customers identify the type of restaurant you are and the food quality you are offering. It's always a good practice to match your font choice with your brand personality.
Serif fonts generally creates a more elegant and classic feel. It is often used by fine dining and more expensive restaurants.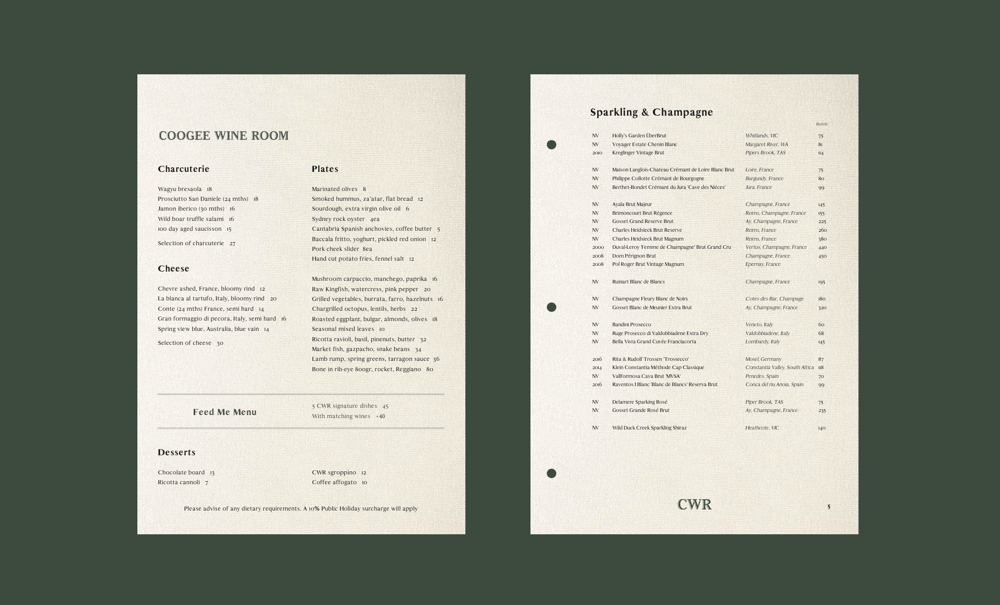 San-serif fonts are quite neutral and universal. On one hand, they are preferred by hip cafes due to their contemporary look. On the other hand, with the right treatment, they can look great on contemporary fine dining menus.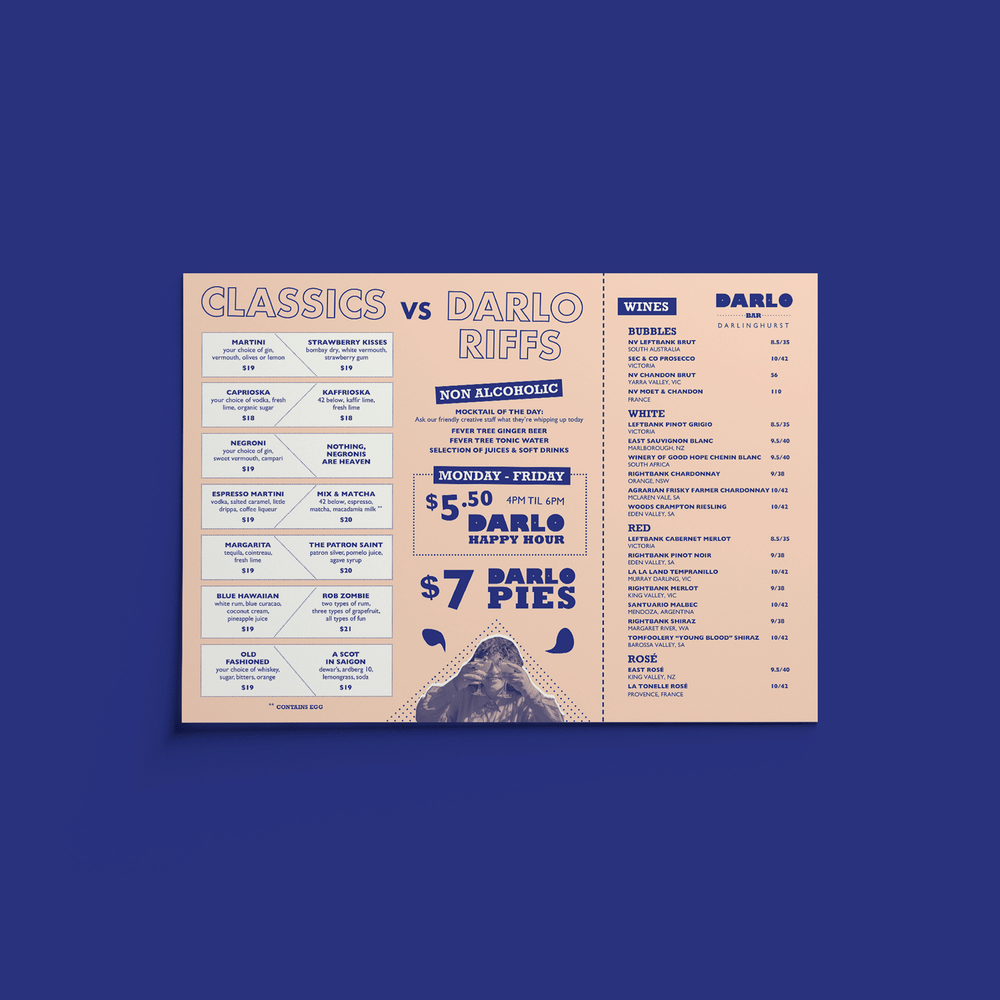 Colours
The use of certain colours can encourage and motivate specific behaviours from your customers. For example: Orange stimulates the appetite, while Green communicates nature and organic vibes. When picking a colour for your menu, it is important to understand the meaning and uses of different colours.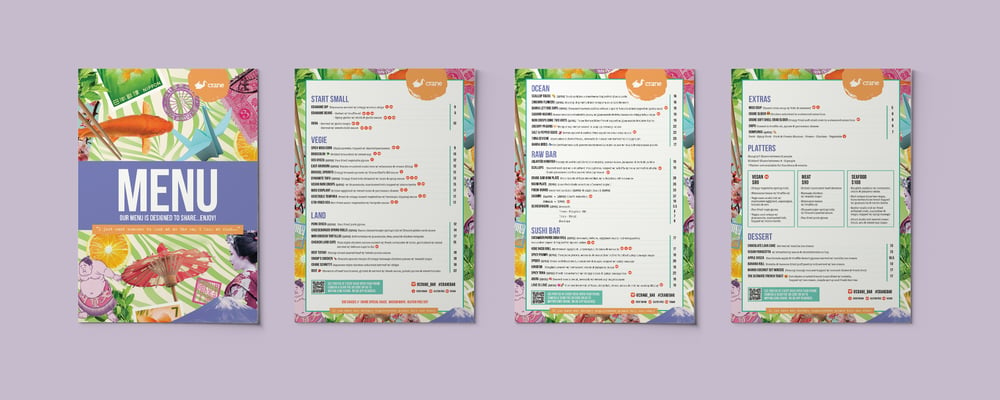 Layout
The layout of the menu is very important because it can be a key factor to determine the readability of the menu. Always make sure to have enough spaces between each section and items.
Tips: Studies have found that the top-right corner of the menu is the first thing people look at when scanning a menu. Save this area for any items you would like to promote.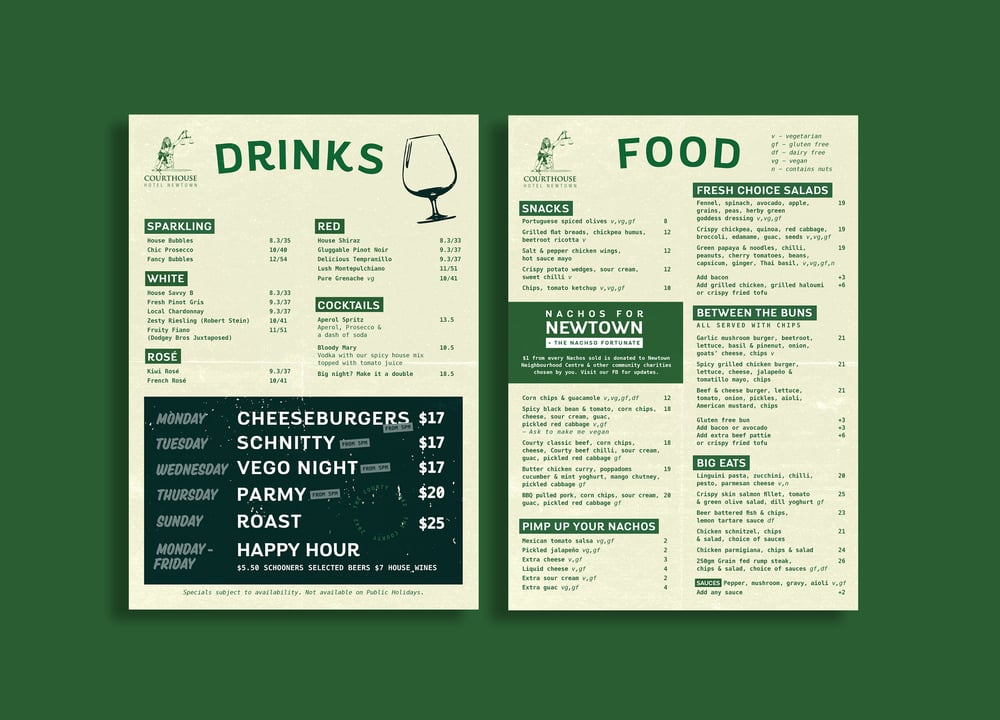 Should You Include Pictures?
This is the aspect that should be used with caution. Images and photos, when used effectively, can be a great tool to showcase your menu items. However, they should never crowd or overwhelm the page. Too much use of images can make the menu look overly casual and unprofessional.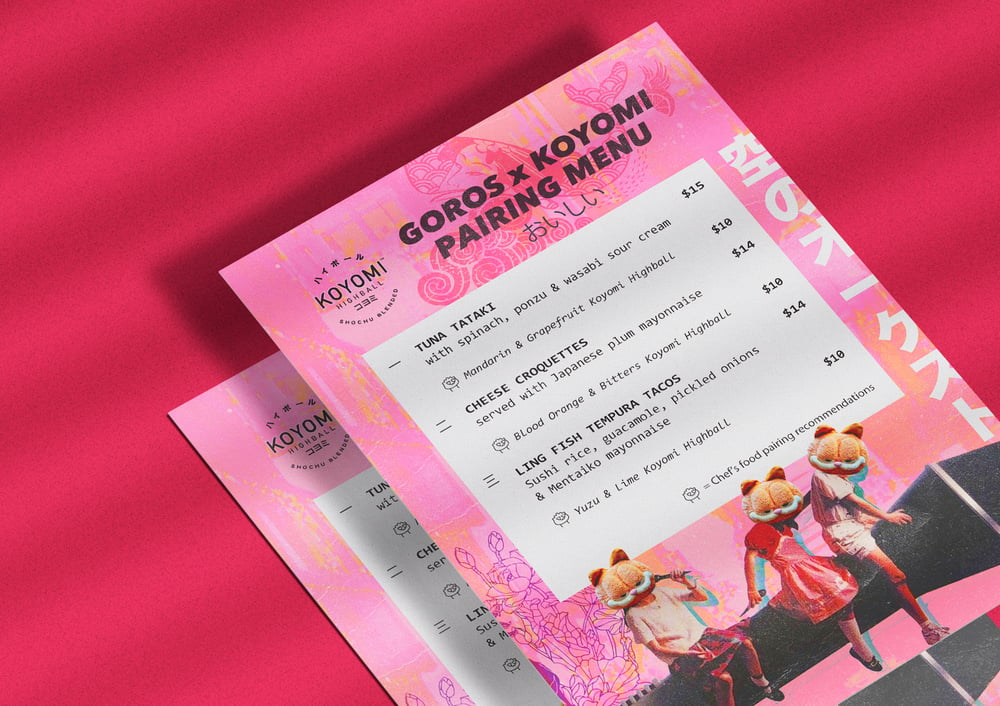 Event Posters
What to Think Of
Event posters are great ways to promote your events. It is fun and effective to get your message across. Understanding your audience is the first critical key to creating an effective poster. The format of the poster can be either vertical or horizontal, but most commonly designed with a vertical orientation.
Make it Easy to Read From a Distance
The first and main purpose of the poster is to attract people's attention to the event. A poster should always be legible. Key information should be easy to read from a distance. It is also important to consider the environment of where the poster will be located to make it stand out and appropriate.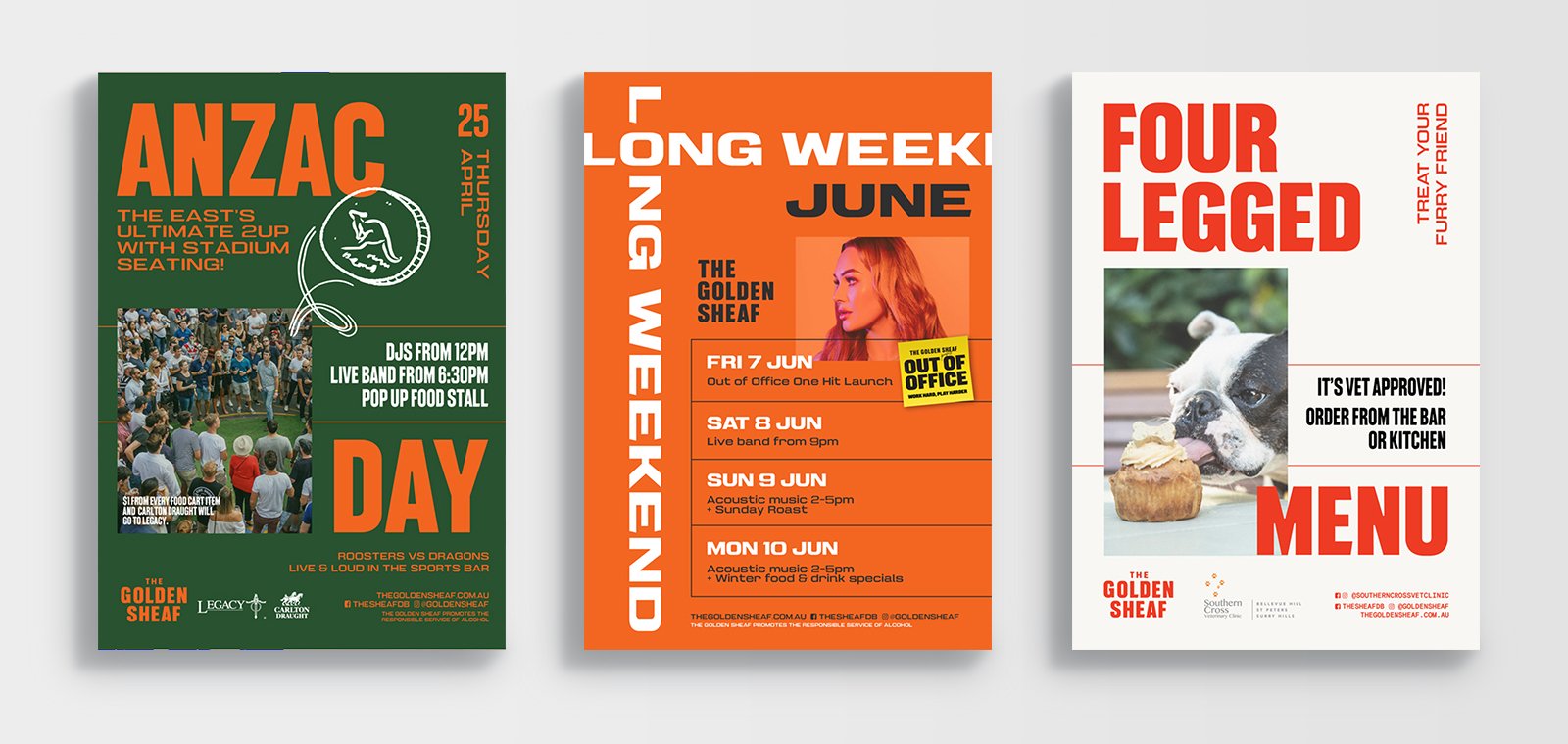 Create Visual Hierarchy
People often read from top to bottom, from left to right. Make sure to rank your information in order of importance. When it comes to event poster design, there are 4 main components:
Headline: The main and largest element of the poster. The headline can include either text or images or both. It should be interesting, demand attention and tell the audience what the event is about at first glance.
Details: The information about the event should be provided in a concise manner and needs to answer these 3 questions: What? When? Where?
Call to Action: Can either be contact points, QR codes or URLs. A call to action is vital, giving audience a reason to take action and be involved with the event.
Fine Print: Extra information that needs to be on the poster, preferably small and out of the way of everything else.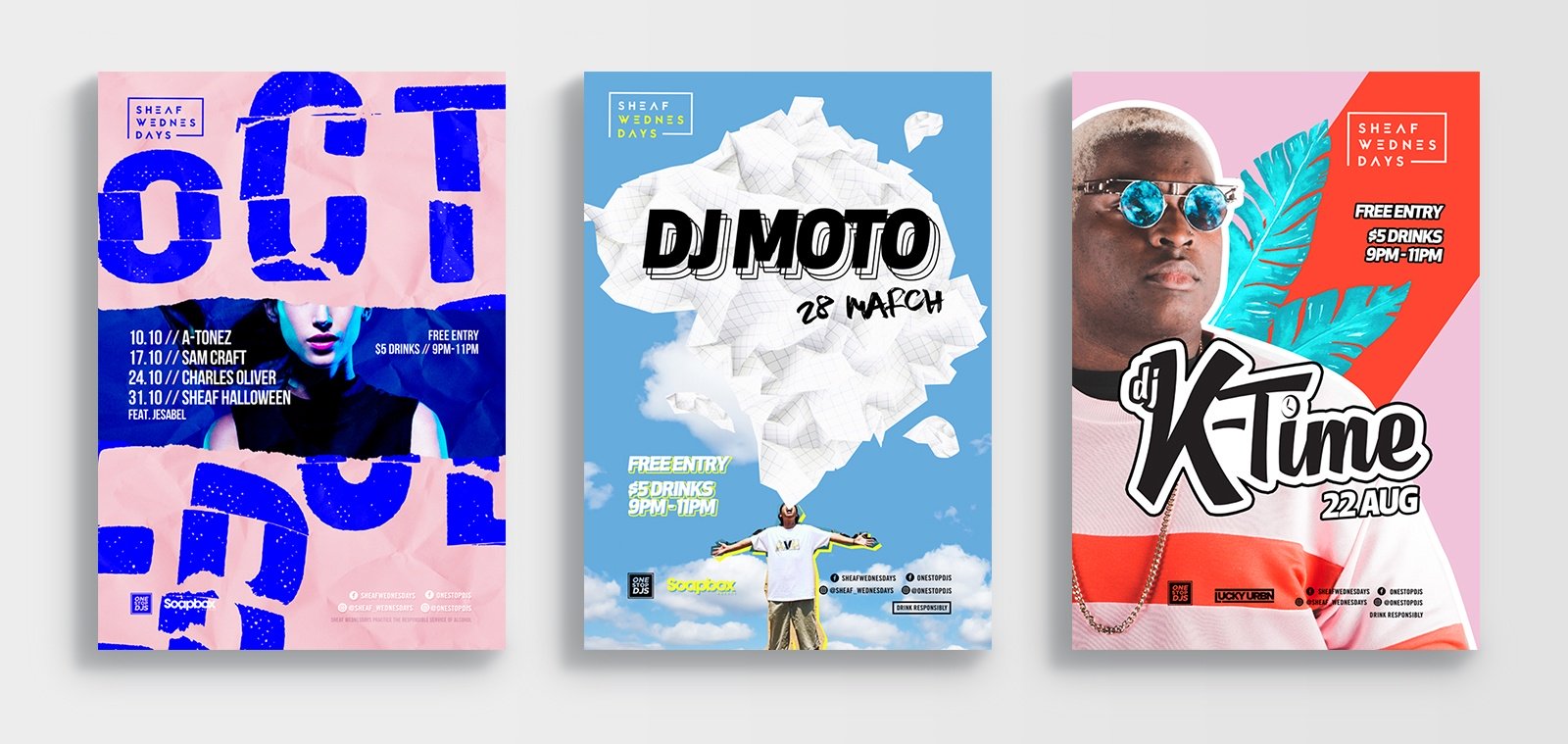 Experiment with Typography
Did you know fonts have their own personalities? If you didn't, now you do! The good news is that you can use this to your advantages. When selecting fonts, choose at least two (one for headline and one for body copy) and experiment with different options.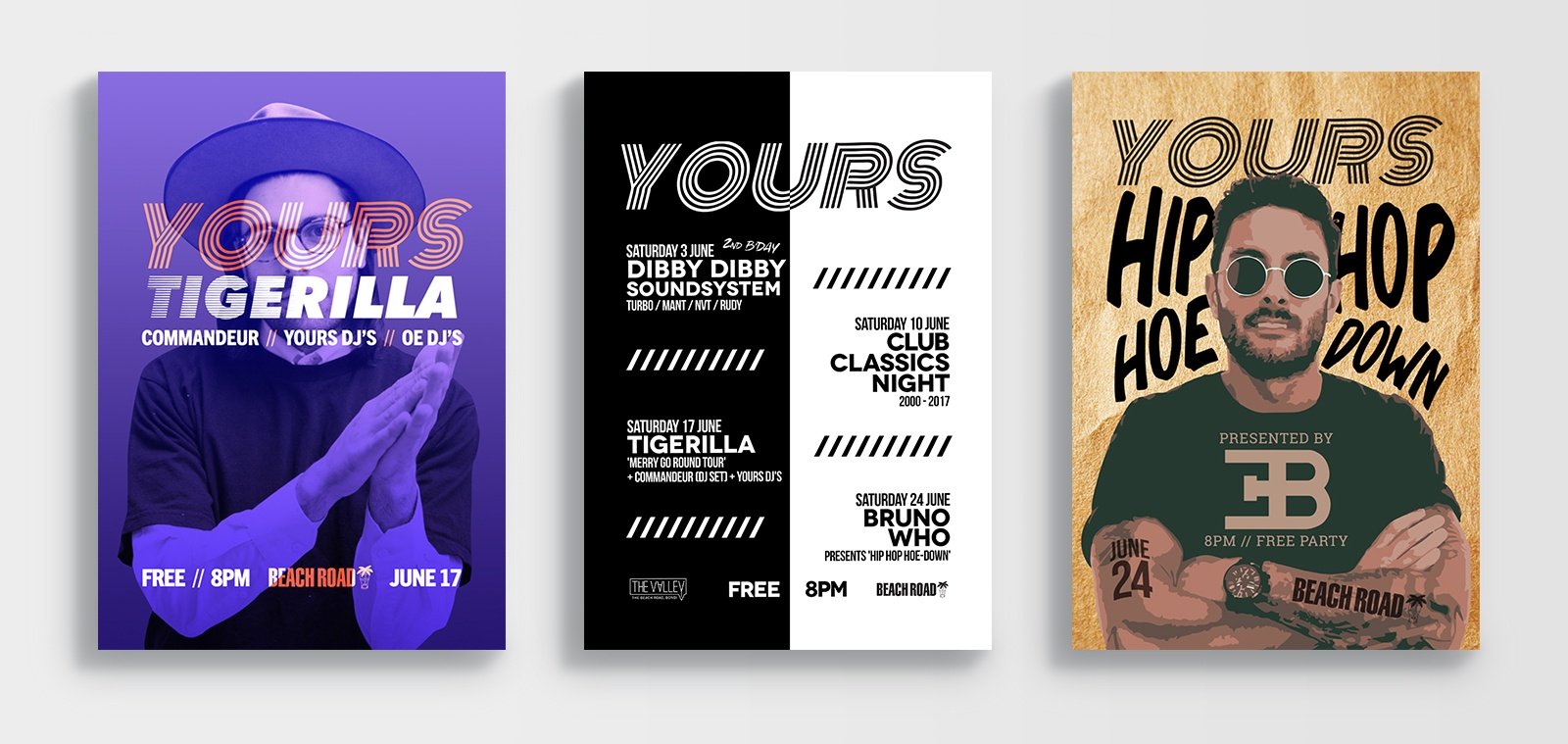 Use Interesting Graphic Elements
Graphic elements can be either photos or vector illustrations or typography or a combination of them. This is where you can create a point of focus that has the power to stop people when they walk pass and provoke many emotions from them. The key is to find the right balance and organise it in a way that capture the attention.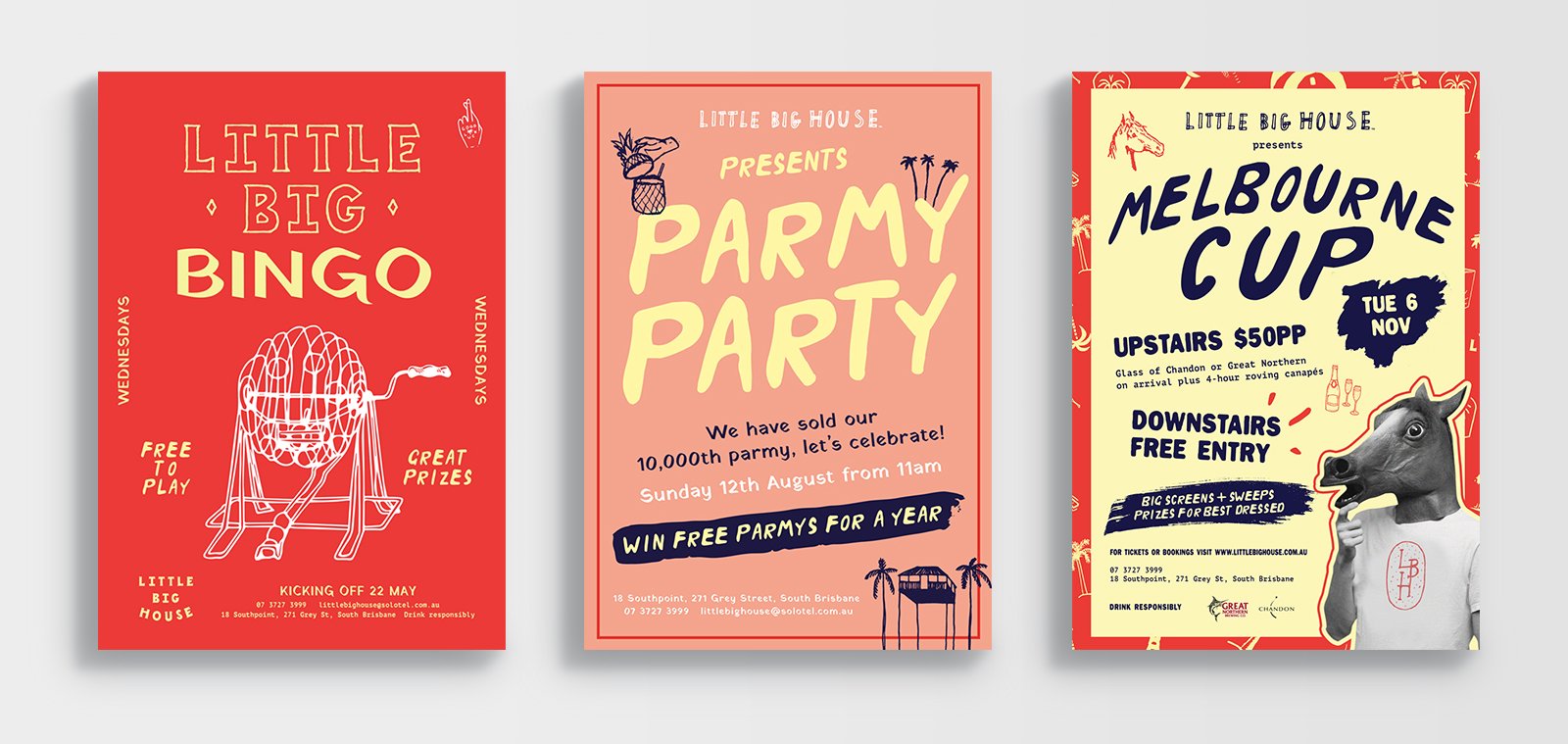 Use Shapes & Colours to Create Energy, Mood and Attract the Eye
When used effectively, shapes can create interesting composition and lead viewer's eyes in particular direction.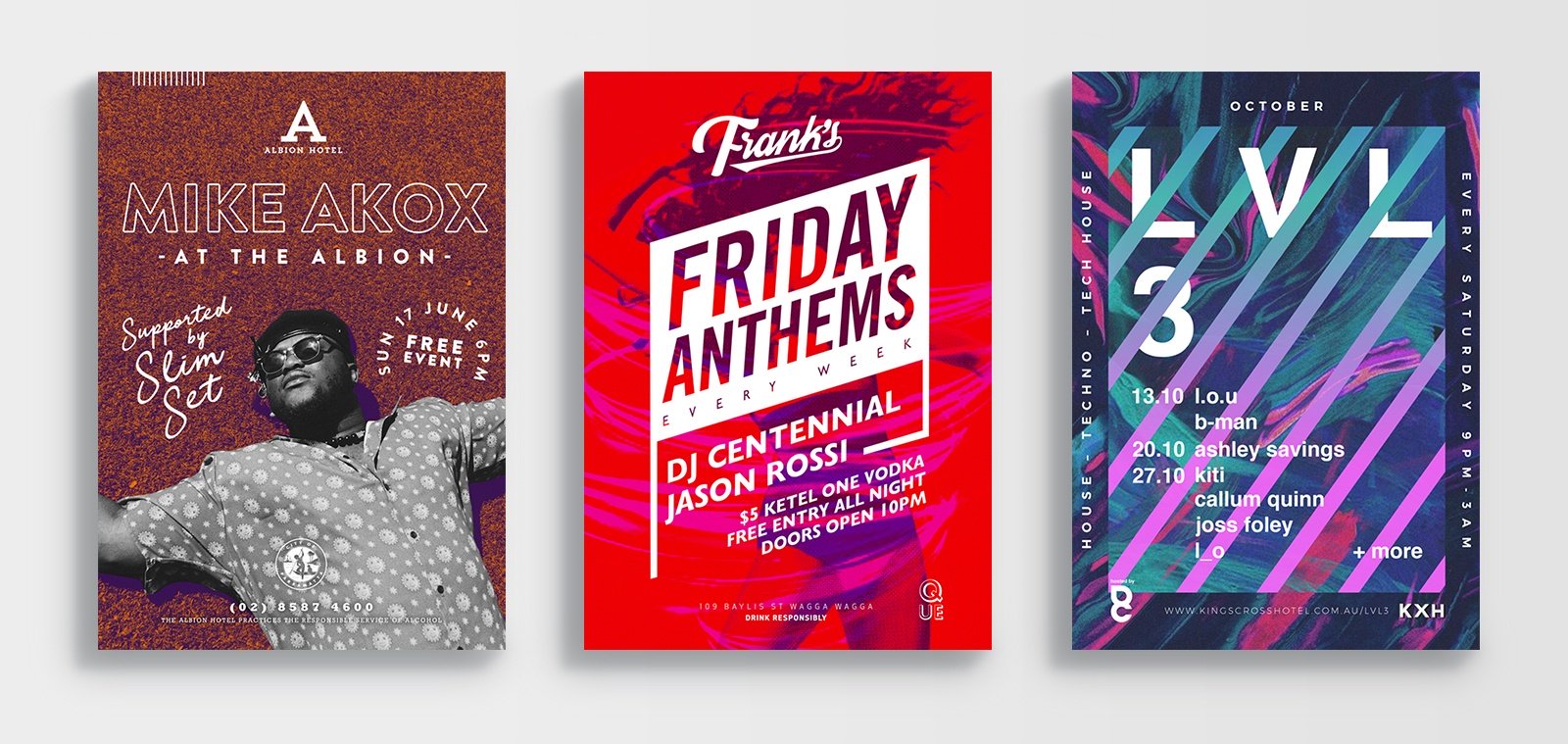 Use Humor and Have Fun!
Poster design, especially event posters, is an area where designers can have a lot of fun. There's nothing wrong with go a little crazy and stretch your imagination. So have fun and create something new!
Pole Posters
Whether you are promoting a launch, special event or investing in some local Guerrilla Marketing to help boost knowledge about your business, pole posters are your go-to. When designed with great messaging and hierarchy, pole posters can be highly impactful and very visually stimulating.
Six Second Rule
Like the golden six second billboard rule, if you can't read what your pole poster is communicating in six seconds or less you need to condense your copy. The most common size for Pole Posters is 345mm by 1000mm (including 5mm bleed), this doesn't allow for lengthy text as more likely than not it will have to be stacked word on top of word. Key information to include would be:
Logo/Business Name (at the top)
Your Main Message or CTA (ie. 20% OFF Warehouse Sale, Whisky Room Launch, National Dumpling Day)
Date/Time (in slightly smaller or lighter font)
Address or Contact Info
This can be slightly smaller but still needs be readable from a distance.

Keep it Simple, Less is More
This doesn't mean you can't have fun with including your branding and getting creative with layout. While you do need your text/call to action to be the star of the show, a bright contrasting colour or pattern, with a key icon or image can help your Pole Poster stand out among the rest.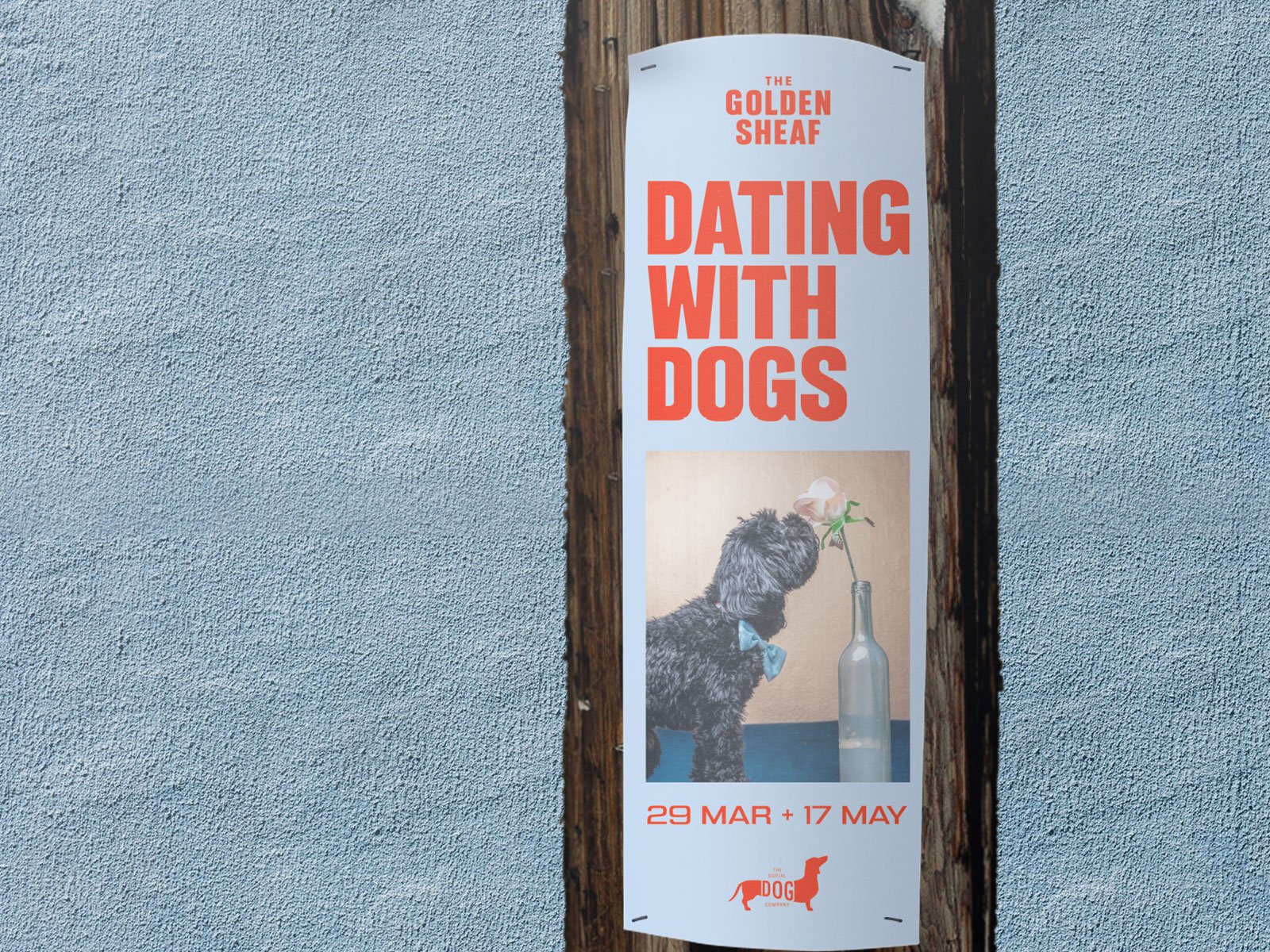 Business Cards
Although technology has changed our life in so many different ways, business card still remains as one of the key marketing pieces to promote your business. It is a great way to for your business to communicate your values, stand out from the crowd and encourage people to get back in touch.
First Impressions Count
Just like a menu design, the first impression of the business card is very important as it says a lot about you and your business. Your design should tie in with your core brand and fit the message. That way it will be easier for customers to recognise and connect with your brand.
Choose Appropriate Size and Shape
It is important to know about the size and orientation of your business card before sitting down to design it. Horizontal rectangular cards (88.9mm x 50.8mm) are the most widely used format. However, you can experiment with different shapes and sizes such as die cuts, rounded corners etc. to make your card stand out more.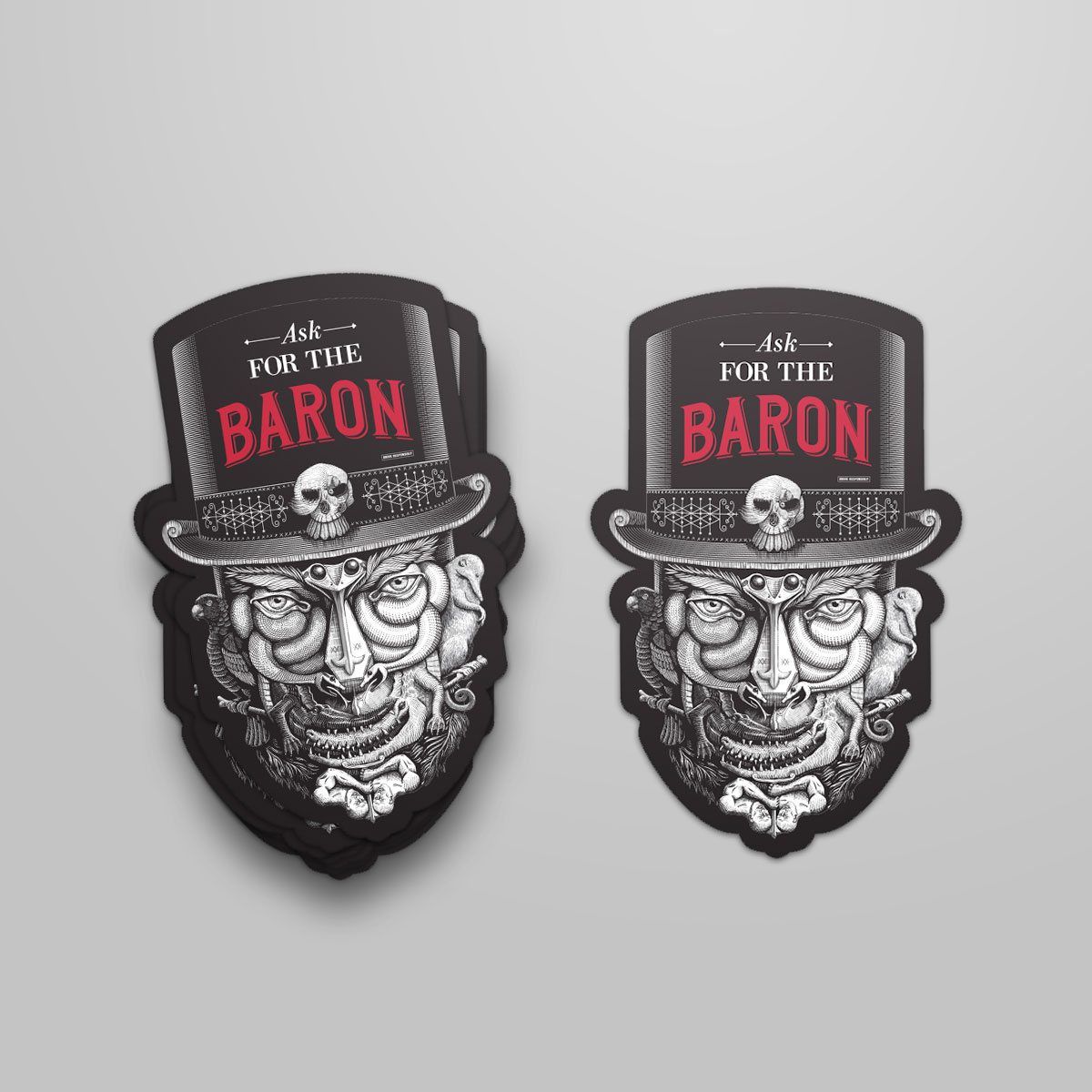 Ensure Your Card is Legible and Contact Details are Easy to Follow
Make sure the fonts are big enough and legible on your card. When in doubt about how to organise your contact details, stick to the basic principles following this order:
Company name
First name and surname
Job title
Contact info (email, phone number, social media handles etc.)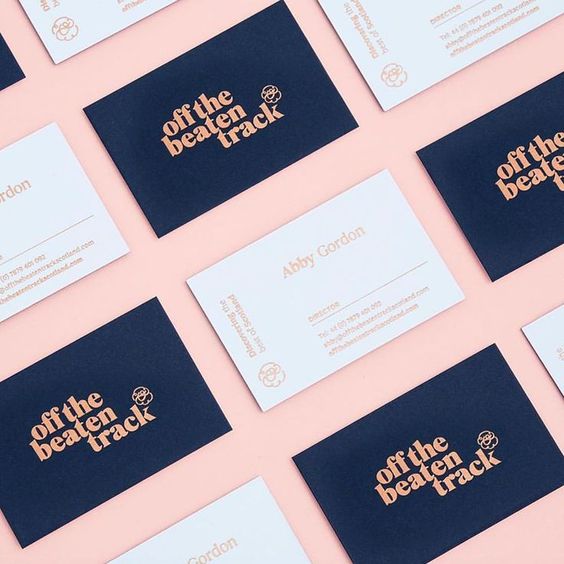 Source: The Design Kids
Add Special Finishing Options
There are countless options available, including spot UV, embossing, foil accents. These finishing touches can add great impact to your design, making it more tactile, visually impressive and memorable. Different printers offer different options for finishes, so don't be afraid to have a chat with them about what they offer.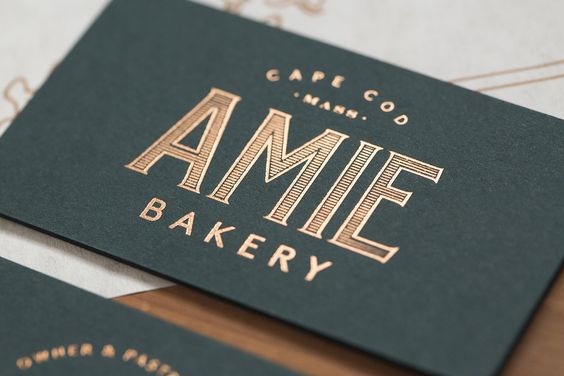 Give Your Card Additional Uses
You can you the reverse side of your card for promotions or loyalty stamps. It can be a great way to more interaction with your customers and give them a good reason to come back to your venue.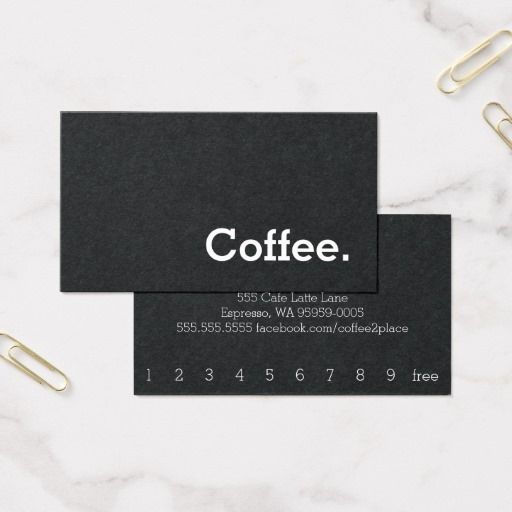 By Terry Bain