Whether building a website, creating a brochure or designing an advertisement, the stock images you choose to represent yourself, your business or a client across the digital space can be one of the most important steps in building a strong brand that feels unique.
With proper digital rights management becoming increasingly essential as time goes on, however, finding the right images for you isn't as simple as taking what you can find from Google Images and calling it a day – it's important to know that the images you're using for your brand, commercially or otherwise, are properly licensed, so as to avoid making yourself potentially liable.
The Best Free Stock Photo Websites
Of course, well-known services like Shutterstock and iStock have spent many years amassing comprehensive libraries of crowd-sourced stock photos licensed for use across commercial, editorial and personal applications - but these can carry a hefty price tag, despite the potentially confusing label of "royalty-free". Operating within a limited budget, however, doesn't necessarily mean that you need to compromise on the quality of the stock photos you use to represent yourself; you just need to know where to look to find the good stuff.
Below, in no particular order, are ten of our favourite royalty-free stock photo websites operating in 2019 that offer up professional, high quality images without breaking the bank.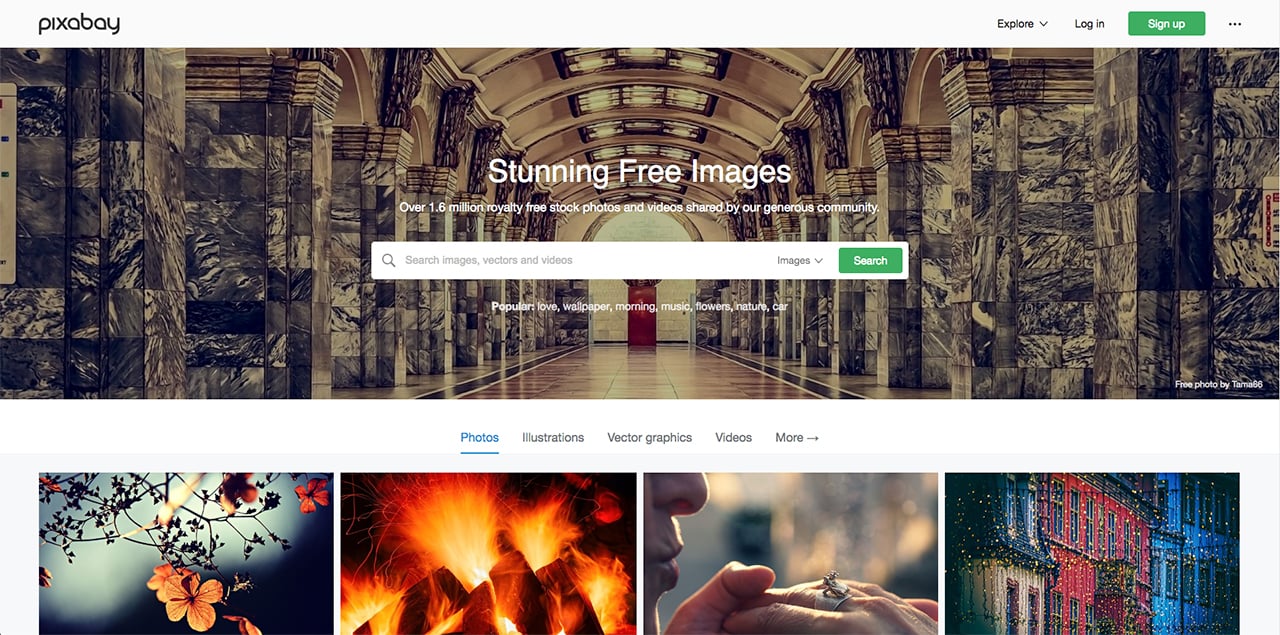 Pixabay
Pixabay are one of (if not the) largest, entirely free stock photo websites currently operating today, offering up over 1.6 million completely free, commercially licensed images and videos uploaded by the community. All of the images on their website are released under the Creative Commons CC0 license, making them safe to use for any purpose without needing to ask for permission or give credit to the artist.
Click here to view the full license details.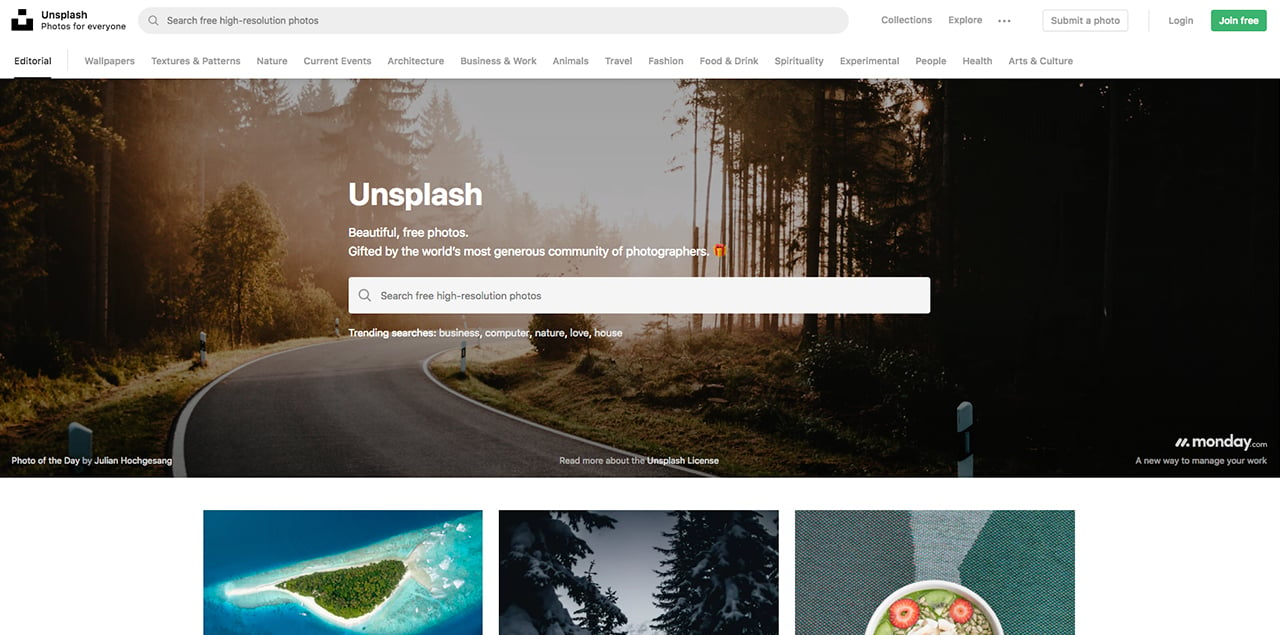 Unsplash
Originally created by a group of designers sick of the trouble finding free, high quality stock images can be, Unsplash have quickly become a fantastic resource for creatives across the globe. Sign up for free and gain access to a library of over 500,000 professional, royalty free images sourced from a highly active global community of over 90,000 photographers and creators. Featured collections curated by long-time industry professionals can help inspire you, while powerful search functionality can help you find exactly what you're looking for.
Operating under their own license, all of the images featured on the website can be used for both commercial and non-commercial purposes, without needing to ask for permission or give credit.
Click here to view the full license details.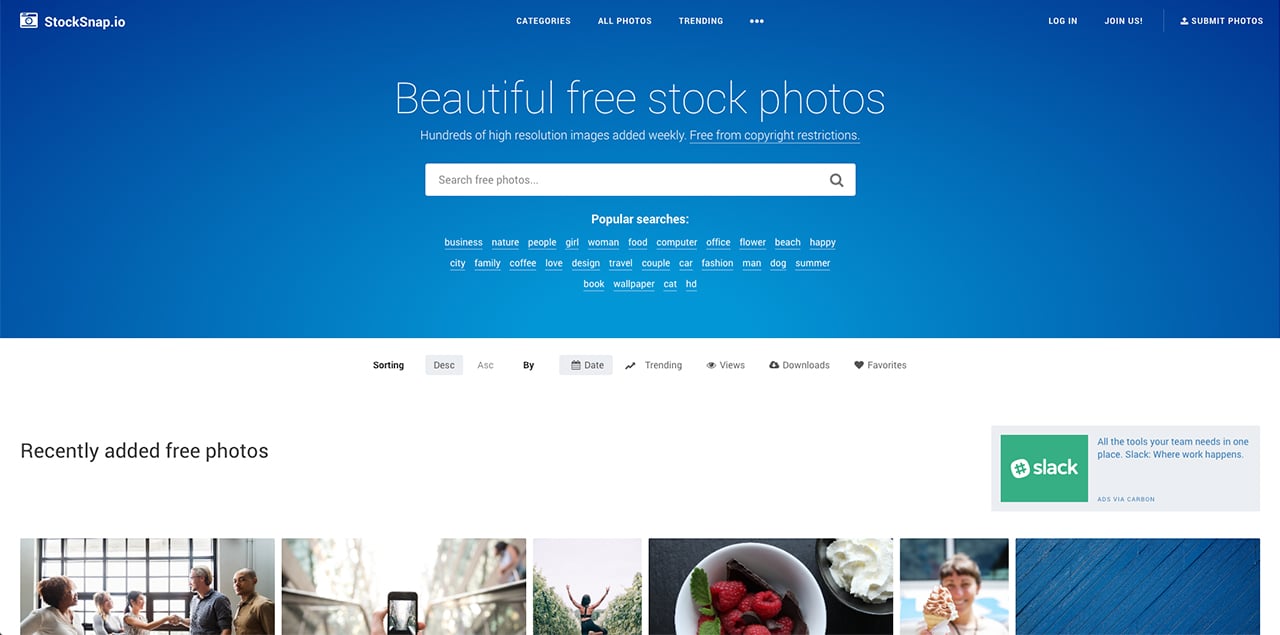 StockSnap
Another large resource for free stock images, StockSnap set themselves apart with a more curated collection of free stock photos, available for use under the Creative Commons CC0 license. New images are added weekly to their growing collection of high quality photos, organised into a deep and user-friendly category system, offering many more categories for you to choose from than other competitors operating within the free photo space. In-built search functionality also allows you to find images more directly, with images tagged to make finding what you're looking for much easier.
Click here to view the full license details.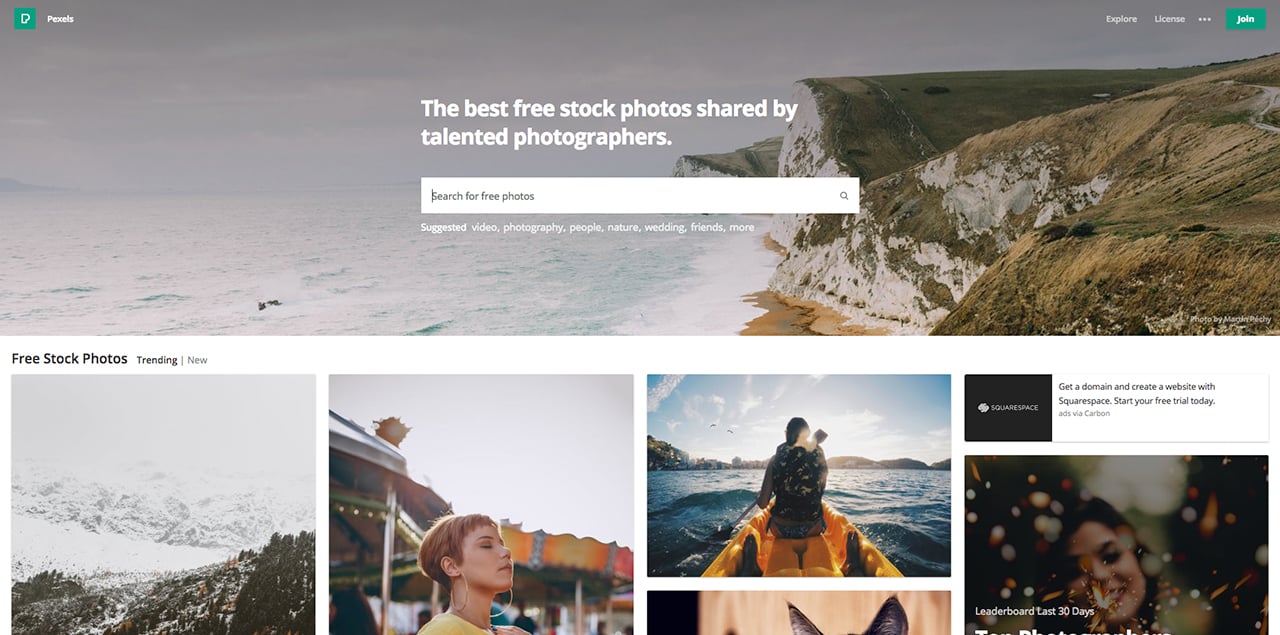 Pexels
Operating under their own proprietary license similar to Unsplash, Pexels have been working since 2014 to build a curated collection of hundreds of thousands of free stock photos, sourced from the community as well as from other free stock photo websites such as Pixabay (see above), Little Visuals and Gratisography (see below), displaying the 'best of the best' from multiple sources. This allows Pexels to stand apart from their competition through the impressively high quality of their collection, offering up consistently amazing imagery completely free of charge.
Click here to view the full license details.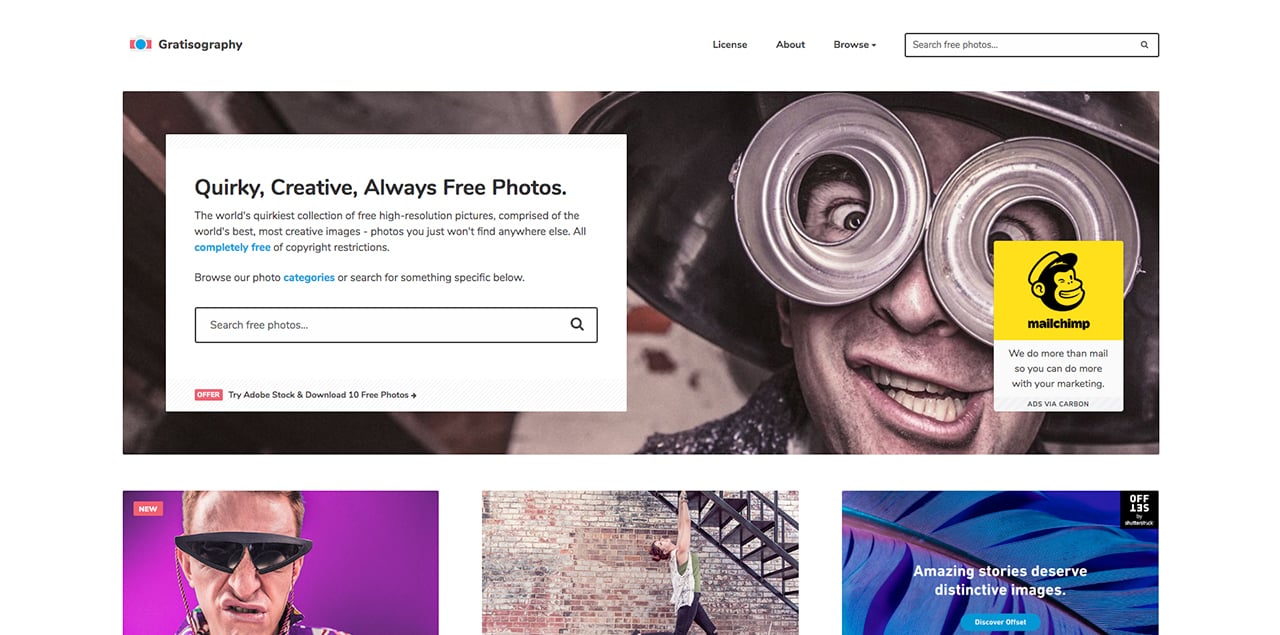 Gratisography
Aiming for quality instead of quantity, and with a mission to be 'not just another stock image site', Gratisography set themselves apart from the others by curating a more selective collection of unique, quirky stock images. If you're looking for something a bit different to make your brand, design or web page stand out and keep users engaged, Gratisography is the place to be. Their own license allows you to use their images however you need, without copyright restrictions.
Click here to view the full license details.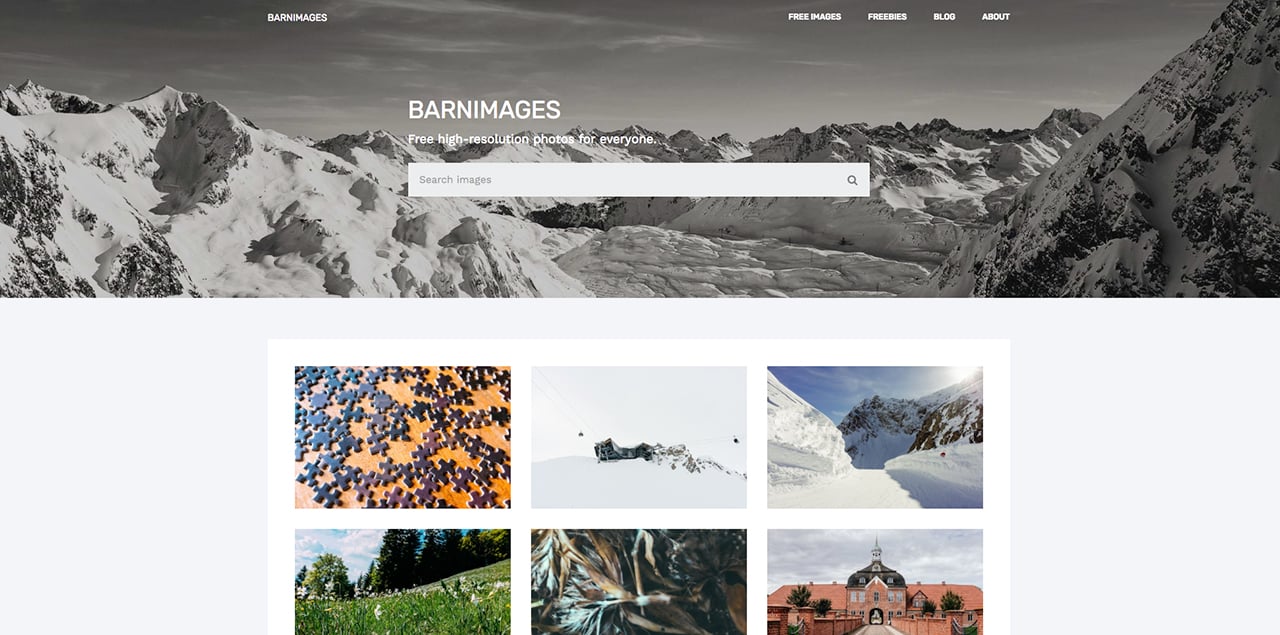 Barnimages
Launched in 2015 by a pair of photographers from Latvia, Barnimages offer up a different take on stock images that they call "non-stock"; all of the images featured on their websites have either been created by themselves or their colleagues, ensuring the quality is much higher than your average stock photo website, at the cost of quantity. This is always a good one to check out first when you're looking for an image that will really grab your audience.
Click here to view the full license details.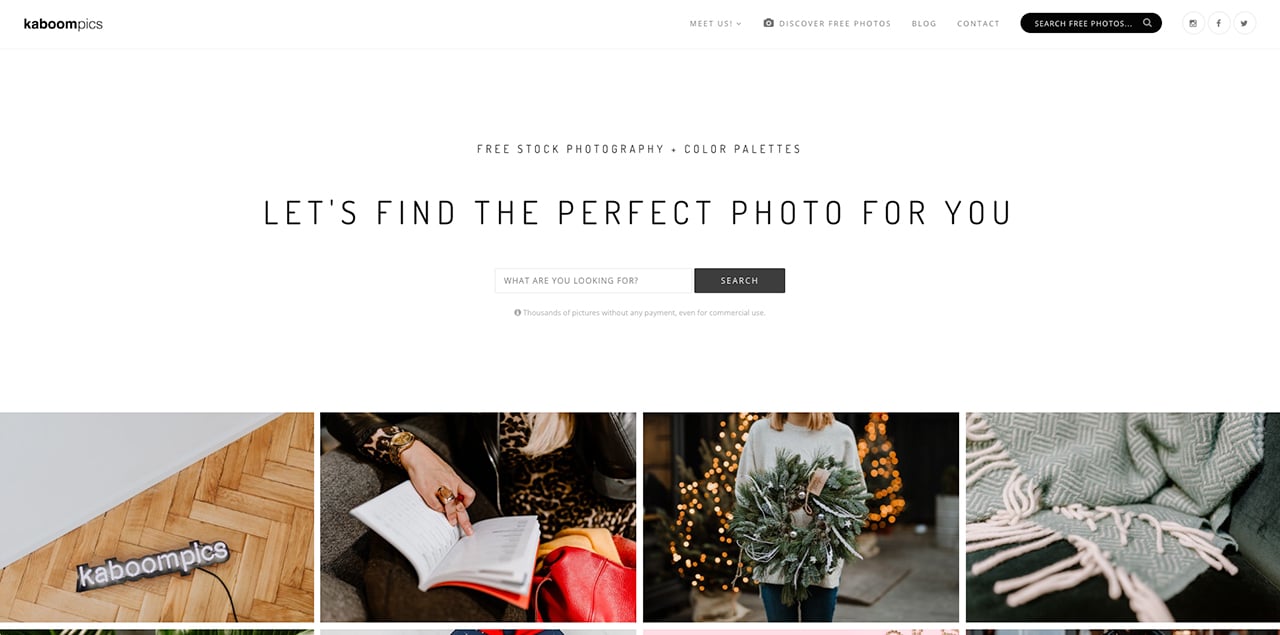 Kaboompics
Another high quality free resource, Kaboompics is the brainchild of a photographer named Karolina from Poland who set out to create a more focused approach to free stock imagery than your average website might. Dedicated photoshoots have allowed Karolina to present cohesive sets of authentic, high quality stock photos, searchable through a powerful engine that makes it easy to find what you're looking for. As an added bonus, all images come with complementary HEX colour palettes sampled from the photos, along with well-written descriptions suitable for your alt text.
Click here to view the full license details.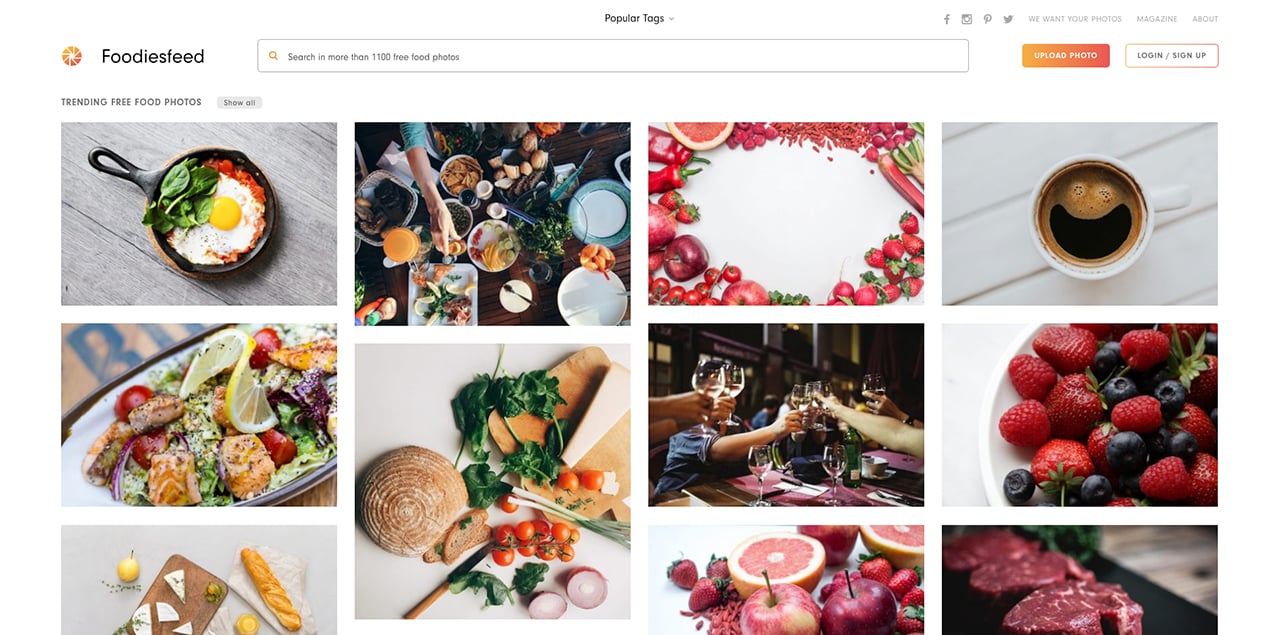 Foodiesfeed
When looking for images of a more specific type, it can be useful to have more dedicated resources on hand, which is where websites such as Foodiesfeed have stepped in. Started in 2015, Foodiesfeed has quickly become a one-stop-shop for high quality food photos, uploaded by food photographers from around the world under the mission of making food look more beautiful in the online space. All of the photos here are available for use under the Creative Commons CC0 license, without attribution.
Click here to view the full license details.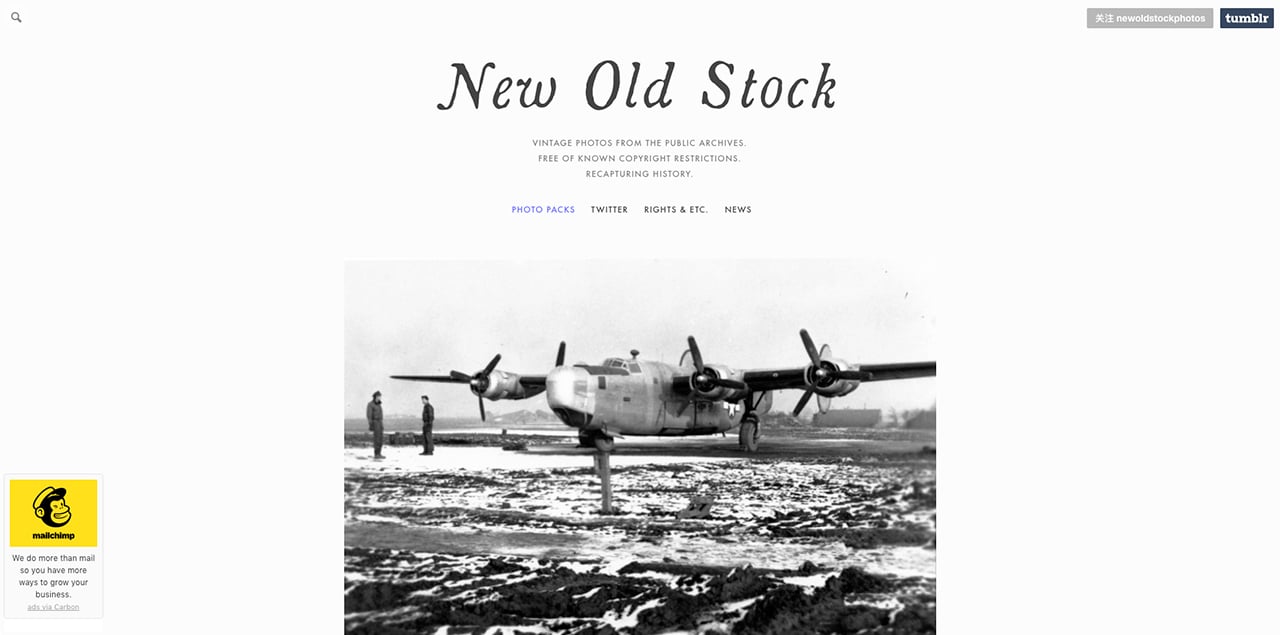 New Old Stock
Like Foodiesfeed, sometimes you just need a more dedicated resource to find what you're looking for, and if it's antique or vintage images you're after, New Old Stock is the place to be. Images here are presented more like a blog but are gathered from across the web by a hard-working team dedicated to bringing you the best vintage images available in the public archives of the world, free of copyright restrictions. Definitely worth checking out.
Click here to view the full license details.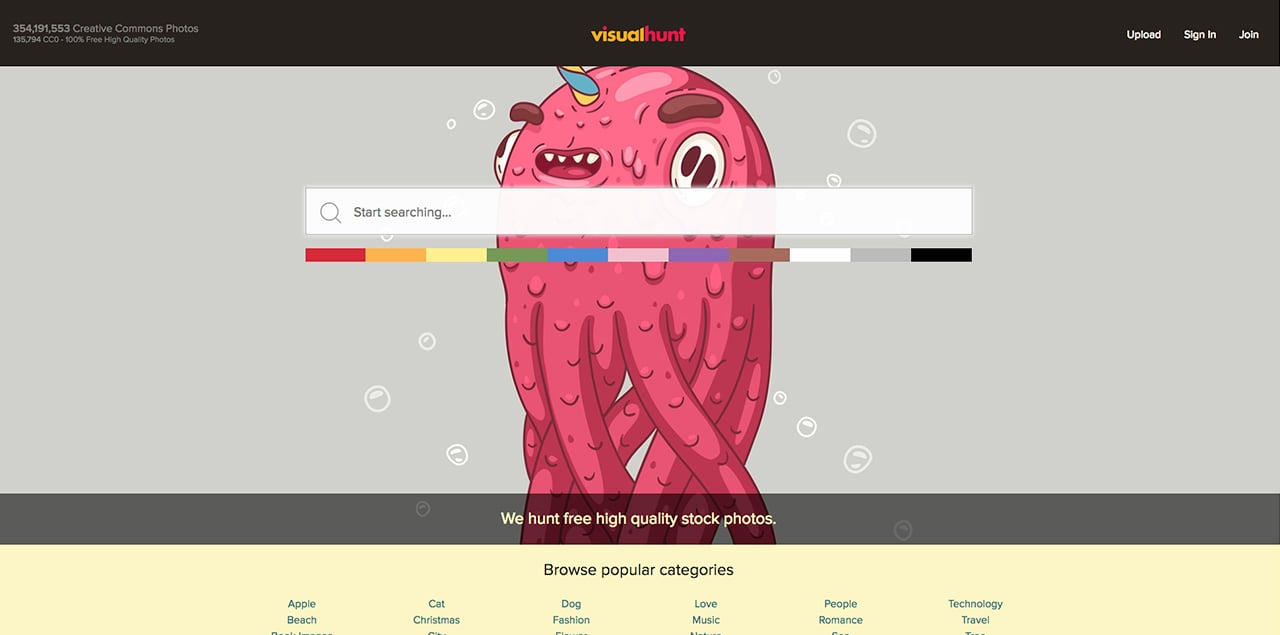 Visual Hunt
When all else fails and the image you're looking for continues to elude you, the net just has to be cast a bit wider; enter Visual Hunt, an aggregate search engine dedicated to finding royalty-free images from multiple sources across the web. Over 350 million Creative Commons images can be found within its powerful search engine, categorised by colour, categories and tags to help you find exactly what you're after. Just be careful to check the rights of the images you find here – while the team do everything they can to find Creative Commons CC0 and Public Domain photos, the nature of aggregates means some images may need to be attributed to their authors.
Click here to view the full license details.
Of course, while these ten are some of our favourite websites for finding stock images, there are many more available to help you find the best images for you. See below for some that, while not as unique as our favourites, can still be just as useful in a pinch:
---
Got FOMO? Make sure to subscribe to our blog today so you never miss a thing.