Social media marketing is the fastest growing trend in the history of the world.
Yep, that's according to influencer Neil Patel. Last year, Facebook passed the 2 billion mark for active users on their platform. Two BILLION.
No matter who you're trying to target with your marketing, they're guaranteed to be on Facebook. And if they're not on Facebook? Instagram, Twitter, Pinterest, Snapchat. They're somewhere online and they're looking for you…
With scheduling a part of your social media strategy, you can ensure you're getting in front of the right people online. At the right times. On the right days.
Why Social Media Scheduling Tools are Essential to Your Digital Marketing Strategy
Not only can you use scheduling to get your content in front of the right people and at the right time, but simultaneously, you can increase your engagement when perfectly timing your posts.
If you're posting at 2am everyday after you finish a shift, chances are no one but the night-owls will be seeing it. But, if you schedule in a post when you know people will be online, i.e. when they're commuting to-and-from work or on their lunch break, you have a much greater chance of receiving likes, comments and shares.
Another benefit of adding scheduling to your social strategy, is the fact that you will save time, stress less, and quit the random posting that attracts nothing more than tumbleweed.
Consistency. Struggling to 'show up' online on a regular basis? Schedule everything in for the month, week, or day before, and you won't have the extra pressure of posting on the day, which more times than not, means you won't post at all.
The Best Apps for Scheduling Social Media Content
Facebook Scheduling
AgoraPulse
AgoraPulse does it all; from the regular platforms like Facebook and Instagram, to the rarely used (hint: Google+). We find AgoraPulse particularly useful for Facebook Page Management, perfect if you have a small team or an agency working on your content.
In the same way you use an inbox, AgoraPulse allows you to easily manage your likes, comments and messages, with the added bonus of assigning replies to another employee or manager.
The calendar view is your new best friend. Get a bird's-eye view of your monthly content and plan out your months in advance.
Get started with a free trial or opt for a small business plan from $49/month.
______________________________________________________________________________________
Just like AgoraPulse, Hootsuite has the option to post your content across several social media platforms at once. One of their key brag-points is that you can upload hundreds of posts, edit and schedule in CSV format.
The Hootsuite mobile app is a great resource for social media marketers on-the-go, especially when working in a venue, restaurant or cafe. A simple and complete way to get an overview of the conversation on your Facebook page during the day.
Business.com reports the Hootsuite Insights add an extra touch to an already fully-equipped social media management tool, great for "small and medium business looking for an integrated solution".
Hootsuite Professional Plans start from as little as $19/month.
Instagram Scheduling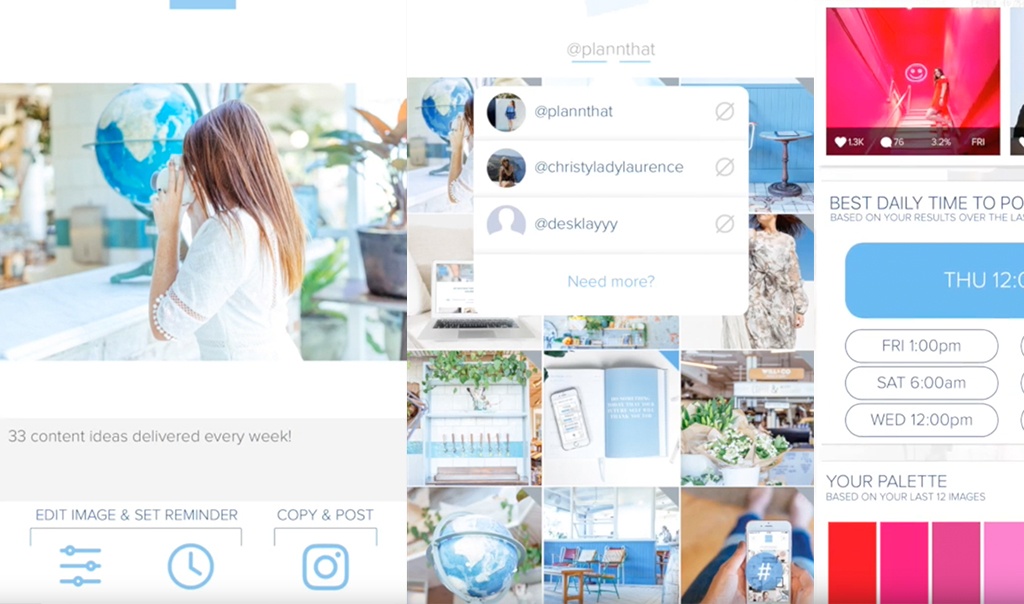 PLANN
There's no shortage of ways to curate and schedule your Instagram feed, but over 500,000+ Instagrammers in 120 countries agree that Australian-owned PLANN Instagram Scheduler is best.
PLANN has additional features to a regular scheduling app, such as Facebook-focused AgoraPulse and Hootsuite. The app was created to use in the way Instagram intends, as a visual representation of your brand. In PLANN, you can review your performance analytics and schedule content around:
Your best times to post

Best performing hashtags

The colour scheme of your feed
PLANN is free for limited features or starts at US$4 per month when on an annual plan.
______________________________________________________________________________________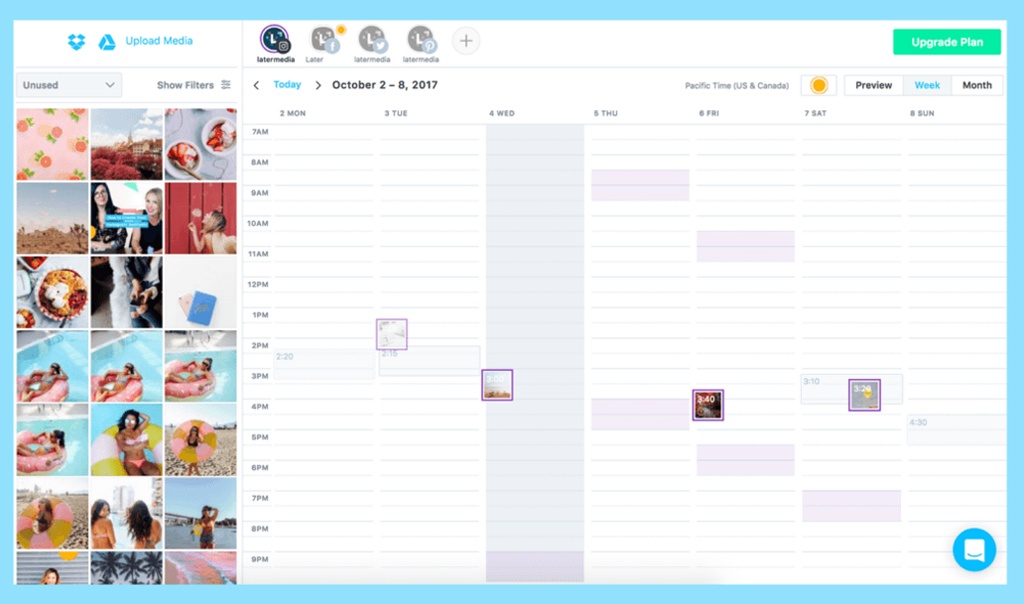 Later
As the scheduling tool for GQ, Lonely Planet and The Huffington Post, Later is the #1 Instagram scheduler for a reason. Firstly, you can be assured that your account is safe with Later; as up until recently, auto-publishing wasn't available through the Instagram platform, but as an official partner, Later has got your back.
Later also has the option of scheduling content on a desktop, whereas PLANN is still in the development phase and won't be running it in conjunction with app accounts.
If your account relies heavily on reposting user-generated content, i.e. the customers that take photos at your venue, then Later is perfect for searching through a hashtag and reposting, without losing the photo quality through screenshotting.
Get Later for free, or upgrade as a business from $19/month.
Other Useful Resources for Scheduling Content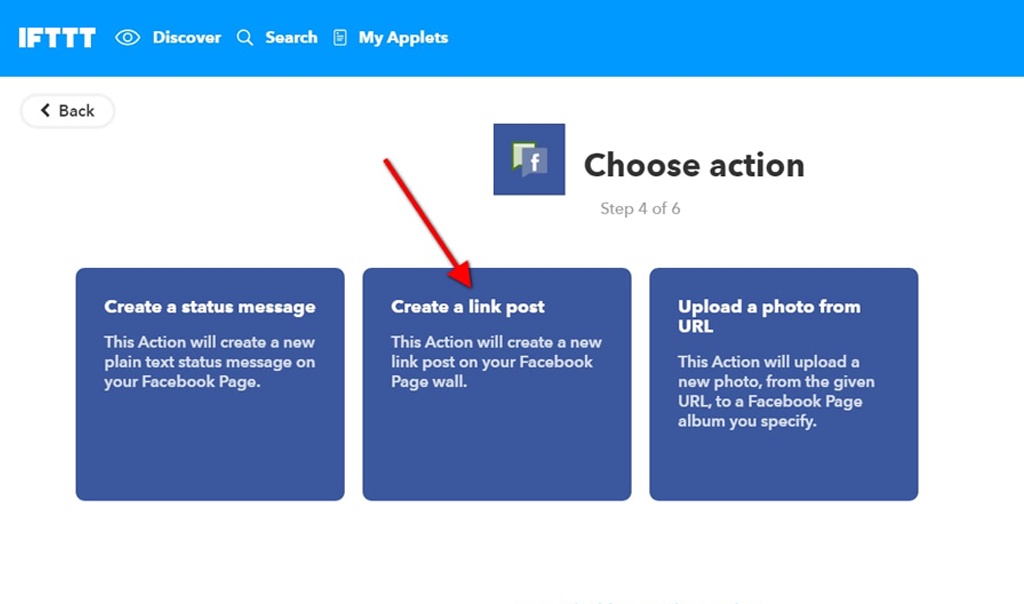 IFTTT
Confused about why you can't just integrate all your digital content channels? There is a solution, in the form of recipes. Not food recipes, but IFTTT recipes.
IFTTT combines over 600 apps to schedule, automate and distribute through connectivity. You can easily create and 'turn on' recipes to allow you to post Instagram photos as Tweets, and share your YouTube videos to Facebook as posts, and automatically share your new WordPress posts to Facebook, plus so much more.
No matter what social media scheduler you choose, make sure you and your team are comfortable using and communicating via the tools the app provides. Social media scheduling tools are meant to make your life easier, not more confusing, so pick the tools that are going to help you thrive in your business.
Interested in learning more about how we use apps and scheduling to improve the social presence of our clients? Get in touch today, let's chat all things social media marketing.