TikTok has been booming in popularity well before the Coronavirus pandemic. However, the social media platform has been experiencing a surge in downloads and in-app spending ever since lockdown has been implemented in major cities around the world.
Increase in TikTok Downloads
The app was downloaded by almost 113 million users worldwide in February through the App Store and Google Play. This number is TikTok's peak for both installs and revenue according to Sensor Tower Store Intelligence estimates.
The trend seems to have continued in to March. Music Business Worldwide reports TikTok's global downloads from March 16-22 were up by 12%, from 25.4 million during the week starting March 9, to 28.5 million for the week starting March 16.
Sensor Tower reports that the increase in user spending during February following a month-on-month decline from December to January could be due to quarantine prompted by the Coronavirus outbreak.

Turning to TikTok in Times of Crisis
At the time of writing, gatherings of more than 2 people are illegal in the state of NSW, and many other states, cities and countries experiencing similar lockdowns. People all over the globe are looking for ways to entertain themselves now that hanging out with friends could result in a prison sentence.
TikTok has become a way for many Gen Z and millennials to connect during the pandemic. The hashtag #coronavirus has 46.5B views, with videos of TikTok users expressing their frustrations on quarantine through various ways. Some users documented emotional reactions to the cancellation of major events such as graduation, or the fact that they are being forced to pack up their dorms and end their study abroad. Other users are performing and editing skits to bring some dark humour into this situation.
How Brands & Organisations Are Using TikTok
While there will be a downturn in customer spending, it's clear that there is the potential for brand awareness during the Coronavirus pandemic. More people than ever are glued to their phones for entertainment and a connection to others. Brands are pivoting their marketing strategies to remain relevant while approaching the current events in a sensitive manner.
World Health Organisation
The very first video that WHO posted on their TikTok account was how to protect yourself and others from Coronavirus. Since then, they have posted many more informative videos as well as launched the #SafeHands challenge that encourages people to wash their hands. This tag currently has 3.5 billion views and counting.
With 1.4 million followers on TikTok, WHO's top priority of reaching a younger audience with credible COVID-19 educational material has been very successful. WHO worked with TikTok to get this source of information to stand out on the platform, while still blending in to the usual user interface. For example, searching 'coronavirus' will have WHO resources as the first result.
Dettol
Dettol has launched a hashtag challenge that encourages users in India to participate in hand washing. With TikTok becoming wildly successful with Indian users, this campaign aims to raise awareness on proper hand washing technique for 20 seconds as well as inspire people to create interesting content.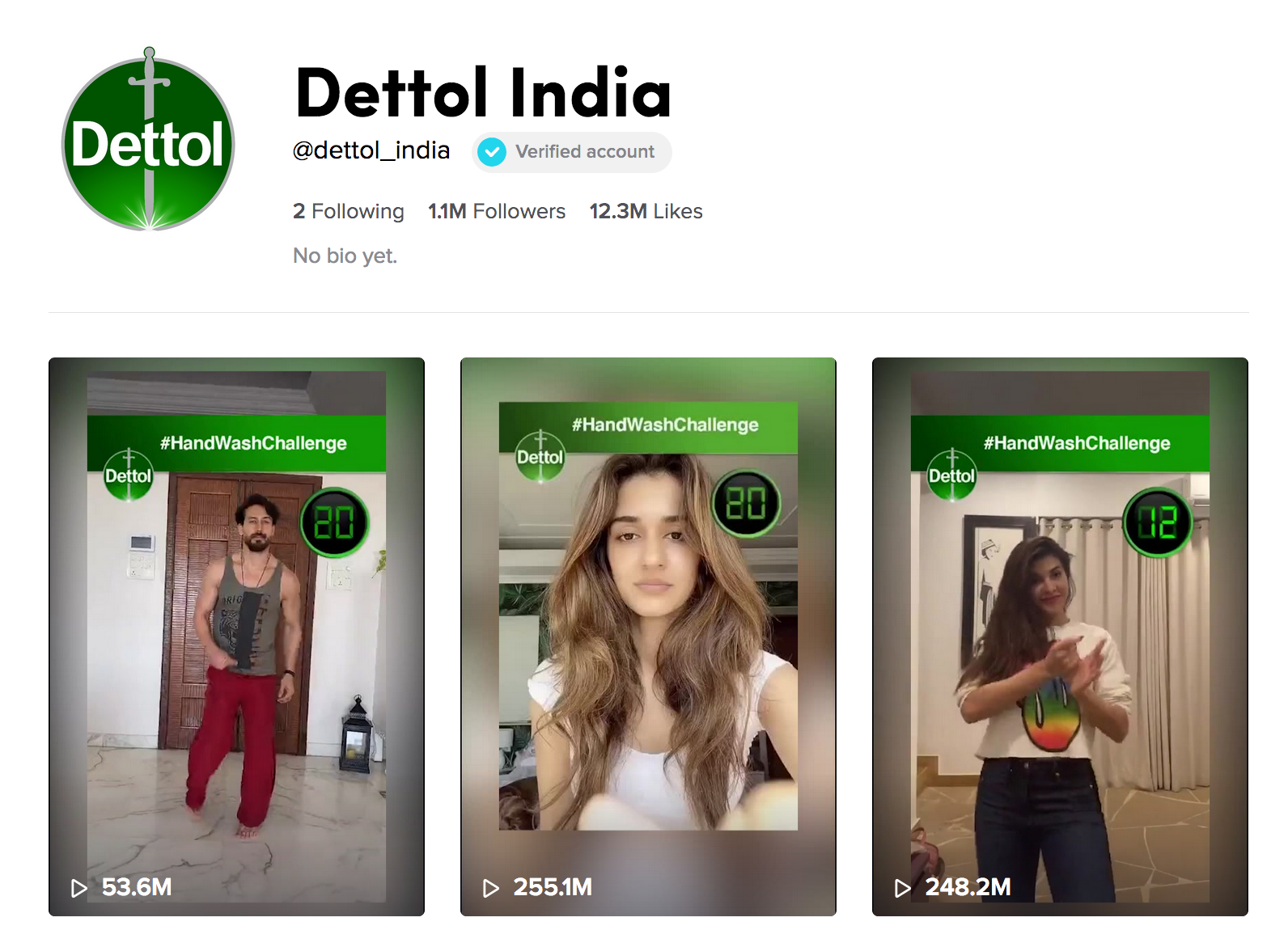 JanSport
This backpack brand hired 10 TikTok influencers to promote a giveaway. Working alongside the nonprofit organisation World Central Kitchen, Jansport are donating 12,500 backpacks filled with food and other supplies to students in need. Monica Rigali, the senior director of marketing at JanSport, stated "We just wanted to meet our consumer where they are right now. And we know they're on TikTok probably more than they should be."
Nike
Over on Douyin, the Chinese version of TikTok, Nike has been publishing videos to demonstrate home workouts now that gyms are closed. Natasha Gillezeau, a writer for Financial Review who focuses on tech, marketing & media, notes that the videos are "casual and loose", and it "shows how the brand quickly adapted to the changing needs of locals".
The surge in app downloads is no surprise in this age of video content. Coronavirus and quarantine has made a huge impact on how people live their daily lives, and we are now seeing this reflected in the marketing strategies of all businesses. TikTok continues to rank highly in social media platforms, and businesses that can adapt to these changes will be the ones that will survive to see the end of this pandemic.