User Generated Content (UGC) refers to a collection of content created online that relates directly to your business, generated by a user or third party other than yourself. There are many benefits of using UGC as part of your digital marketing strategy and many ways to encourage people to generate content for you.
The simplest example of UGC is tagged posts on social media - a user has taken a photo that you can now share as part of your social media schedule.
Types of User Generated Content
The main source of User Generate Content we use as social media experts is tagged posts on social media, however there are other forms of UGC that can be used, shared and incorporated as part of your digital marketing strategy to showcase your products or services.
Blogs

Reviews / Feedback Forms / Testimonials

Video Content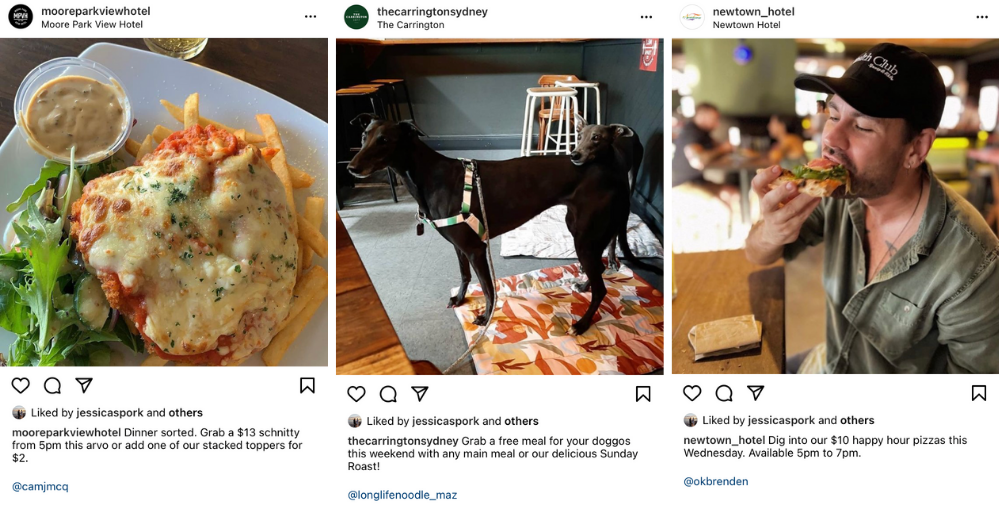 User generated content we've reposted for our clients.
Why Should I Use User Generated Content?
User Generated Content provides a number of great benefits to any business or industry on social media:
More Content
If you have only have a small library of original content to use for posts, UGC can be super helpful in adding to that library. Even if you do have a large library of original photos, UGC can be used to mix up your feed and add some relatability to your brand.
Reviews can also be a source of content for you to post, especially if someone leaves a stellar review on Facebook or Google.
It's Relatable
Reposting a photo from another user doesn't make your business automatically relatable, but it does add a level of social awareness that you are listening and seeing how people are connecting with your business online.
It's a unique way to show a different side to your business and let users know that you care about your customers.
Sense of Community
Adding onto the last point, posting UGC can give your business a sense of community, whether you go as far as giving your followers a name, or you just feature a UGC post once a week.
Encourages Other Users
A majority of people love to see themselves featured on a business' social media page (let's be honest, if you're tagging a business in your post, you're looking for some sort of freebie or recognition).
Posting UGC can encourage other people to do so, as they can see that your business actually pays attention to what's being made and interacts with their community in that way.
Encouraging these other users in turn also increases your brand awareness as people start tagging and posting about your business to their friends.
How To Get More User Generate Content
Posting User Generated Content itself is the first and easiest step to encourage more people to post and tag your business. Here are some other ways to generate more UGC:
Social media competitions & giveaways (post a photo and tag us to win)

Creating branded hashtags and asking people to use them/tag your business when posting about you

Posting UGC regularly

Creating an Instagram highlight of repost/reviews from users
How To Select User Generated Content for Social Media
Choosing what photos to repost on your feed is simple enough, however there are some housekeeping rules you should follow so you don't get into any unwanted trouble and keep a nice flowing feed:
Make sure the repost suits your feed! Quality over quantity is always the best rule of thumb. If the quality isn't up to scratch, you can always share the post as a story.

Make sure there aren't any laws being broken in the photo. Something as simple as social distancing during COVID-19 can have keyboard warriors at the ready.

Keep your personal opinion on your personal account. Sometimes reposting a politically driven post on your business page can have a negative backlash on the brand when there was no need to share in the first place.

Always tag the user in the copy of your post. If someone wants their photo removed from your feed, apologise and take it down. (this rarely happens though)
User Generated Content should be something you use as part of your social media strategy, as it adds flavour and diversity to your feed and allows your channels to grow through organic content.