We've previously shared 6 Tips for Better Menu Design, but there's so much more to cover! Before the design process even begins, there are a few decisions to be made that will shape your final outcome.
Disposable Menus
Disposable menus have traditionally been popular in the form of the takeaway menu. These allow the customer to keep a copy, and throw it away once they no longer need it. In these last few months however, disposable menus have now been frequently used during COVID-19, and we expect to still see these stick around in the post-COVID world due to their reduction in human contact.
Whether you're considering a disposable menu or a traditional permanent menu for your venue, here are some points to consider.
Printing: In-venue VS Print Service
Printing in-house may allow you to save on printing & material costs if you are planning to use simple black & white design on standard A4 copy paper around 80gsm. However, if you are planning to print a coloured design, use thicker, sturdier stock around 200gsm, or include any embellishments like die-cuts or binding - these will much better suited to a print service. Quantity is also an important factor, as 30 disposable menus per day might be fine to print in-venue, but if you're looking at 200, it might be cheaper to get it done externally!
While going down the disposable route, the recyclable nature of your menu should also be considered. We've seen a resurgence of single-use products due to COVID-19, so you may want to opt for recyclable paper - but can this be sourced and printed in-venue?
Looking for other ways to keep eco-conscious? Here's 5 Sustainable Practices for Restaurants!
Conclusion:
In-house printing is best for simple menus that are standard paper sizes such as A5 and A4, using no extra embellishments or binding. E.g. a daily menu would have no use in being highly embellished when it's replaced daily.

Professional printing is best for when your menu is designed to have embellishments and features such as embossing, binding multiple pages and foil accents. Printing on thicker paper stock may also be a challenge for standard office printers. Professional print services are also equipped to cut the menus down to size more exactly.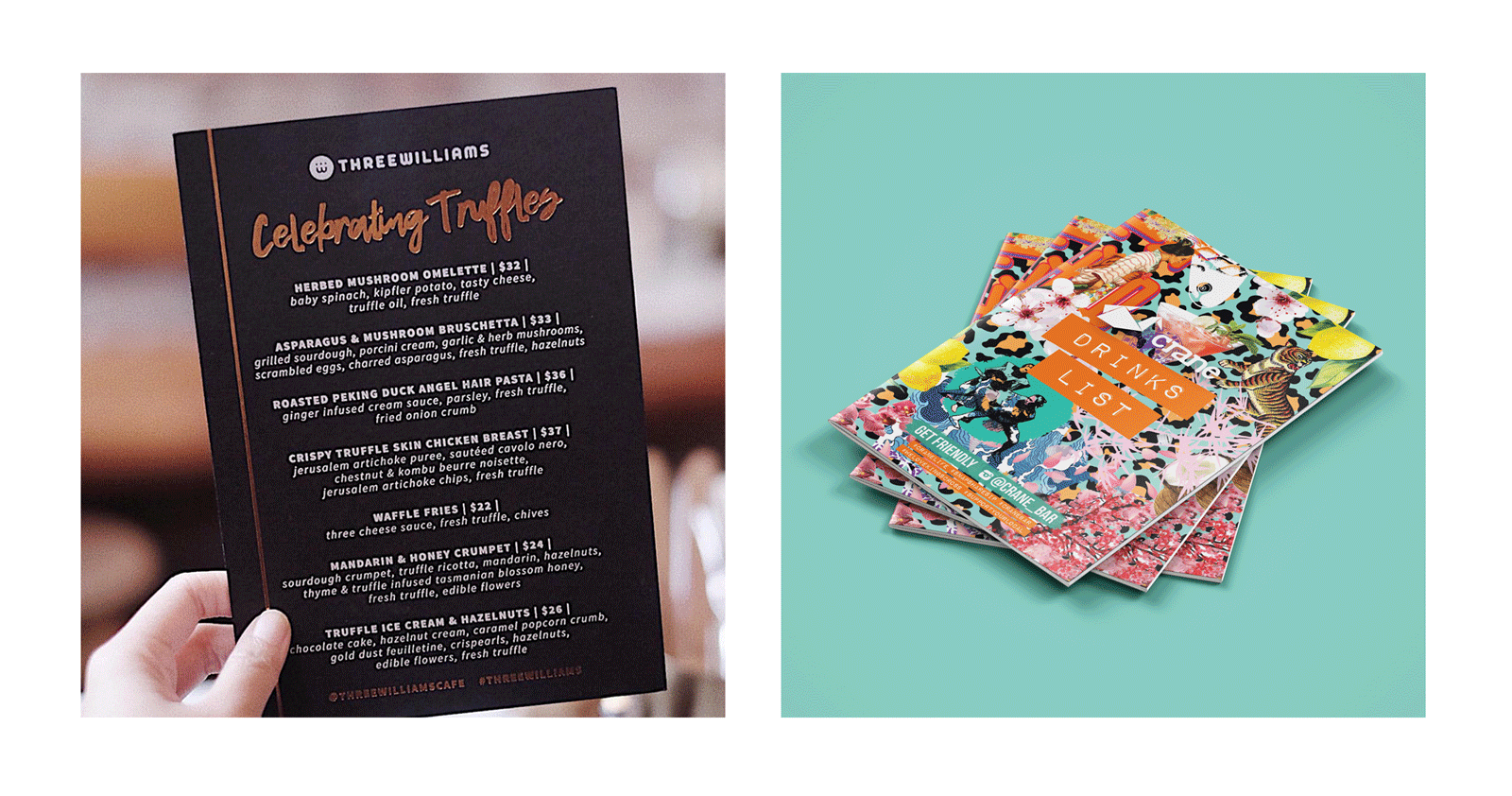 Professionally printed menus, designed by Sydney Design Social
Three Williams - Celebrating Truffles: Uses copper foil & white foil on 600gsm black card stock
Crane Bar - Drinks List: Uses brilliant range of colours, printed on glossy card stock as a booklet
Menu Updates: In-venue VS Design Service
If you are a venue that frequently updates their menu (e.g. daily specials, weekly specials), you may be considering the staff in-venue to be the ones to update the menu in order to save on costs. The menu design will then depend on if your staff are able to use Adobe InDesign - the best program to create beautifully designed documents. If they are not able, there are many limitations to the design if it is created in approachable programs such as Microsoft Word or Canva.
Conclusion:
In-house menu updates are best for simple & straightforward menus, such as listing each dish vertically. (Unless your staff can use professional programs such as InDesign!)

Professional menu updates are best for when your menu has multiple text sections, uses icons & imagery and other design elements that would not able to easy to configure in programs such as Microsoft Word.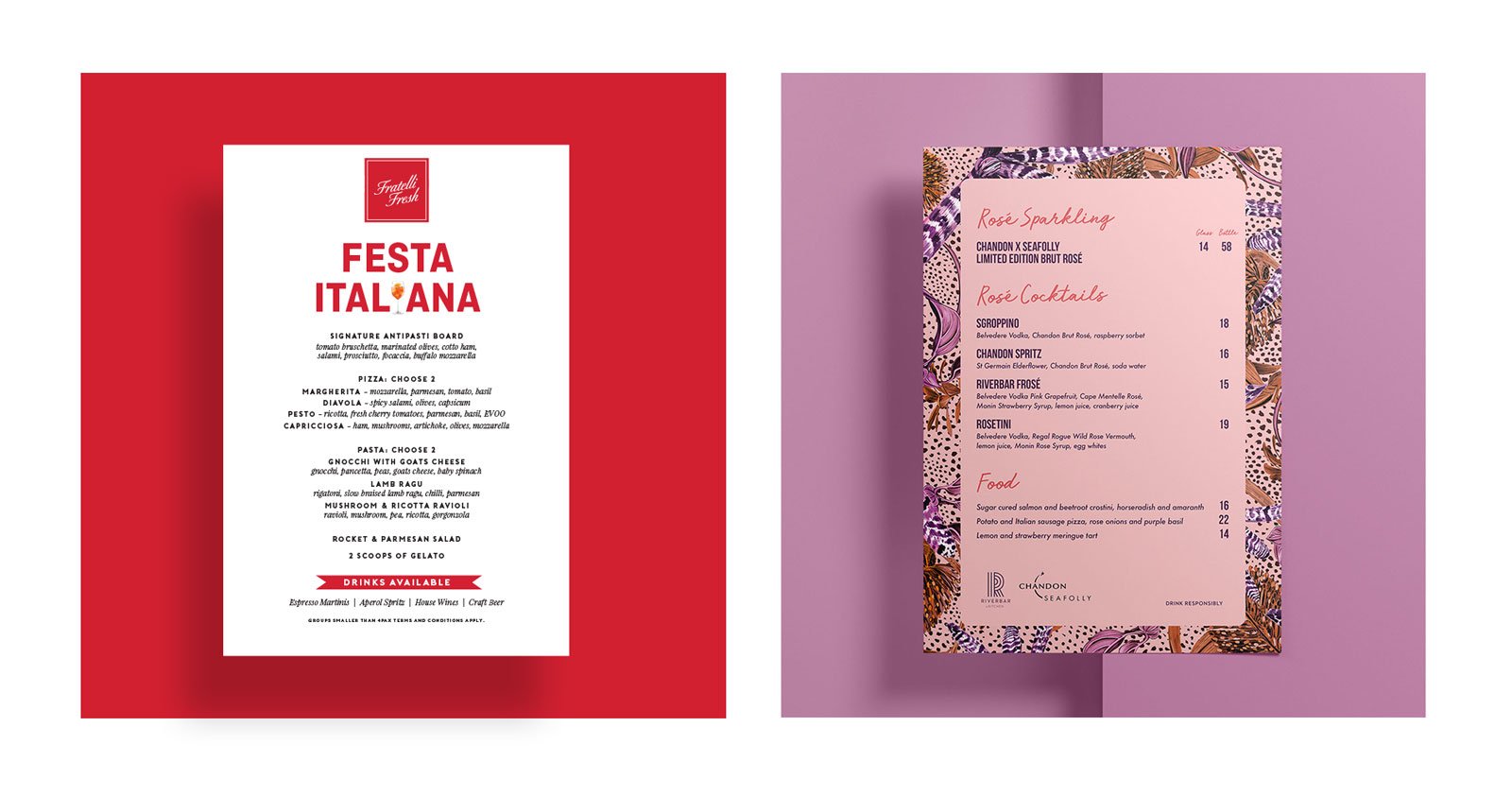 Two menus designed by Sydney Design Social
Fratelli Fresh - Festa Italiana: A simple design that could be updated in Microsoft Word
Riverbar & Kitchen - Rosé Festival : A more elaborate design featuring multiple logos, alignments, fonts, patterns & border that would not be suitable for Microsoft Word
Need a hand with design or print services? Get in touch with us today to find out how SDS can help! You can also find more of our menu design work here.