Tech is everywhere! And the hospitality industry is no exception.
We have listed our 6 favourite technology trends of the hospitality industry that you should definitely consider to give your business a tech makeover. You may have skipped a bunch of these in 2021, but now it's time to jump on the bandwagon!
The digitalisation of the hospitality industry is an ever-evolving phenomenon. Every year, we encounter countless new technologies changing the landscape of restaurants, bars, hotels and everything in between.
The past decade has seen the hospitality industry rapidly changing, being taken over by tech trends. Now, more than ever, it is absolutely imperative to keep up with these trends.
Embracing the tech wave will put you back on the map, help you stay on top of important changes, and if done strategically, make you stand out.
Here are the top 6 hospitality-tech trends you may want to consider for your business in 2022:
Mobile apps

Design promoting the Zeus Street Greek app created by Distil.
Everybody now uses applications to order food and drinks. Apps like UberEats, Menulog and Deliveroo are used extensively by diners for variety at their doorstep. Making full use of these will undoubtedly help expand your customer pool.
However, you can take it one step ahead. Many venues now have their own apps for in-app ordering and loyalty programs. This is an excellent way to enhance customer engagement and improve the dining experience.
This trend hasn't completely taken off completely yet, due to the time and resources that go into the making and maintenace of an app. However, this will become a more popular option in 2022 as the hospitality industry braces for an even more online-focused system.
Smart dining/smart hotels
me&u design for Riverbar& Kitchen created by Distil.
The pandemic induced regulations of checking-in have brought with them the opportunity to shift to a more self-serving hospitality paradigm. Online menus, waitlist software systems and other digital applications are transforming dining and hotel stays into effortless, minimal contact experiences. In 2022, the hospitality industry is going to be extensively smarter than ever.
Why does your hospitality business need this? Apart from providing customers with amenities of the present, smart dining has benefits to your business that you cannot dispute. Through technology, you can speed up the service, collect valuable data, use it to increase your revenue and keep track of details that you might otherwise overlook.
Chatbots
Communication is a key pillar of the hospitality industry. But often, it becomes extremely tedious to handle customer service and answer each and every question. Fortunately, AI has reached a point where bots can take care of the online half of this for you and this technology isn't difficult to access anymore. 2022 is going to be seeing a lot more of these!
From being short staffed, low on time, jam-packed with bookings to language barriers and data management, Chatbots are the solution to numerous problems. Additionally, you can keep upgrading and improving these if you hit a snag. For optimal use of this technology, be sure to send out automatic surveys and get feedback.
Virtual Reality & Augmented Reality
Virtual Reality tours are all the hype right now. If your establishment is one that is focused on interiors, aesthetics and ambiance, you need to get on this one ASAP! As VR continues to become more popular among the consumers, lots of more venues are going to offer virtual tours in 2022.
This is especially great for Google My Business listings and your website. Since both of these platforms are frequented by people likely to visit your venue, this makes for a trendy way to seal the deal.
Additionally, you can add some entertainment and make your spaces more interactive using Augmented Reality. If you're targeting a younger crowd, AR could be exactly what you need to make your business more fun.
In 2022, you might want to try going for interactive hotel rooms, gamification, guest recognition, translation facilities or simply having small, virtual elements at your venues.
Cybersecurity
With the industry's increasing imbibement of technology, cybersecurity presents itself as a necessity for hospitality businesses today. There have been major cyber breaches at giants such as hotel chains all the way to smaller cybercrimes at food outlets.
It is extremely important to take all necessary precautions while also preparing for any breaches that may still occur. Regular system checks, staff training, regular risk assessments and insurance are some of the ways to do this. It is also very beneficial to invest in cybersecurity software and IT consultants.
A surge in any and every other trend in the hospitality tech sphere will only increase the need for cybersecurity. Cybersecurity is going to be everywhere in 2022, and if it's not a part of your business, it really should be!
Strong social media presence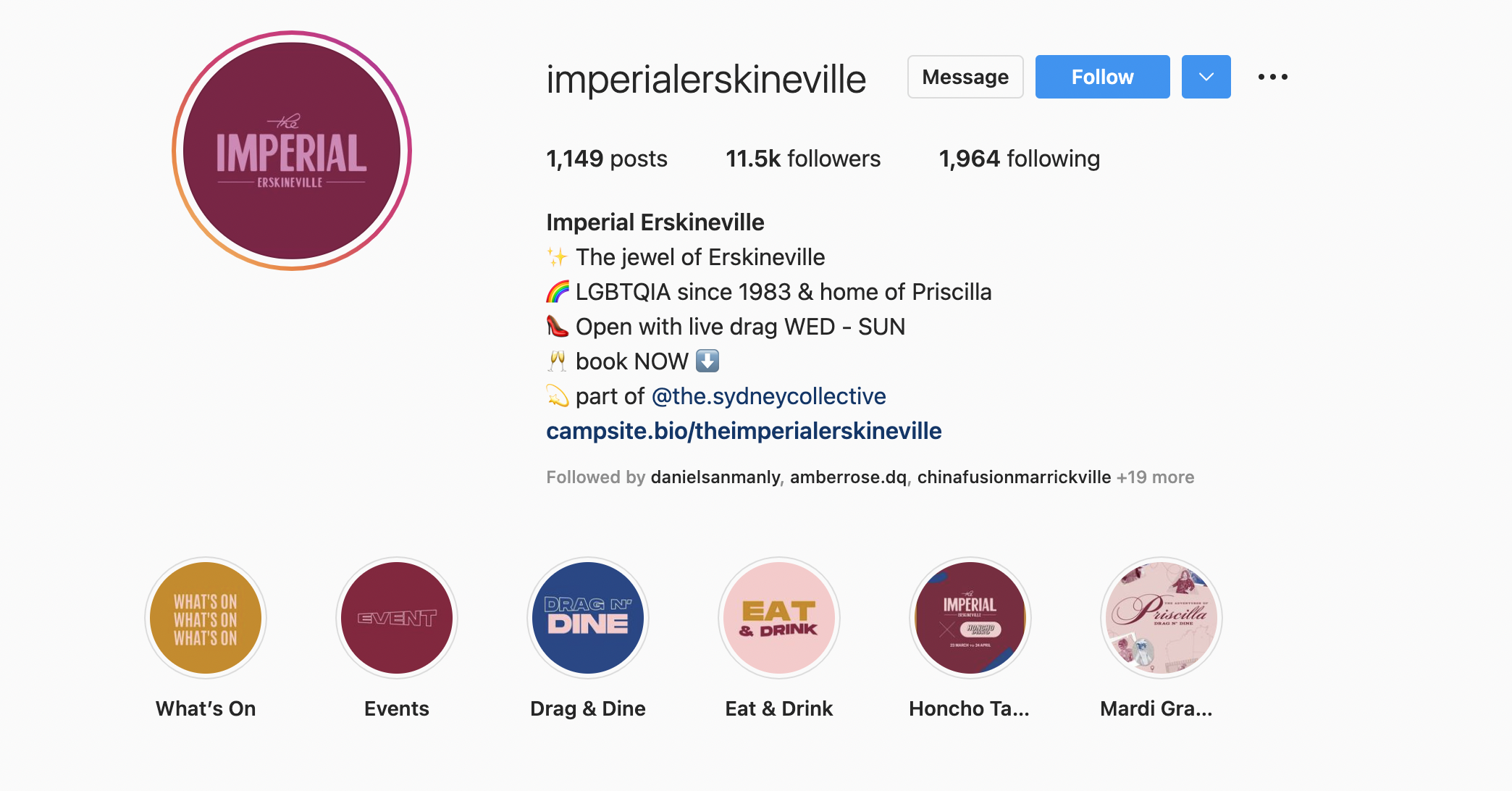 Social media page of Imperial Erskineville with over 11k followers.
Hospitality venues been exploring profiles on Facebook, Instagram, TikTok Pinterest, LinkedIn, Snapchat and others. In 2022, this is going to shoot up to a whole new level, with most venues having social media accounts as the one-stop place for information, interaction, inquiries, shopping, and business updates.
Your business, today, needs to have a strong social media presence. An active online identity with a unique personality and voice, engaging with others. This is going to be a major source of where you get your new customers from, as well as the place to retain existing ones.
To read more about hospitality marketing, subscribe to our blog.