Want to reach a wider audience on Instagram? Delve into Instagram's alt text feature and how it can increase your content's discoverability and accessibility.
What is Alt Text?
Alt text is short for alternative text, and is the alternative to your image when that image can't load or can't be read. Alt text is also the alternative when it comes to those who have low or no vision, who are able to use their phones to read text and images for them using screen readers.
The aim of alt text is to describe exactly what the image is all about. It's very important to note that the alt text is not a copy paste of your caption. Let's take the below example using this Bondi Pods photograph: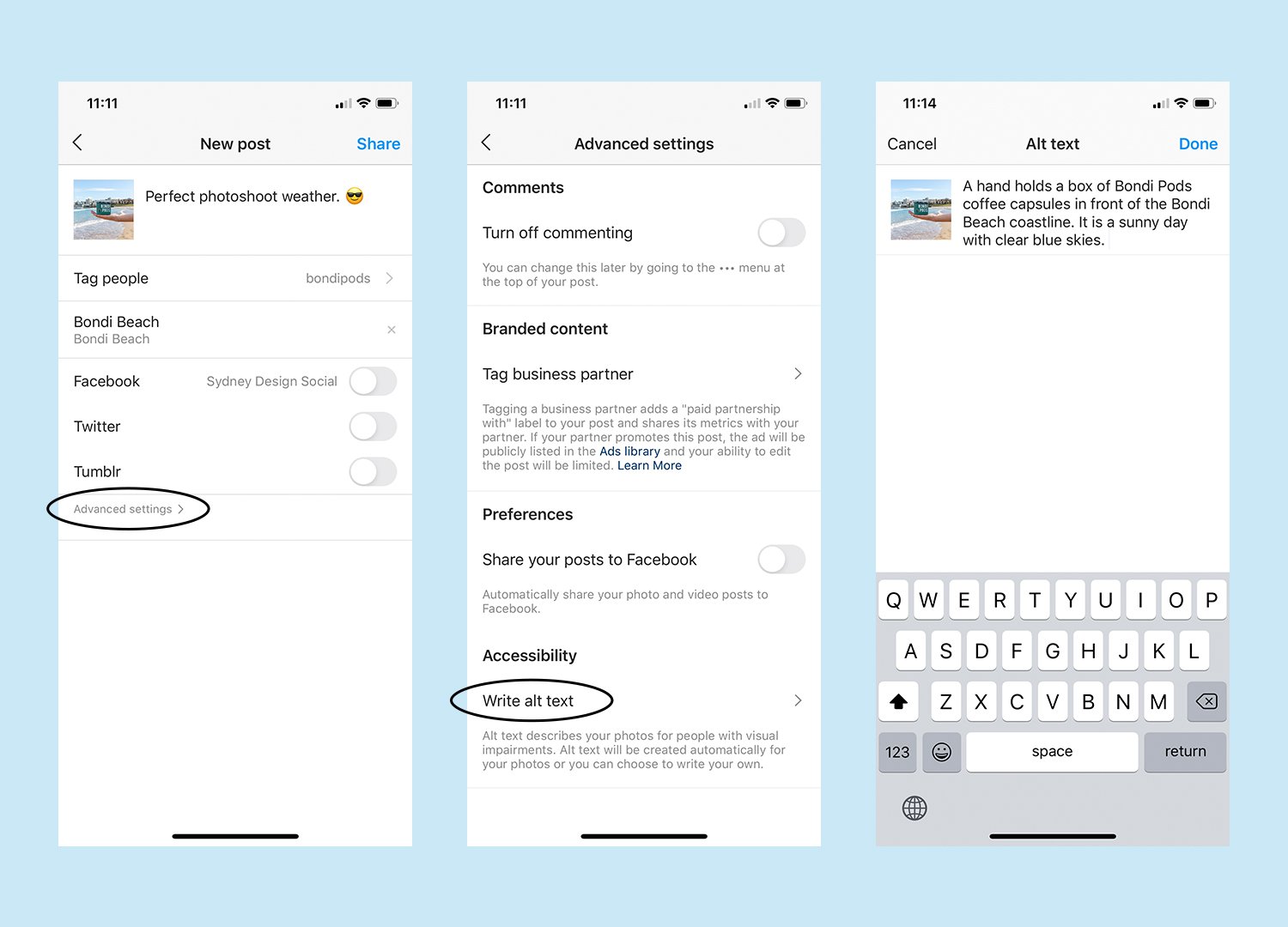 Access alt text via advanced settings and accessibility. Note how different an Instagram's caption can be to the actual content of the image!
Why Should I Use Alt Text?
Instagram automatically adds alt text to your images by using object recognition technology that generates a description of photos for screen readers. We're sure you know that these technologies aren't 100% accurate (yet. Skynet will become self-aware sooner or later... ) so it's up to you to take control.
Accessibility and Inclusion
As mentioned above, alt text is very informative to those who cannot 'see' Instagram content. For people with low vision and blindness, they can use screen readers to read out loud what is on their phone screen. Captions are no issues as they are the same for sighted people, but the screen readers will also read the alt text that is linked to the image.
By making your content as accessible as possible, you are ensuring that every one is able to engage with your channel and that could very well lead to conversion.
Instagram SEO and Discoverability
Just like you would optimise your website for search engine optimisation (SEO) on Google, you can optimise your Instagram for better search results. The search results in your Instagram explore bar are based on a myriad of reasons, such as the people you follow and what photos you like on Instagram. They are also based on keywords.
Similar to Google, when you search for a keyword, Instagram will filter through content and accounts to find whatever would be most relevant to the user. Your name, bio, hashtags and tagged photos contribute to your discoverability and alt text is one more way to help your posts rank higher in the algorithm.
How Do I Use Alt Text for SEO?
Using Keywords
Take advantage of SEO optimisation by including relevant keywords but remember not to keyword stuff! This is when you overuse keywords or use them out of context and it results in an unnatural sounding alt text. You want to use keywords as naturally as possible in sentence structure.
Be Descriptive
Imagine you are describing this to someone who can't see the image. What is the content and context of the image that you would want them to be aware of? Some relevant details include the subjects in the image, the colours, the expressions and any text that may be included in the image.
While there's no need to write a novel (Instagram has capped alt text at 100 words anyway!), we can certainly be more detailed than "Woman with beer". Get descriptive with "A smiling woman sitting at the bar is holding a beer next to text 'Happy Hour 4pm-6pm' "
Branding Elements
Include your company's name in the alt text to help with brand awareness with the people using screen readers, as well as search results for the brand.
How Do I Add Alt Text to an Existing Post?
Tap Edit on the post, and then Edit Alt Text can be found on the bottom right corner of the image.
You may write alt text for static images, including all static images within a carousel.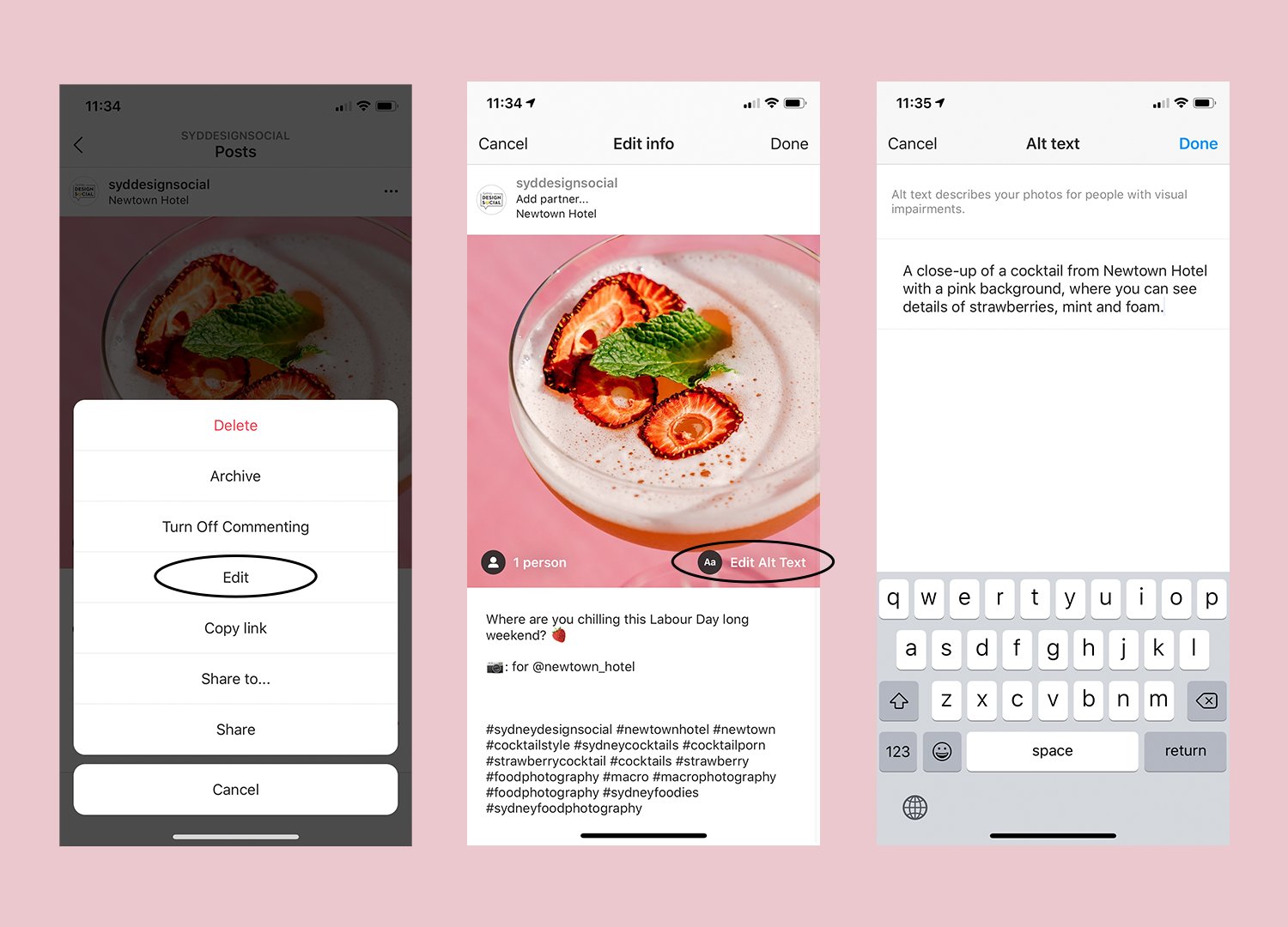 Example image using a cocktail from Newtown Hotel
Now that you understand the importance of Instagram alt text and are equipped with how to write useful alt text descriptions, go forth and update your most popular posts! Adding alt text to your content can help with these key pieces of content appearing in search results.
Subscribe to our blog for the tips on marketing, hospitality, design and more!