You've probably experienced some form of Facebook Advertising, either at it's best or worst. Sometimes, Facebook recommends awesome brands similar to what you like, or reminds you of something you talked about in private 10 minutes ago with your friends. Other times, you'll get a random ad that makes you say, "why on earth am I getting ads to buy bulk quantities of super glue?"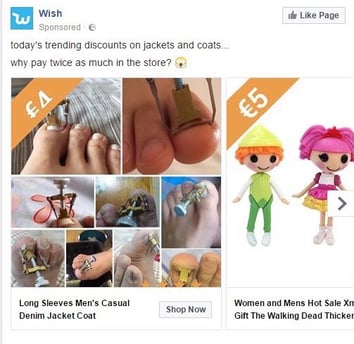 Definitely not an ad I received on Facebook.
If you're running Facebook Ads for your business, you don't want to be the latter. With ever increasing competition in the digital space, you want to make sure your budget is being spent on people who will engage with your ads and your business.
Here's some tips to better improve your Facebook Ads through better targeting.
Trust The Process
This may seem like a simple process, but it's something that helps me think about an overall ad campaign and what my goals are. When creating a Facebook Ad campaign, you need to know:
Who you want to see the ad (i.e. prospective vs returning customers)

What you want to happen when this group sees your ad (i.e. buy my product, share my post, like my page, visit my website)
These two factors are generally what makes or breaks an ad - finding the correct audience and producing the relevant copy and content.
If your ads aren't performing, it's usually because your audience needs to be changed, or the content of your ads isn't suitable for your chosen audience.
Custom Audiences
Unless you're creating a very broad campaign for brand awareness purposes, you don't want your targeting to be too general. Use custom audiences to select a specific set of people based on their demographics and behaviours.
Every audience will perform different based on your overal goals, as well as how much budget you have for your ads. The following points are some of the ways you can fine-tune your audience or make changes that will affect how your ads perform in Facebook Ads Manager.
Note, that it's always best practice to monitor your ads regularly, and make changes if something isn't working. This isn't a 'one size fits all' approach.
Location
Geographic targeting is important for a number of reasons. Facebook Ads Manager allows you to select very specific locations, and whether people are living, travelling, or have just passed through your radius.
Here are some thoughts and insights into location targeting:
Does your customer live in a specific location or are they travelling? For example, are you targeting locals, someone outside your local area, or someone travelling within your local area.

Typing a specific suburb into 'Location' and clicking it will give you a smaller audience size compared to if you drop a pin on that very same suburb.

For example, typing in 'Surry Hills' gives me a potential reach of 25,000 people - a decent sample size for a small budget. However once you start adding interests, behaviours, and demographics - this audience will shrink dramatically.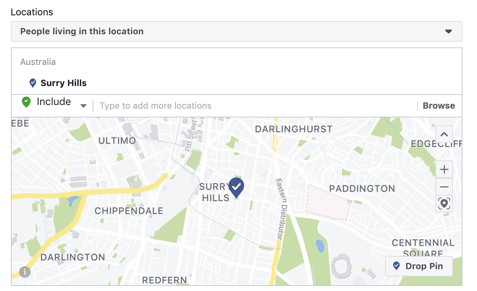 If your ad frequency is too high, try expanding your audience by dropping a pin directly on the location instead. In my example, I dropped a pin over the 'Surry Hills' suburb pin and decreased the radius to just 1 mile. This increase my overall audience size to 230,000.

Remember to use exclusions where necessary. Let's say for example in this Surry Hills radius, I didn't want people in Darlington to see my ad. I would click the green 'Include' tick and change it to 'Exclude' and drop pins to create a sort of Venn diagram.



Age & Gender
Age & gender are fairly straight forward in terms of its function in Facebook Ads Manager.
If you to select a broad age range for your audience, think about the tone of voice you use in your Ad Creative. Would you talk to a 21 year old male the same way you would talk to a 45 year old female?

See what genders and age ranges resonate with your content most by making seperate ad sets with more defined ranges. You might have to increase your budget to do this depending on how much you're spending, however it's the best A/B test you can do for your audience apart from the one that Facebook overs at the 'Campaign' level of an ad.
Detailed Targeting
This is the nitty gritty of Facebook targeting. If you're creating ads for the first time, stick with some generic interests related to your industry and see how your ads track. The more your ads learn, the more interests, demographics and behaviours you can start adding to tweak your campaign.
As mentioned before, you should always check your ads to see if they're performing the way you want them to. If they're not, consider changing some of the detailed targeting inputs.
Let's say you're making Facebook ads to sell golf balls. Think outside the box - there are numerous levels to this product that you can use to target people through Facebook Business Manager, whether it's a person you want to see your ad, or someone who would potentially be interested in your product or brand that will go investigate further.
Interests
The Core Product - golf ball, golf equipment

The Sport - golf, golf course, golf cart

Media - Golf Magazine, Golf Digest, Golf Channel

Athletes - Tiger Woods, Rory McIlroy, Dustin Johnson

Sporting Body - PGA Tour, US Open, PGA Championship

Direct Competitors - Callaway, TaylorMade Golf, Titleist, Ping
These might be some obvious choices for a first ad set, however you can keep delving deeper into some of the other interests you might want to target:
Lifestyle - luxury real estate, resort

Other Brands - Mercedes-Benz, Lacoste, Nautica
The interests you choose are a great base that can be expanded on with demographics and behaviours. Think about your product as a whole rather than just the core.
Demographics
Demographics are a great way to position your product for the creative side of your ad, as it lets you target people with upcoming birthdays, friends of people with birthdays, people with different levels of education, etc.
In our example, we could add a targeting demographic of 'people with a birthday in the month' of October and position the ad for a birthday sale
Behaviours
Behaviours are similar to Demographics, giving you another layer of depth to your audience, and include purchase behaviour, mobile devices, recent travellers, anniversaries and much more.
In our example, we could include the Behaviour 'Engaged Shoppers' to include people in our audience that have clicked a 'Shop Now' call-to-action button in the last week.
Other Tips
Use Suggestions if you can't think of a related topic

Use the Browse button to take a look at some Demographics and Behaviours you may be able to use in your targeting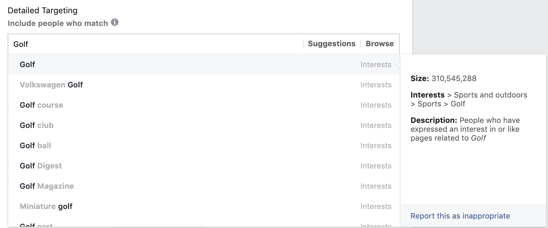 Check Your Analytics
Numbers don't lie. What you may have thought was an awesome campaign may not turn into conversions or perform the way you wanted it to.
As mentioned several times, you should regularly check how your ads are performing and make changes to targeting where relevant.
You should also look at your post analytics on Facebook to get a gauge of what audience is interacting with your content the most. This might give you an insight into changes you can make in Ads Manager to better target audiences who are interested with your business or product.
Every ad campaigns outcome will be different. It may take time to find your right audience, so be patient, review your analytics and think about some of the changes you can make to better target your desired audience.
Looking for more digital marketing tips? Subscribe to our blog below for the latest news!