2019 marks the 100th birthday of the ruby red Italian charmer, the aperitif to put all other aperitifs to shame, the one and only; Negroni.
In celebration of the worlds' best cocktail (if I do say so myself) and in honour of Negroni Week 2019 (June 24th - 30th) we have compiled a list of our top 5 favourite recipes that provide a zesty twist on the classic.
But first, join us for a little trip down memory lane to get the abbreviated (and potentially inebriated...) history of the beloved tipple.
Picture it now; Florence, Italy, 1919. A man; Count Camillo Nergoni, walks into a bar (no joke) and requests that his bartender amico; Forsca Scarselli, add more strength to his favourite cocktail - The Americano – by replacing the soda water with gin. Scarselli follows his pal's request and also adds a cheeky orange garnish. Voila! Before long, everyone was coming into the bar asking for the infamous 'Negroni'.
Not long after, the Negroni family took advantage of the cocktail's success and founded the Negroni Distillery in Treviso, Italy, where they produced a ready-made version of the drink, sold as Antico Negroni.
It's safe to say the classic Negroni is undeniably the best, but it's always fun to mix things up a little.

Check out our top 5 takes on the Negroni below!
Emma Janzen
The Boulevardier
A long-lost cousin of the Negroni, swap out the gin for bourbon (or rye) whiskey and you get the delicious Boulevardier. It's as equally complex as its gin-based predecessor, but the whiskey adds strength, body and warmth, making it perfect for winter drinking.
Ingredients:
30ml bourbon (or rye) whiskey
30ml Campari
30ml sweet vermouth
Garnish: orange peel or cherry
Glass: Old Fashioned glass
Directions: pour ingredients into a mixing glass and fill with cracked ice. Stir well for 20 seconds and strain into a chilled glass. Garnish with a cherry or a twist of orange peel.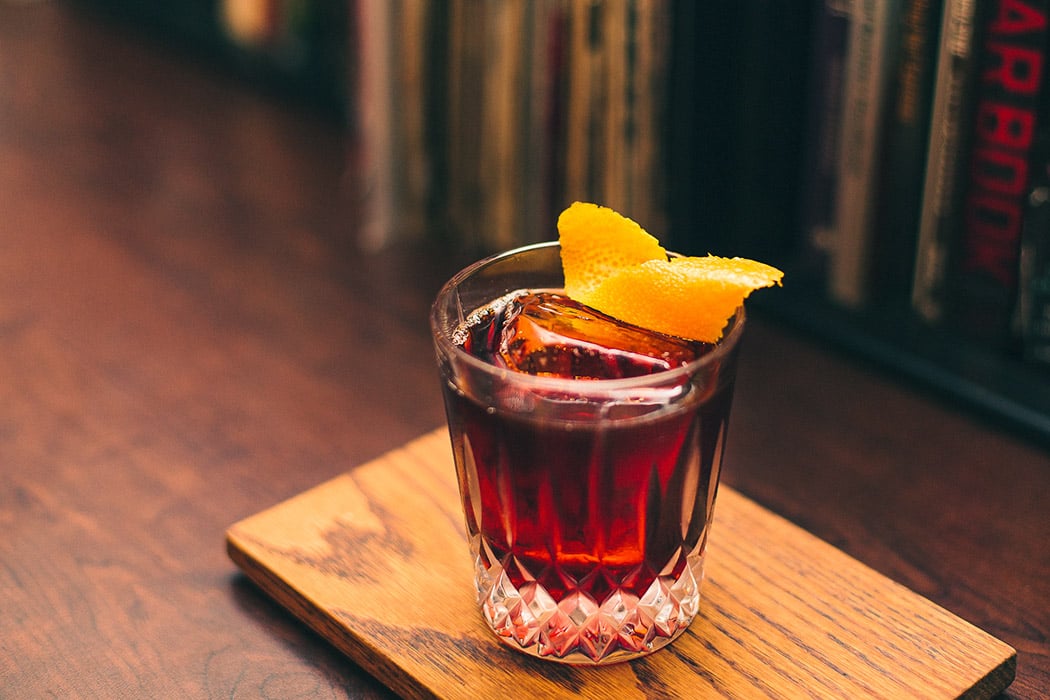 Edd Siu
Cold-Brew Coffee Negroni
Believe it or not, coffee and Campari mix exceptionally well together. The bitter notes of the Campari stretch the boundaries of coffee's dark, earthy flavours. The below recipe was created by the legends at Vespr Coffeebar in Orlando, Florida where the baristas sub out the gin for cold-brew coffee concentrate, creating some serious, pleasantly surprising, oomph.
Ingredients:
45ml cold-brew concentrate
30ml Campari
30ml sweet vermouth
Garnish: orange peel
Glass: rocks glass
Cold-brew concentrate: in a French press, combine 15 tablespoons of ground coffee and 450ml of room temperature water but DON'T plunge the strainer yet! Let stand for 17 hours, then plunge to separate grounds. Pour into a vessel and refrigerate for 2 weeks.
Directions: stir ingredients together in a mixing glass with ice. Strain into a rocks glass with fresh ice cubes. Express orange peel oil over cocktail and rest garnish on top drink.
Julie Reiner
Kula Negroni
This refreshing creation can be directly attributed to Julie Reiner from Clover Club in York City, and is eloquently described as the "ultimate summer sipper".
Ingredients:
30ml London Dry gin
30ml strawberry-infused Campari
30ml Cinzano Vermouth Bianco
Garnish: orange peel or fresh strawberry
Glass: rocks glass
Infusion:add 1 litre of fresh strawberries (washed and de-stemmed) to a bottle of Campari. Allow to sit for 3-5 days. Strain the strawberries out of the bottle before serving.
Directions: combine all ingredients in a mixing glass. Add ice and stir to chill, strain over one large ice cube and garnish.
Tyler Fry
Rosé Negroni
Gin steps aside for two types of rosé in this low-alcohol stunner.
Ingredients:
45ml still rosé
20ml vermouth
20ml Campari
60ml sparkling rosé
2 dashes grapefruit bitters
Garnish: grapefruit peel
Glass: rocks glass
Directions: fill a mixing glass with ice. Add the still rosé, sparkling rosé vermouth and Campari, stir to chill, and then strain over ice into a simple rocks glass. Add the dashes of grapefruit bitters and garnish.
Francesco La Franconi
Dessert Negroni
Negroni's favourite ambassador and legendary mixologist Francesco LaFranconi created this sweet ode to the classic. What more can we say? Speaks for itself really – this cocktail is the perfect palette-cleanser cocktail to finish off any meal.
Ingredients:
45ml Cinzano 1757 Rosso vermouth
20ml Campari
20ml gin
30ml Chinotto soda
1 scoop of blood orange sorbet
Garnish: cherry, orange wheel and bay leaf
Glass: Old Fashioned glass
Directions: fill a mixing glass with ice. Add the vermouth, gin and Campari, stir to chill, and then strain over ice into an Old Fashioned glass. Top with the soda, stir, add a scoop of blood orange sorbet and garnish.

So, what are you waiting for? Head out this Negroni Week and test drive a classic Negroni at one of the many participating venues OR head to your local liquor store, grab the essentials and experiment with one of the delicious concoctions above in the comfort of your own home. However you choose to celebrate, always remember - bitter is better!