You know that box that appears on the right side when you Google search a business? That's a Google My Business listing - a customisable display of business information that makes it easier for your customers to find out about you.
Google My Business is a must for any business operating from a physical location. Here are a few reasons why you should be using Google My Business:
Providing Essential Business Information
Google My Business is often the first point of online contact that someone will make with your business.
Not only does it show essential business information such as your address, opening hours and website links but it also allows customers to see what others have experienced at your venue through Google Reviews and photos.
It's important to check that this information is always up to date so people don't visit your venue and find out you're closed!
It's also important to claim your listing if you haven't already already. If not claimed, your listing will pull information from your website and other users which may be incorrect. You want to be in control of this information at all times so you can keep customers up to date and respond to any reviews that come through your venue.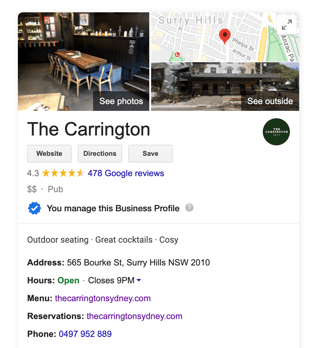 The Carrington's Google My Business listing.
Google Reviews
Google My Business is also one of the first platforms people will go to for venue reviews, whether it's the good, the bad or the ugly.
While some customers can be negative and often troll-worthy with their criticism, replying to all reviews is a great way to show potential customers that you care about your customer experience.
While some replies and apologies may not hit their mark, other customers reading the reviews will see that you are willing to reach out, own up and make up for your mistakes which goes a long way. Replying to negative reviews is also a good way to show customers the policies you have in place and what you will/won't tolerate.
Google Reviews can also be a way to see what customers want, what they are demanding or what services may need changing/fixing.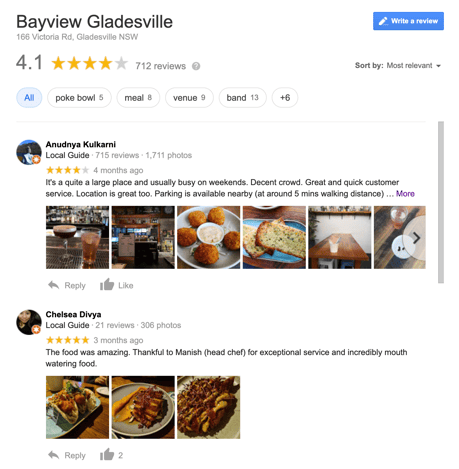 Reviews from Bayview Gladesville's My Business listing.
Updating Customers
Unexpected closures, renovations, new menus, new cocktails - these are all examples of things that people need to be aware for you to generate new business or inform people that you're not operating.
Google My Business lets you do this by making posts similar to social media. A quick caption is all it takes for your latest updates to be available on your My Business listing for customers to see what's happening at your venue.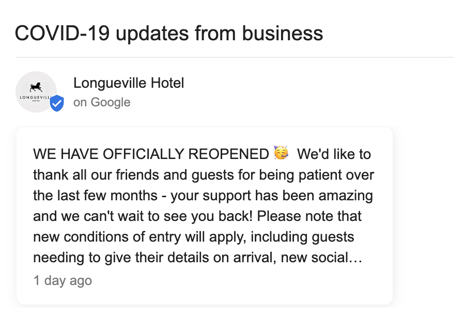 COVID-19 update from The Longueville Hotel.
Improving Your Search Engine Optimisation
Google My Business helps with the magic of Search Engine Optimisation (SEO) as it creates another point of engagement related to your website.
Optimal SEO aims to increase the quantity and quality of traffic to your website through organic search engine results (i.e. Google searches).
When your Google My Business listing appears in local searches (i.e. pubs near me), it adds relevancy to your website as your listing will appear in their search.
It's Free
All the benefits that come from using My Google Business come at no extra cost to you. A fine tuned Google My Business is a great asset to your overall digital marketing strategy.