Getting GIFs and background images to work and display properly in your email campaign can sometimes cause a headache, even to those with an abundance of experience. So, let us take you through a few tips and tricks that will help make sure your EDM's visual assets appear strong and exactly how you want them.
Accessibility.
While almost all modern email marketing platforms allow you to embed/upload animated GIFs, there is no assurance that every user will be able to view it the same way. Bummer – we know!
Some known causes for the variance in how the user views your animated gif can be from screen size, how fast their internet is, and last but most frustrating is unknowingly having auto settings in Microsoft Outlook that can have the gifs function turned off. This is where file optimisation and design consideration should be priority in case your GIFs don't play.
To avoid a user ever missing out on information in your animation, you should always try to make sure the first frame of your GIF bares all essential items that need to be seen/known. For example, the GIF below's first frame includes the title, the day and the event graphic before switching to all the other secondary information that the user may see from clicking on the link and reading from the website.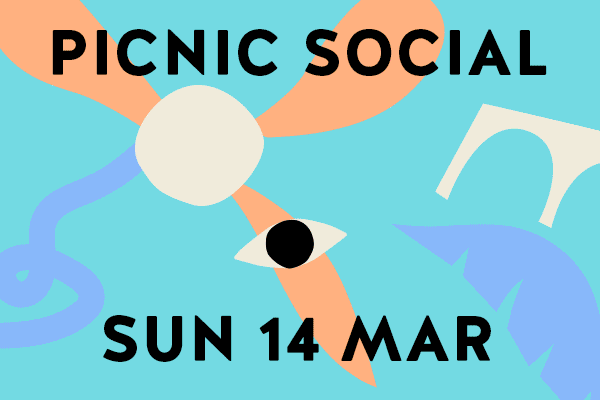 Source: Distil for Picnic Social/Opera Bar
Optimising your file for an EDM means making sure the design doesn't exceed 600px wide and should ideally be 500kb or under but should never exceed 1mb. Essentially the smaller the file size, the quicker it should load and play for the user. If your file is slow in loading, it may be missed and not capture your audience in time.
Pro Tip: Limiting your uses of colour when designing can help keep your file size down for those quantity heavy framed animations.
Photoshop has a tool that can help you achieve a low file size. When exporting, choose File > Export > Save For Web (Legacy). After making sure your designs width is 600px wide, select the top right corner menu icon "Optimise Menu" > Select Optimise File Size in the dropdown > Enter your desired file size in the box and click OK to save. From here you can export using the Done button.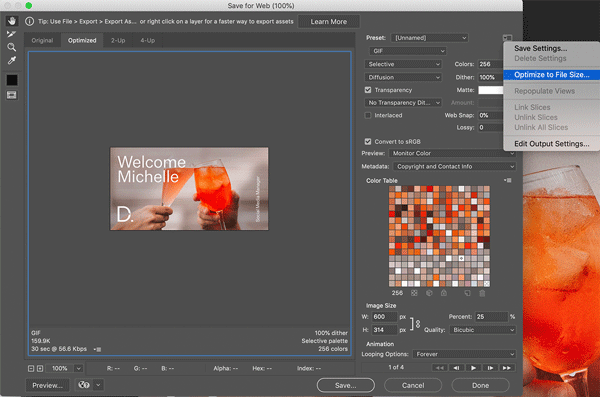 Don't forget to add alt text if available to your uploaded GIF and describe in a short sentence what happens in the GIF so that if a user who is visually impaired opens your email they are able to know what is going on.
Transparency.
While in concept this option sounds good, visually it is a bit more of a fail. It's best to avoid using transparent GIFs over an embedded background image or colour as they can often appear pixelated and show a slight white frame around the edge. Transparent PNG (preferably SVG) files eg. logos are a better alternative. Below is an example of a white transparent SVG file layered over a GIF in the email header, by using this export option it allows the transparent file to be more sharp and reduce the chances of pixelation.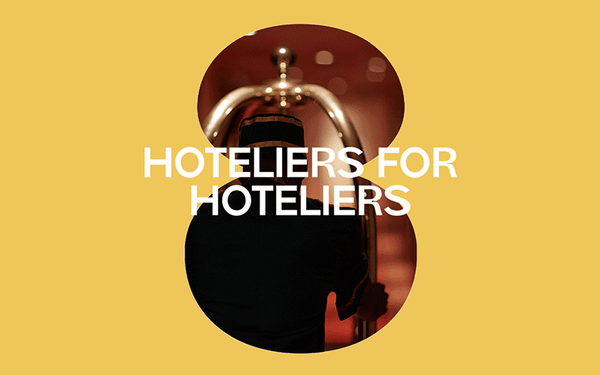 Source: Distil for Cre8Global
Background Image Considerations .
When looking to embed a background image, you should always pre determine if your text will be visible over the image. Adding a 20% black opacity over your image will go a long way in visibility for your user. A good example of this is Samsung's new product launch email below. They have added a fade towards the bottom of the image to insure where the text sits will be legible and clear.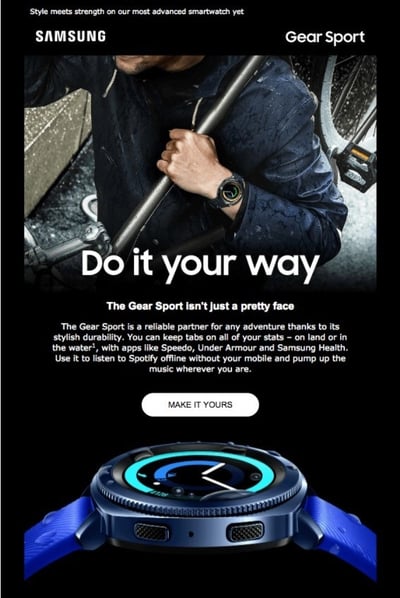 Source: Samsung Email
Hopefully by the time you are reading this you are feeling much more informed from our handy tips and excited to give designing your EDM another go with some engaging GIFs!