With hospitality venues and restaurants finding alternate ways to conduct business during the Coronavirus pandemic, it's more important than ever to have an online presence and use the Internet to our advantage.
Online Communication and Identity
Keeping your customers in the loop during this time is crucial to conducting business - especially when there has been weekly (almost daily) updates as to how our society can behave and what laws are currently in place for businesses.
Key aspects to frequently touch on with your customers include:
How new laws will affect your business operations

What parts of your business are still active (i.e. takeaway menus)

What hours your business is operating due to changes

The best contact point for customers with any queries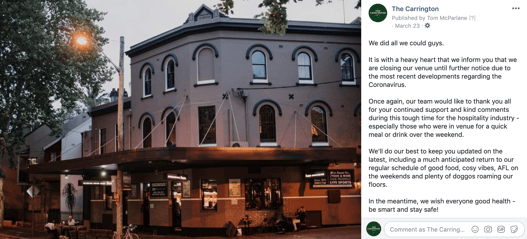 Keeping your audience up to date is key: example post from The Carrington.
The most cost effective way to do this is through social media and EDMs:
Any urgent communications should be sent out via EDM and posted directly to your social media feeds (you can also pin important updates to the top of your Facebook page)

Updates should also be made on your social media stories, linking back to posts for more information

Semi-frequent posts about current business operations (as well as stories) are encouraged to show your customers that you are still operating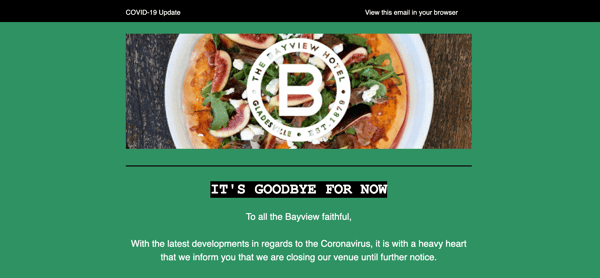 Example EDM: Bayview Gladesville.
With all your changes being communicated to your customers, it's important that your online identity remains true to your brand and reflects said changes:
Ensure your website is up to date and contains key changes to your business

Keep your social media cover photos, stories and highlights up to date so that prospecting or returning customers can see if you're conducting business

Make sure your contact information is readily available
We all need peace of mind during this time - most importantly your customers.
With frequent updates regarding your ongoing business changes, as well as special offers or services you may be offering during this time, you will be providing a much-needed, reliable voice to give your customers a bit of hope and something to get them through the week.
A New Online Marketplace
One business is paving a tech pathway which will provide a much needed revenue source for some businesses.
In comes Chez Food - a new online marketplace where restaurants and venues can sell their excess produce to consumers at a discounted price.
Think Woolworths Online meets your local pub.
The marketplace is set to have everything from fresh meat, fruit and vegetables, as well as frozen meals to purchase from your favourite venue.
Founder of Chez Food, Murilo Fagundes, teamed up with leading APAC software firm Appello to develop the app, giving a much needed revenue stream to some businesses during this pandemic.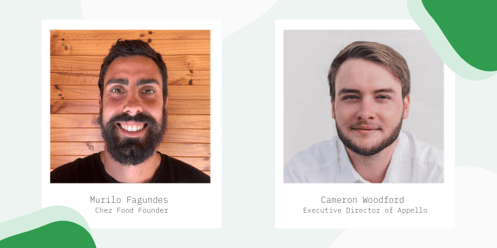 The minds behind Chez Food.
As a former sous chef at Bondi's sophisticated Blanca Bar & Dining, Fagundes is fast-tracking Alpha trials with his connections in Sydney's Eastern Suburbs.
He hopes that it will not only lend a helping hand to businesses in need, but also reduce the rate of food wastage in Australia, similar to organisations such as OzHarvest.
Getting Through as One
Even through current adversity, there's still a strong sense of community in the hospitality industry.
With most businesses facing the same struggles, we've seen great support been put in place from industry leaders and people who love hospitality through technology.
Some of the worlds greatest chefs are giving free online cooking lessons on social media

With hospo businesses worldwide cutting back on their expenditure, new research is being put into 'front desk management software' to improve the efficiency of businesses

#AllTogetherBeer is a brewery movement from Brooklyn, New York which invites any brewer, from any corner of the planet, to participate by providing the tools needed to make beer at the lowest possible cost, including an open-source recipe online, artwork, and a name
Current movements being made in the industry are not just changing the way we conduct business during this pandemic. We are, in a way, remodelling what hospitality can provide as a service and are building the foundation for what is going to be the next phase of the industry.