As we bid adieu to 2021, we want to take a minute and show some appreciation for the vibrant and resilient hospitality industry of Sydney.
It has been a difficult year for businesses, and a lot of venues that opened this year have not got as much recognition and success as they deserve.
So, to end this year on a sweeter note, we've listed our favourite restaurants, bars and cafés opened in 2021, and we hope you give them a try!
Here are our favourite venues of 2021: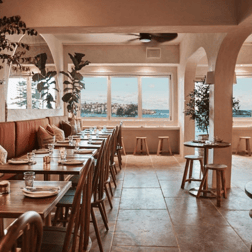 Toto, I have a feeling we're not in Bondi anymore! The beautifully done neutral interiors of Ikaria with the gorgeous sea views teleport you to Greek island destinations.
A seasonal meze menu, twists on Greek cocktails and a great ambiance make it Abby's favourite restaurant of 2021.
Aiming to be dynamic and diverse with the Aquna Murray Cod from Griffith, NSW, Josh Niland's latest venture 'Charcoal Fish' focuses on making grilled Australian fish more accessible.
Naomi loves the simplicity, and focus on fresh, sustainable fish & chips, which she thinks is going to be a big trend in 2022.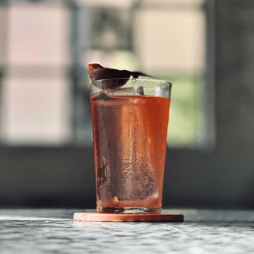 With the motto 'waste nothing, taste everything,' Re Bar is revolutionising Sydney's bar scene. With minimising environmental impact at its core, the cocktails are creative and out of the box.
Maddie admires their focus on sustainability, zero waste and repurposing food that would otherwise be thrown out!
Founded by the owners of Goodfella Coffee, Soulmate is a café with a simplistic yet inventive menu in Newtown.
Shauna recommends it for the great taste, good coffee, and cool vibes. She also admires how they visually share their journey on Instagram @soulmate.newtown.
Classic Italian fine dining, a'Mare by chef Alessandro Pavoni champions seasonal Australian produce and Italian ingredients at Crown, Sydney. The restaurant is definitely worth a visit for their "nostalgic Italian dishes."
Jess was taken by their excellent service and highly recommends their pesto, which is made in front of guests with a mortar and pestle.
Odd Culture, Newtown, has all day dining – European food with an Asian flare. The bar is loaded with wine, wild ale and seasonal cocktails.
Naturally, the branding and rustic fit-out was the first thing Grace was drawn to. The mix of seasonal cocktails and sharing platters make it a fantastic new spot to check out.
Chef David Tsireka's modern twists on Greek classics, combined with the family-vibe share tables, make Perama 2.0 a place you cannot miss.
The food, along with a mean Ouzo cocktail, is the reason it has made its way to the top of Stat's favourites.
Live music, cracking food and an extensive cocktails menu, The Barrie is the ideal bar to unwind at. Cherry on top: it's open till 4am!
Rosemary loves the convenience of it being just around the corner from the Distil office. It's her perfect spot for a post work knock-off. "Delicious cocktails always served up with a smile! I recommend trying their Lead Payment."
Tiny's is a (not so tiny) café offering Single-O coffee and sumptuous sandwiches by day, and a bar serving cocktails in tiny bottles by night.
Some of the reasons this one's Gareth's favourite of the year are – awesome coffee, brilliant sandos, a feature wall stacked with bottled cocktails and a neon sign that reads, "save water, drink cocktails."
We can't wait to see what Sydney's iconic hospitality landscape has in store for us in 2022. Here's to another year of eating, drinking, and good times!