If you search for social media trends for 2020, the one that stands out across all articles is the popularity of video content. Video has been found to be more engaging than static images on Facebook and Instagram, with both platforms gearing their layout and features towards stories and easily accessible slip-stream video.
The effectiveness of video can be linked to smart phones and the increase they've had in total daily electronic usage (roughly 65% in the United States in 2018).
We've seen first hand how paid video ads compare with image ads on both platforms - while we haven't noticed a significant difference in overall engagement, we can certainly see that paid videos are shown to a lot more people than static images on average.
The next time you're setting up video ads on Facebook or Instagram, here are some small things to consider that could help your videos perform better.
Use Vertical Videos on News Feeds
It's been shown that using vertical video over square video can be more cost effective on both Instagram and Facebook news feeds.
When comparing cost per click and cost per view of two identical ads, the vertical ad was shown to be more cost effective and achieve a higher watch rate in all cases.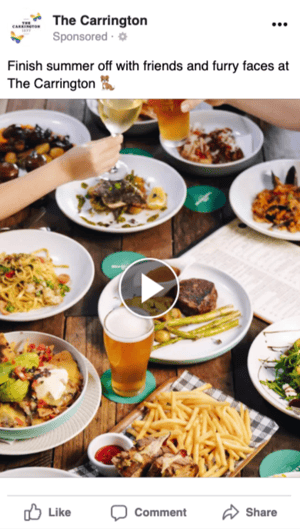 Organic or Polished Content?
There is no solid statistical significance that shows that organic, DIY videos perform better than polished, produced videos on average.
You will find however that your audience will most likely be more engaged with one type of video over another. In my experience with hospitality, the most engaging video content across social media has been staged GIF's of food or cocktails, as well as behind the scenes video.
The best way to gauge your audience is to test different styles of content and capitalise on what's popular with your audience.
Utilise Instagram Story Placement
It's been shown that Instagram stories are more cost effective than Facebook stories when comparing identical video ads. This could come down to more people using Instagram stories than Facebook stories.
Facebook were late adapters to the 'stories' trend, a function which seems a bit out of place for the platform. Facebook as a conglomerate however are trying to push more people to use Facebook stories by now allowing you to post your Instagram story directly to Facebook.
Outlined in our blog for Instagram Trends of 2020, Instagram stories are becoming more interactive for brands, allowing you to connect with your customer and add another layer to your brand. Utilising video placements in your Instagram stories is a no brainer.

Takeaways
Test your next set of Facebook and Instagram ads by using vertical videos to get the best bang for your buck. Check your cost per view and cost per clicks compared to your last campaigns and see if your results improve.
Keep utilising Instagram stories, particularly video to engage your audience and add to your brand.
Lastly, don't be afraid to try different styles of video content in your back-end campaigns - the worst that happens is your audience doesn't engage well with it. If they don't, try something new!