Think QR codes are dead? Think again. The 'quick response' code has well and truly resurrected. Here's a look into how the QR code is being used in the world of hospitality & social media.

How the Hospitality Industry is Using QR Codes
COVID Check-In
As the NSW Government has made it mandatory for all hospitality businesses to electronically record contact details of everyone entering the venue, businesses have had to find efficient ways to do this and make it more convenient for their customers. We've listed a number of free or low-cost websites and applications to do this in our COVID Safe Check-in Apps.
Essentially, the customer scans the QR code and is prompted to enter their details in through the generated form. They fill in the details, hit save, and all the hard work is done!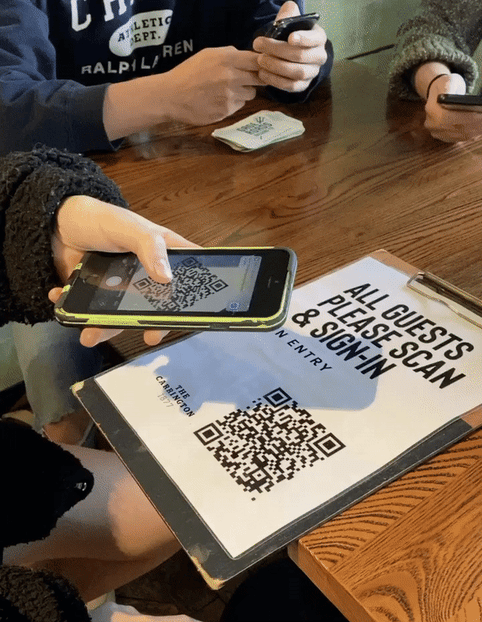 A simple solution to COVID check-ins at The Carrington
Merivale:
DIY Meal Kit Instructions
Restaurants offering meal kits exploded in popularity at the height of the Coronavirus lock down. Even with restrictions easing, these do-it-yourself cooking kits have stayed on as another source of income to hospitality venues. We previously covered a few of our favourites in our blog Supporting Sydney Venues with Meal Kits.
Merivale has simplified their semi-prepared Merivale at Home kits even more for their customers by including a QR code that opens up the recipe instructions when scanned. This method removes the wasteful printing of one-time-use instructions and allows for one less thing to be packed within their kits.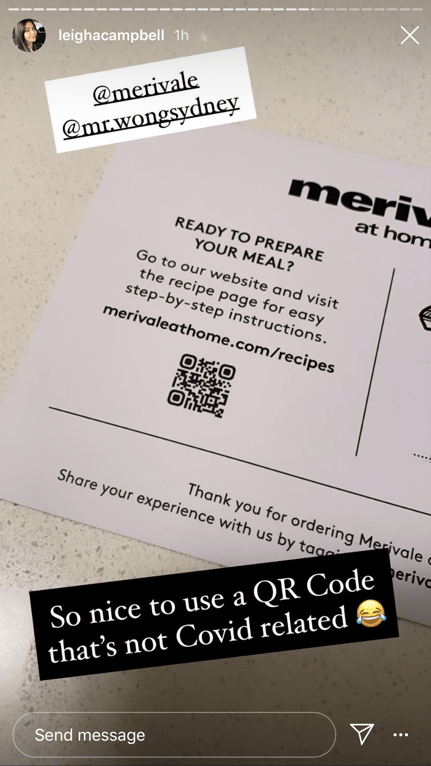 Instagram Story from @leighacampell demonstrating the QR code recipe. They have included a good old fashioned URL as well, but the QR code eliminates typing this out manually.
Table Ordering and Online Menus
Now that smartphones are able to scan QR codes simply through the camera app, the barrier of downloading a completely new app is removed. Customers can easily scan a QR code, view an online menu, order & pay all on their phone. Online menus may also an easy way to upsell to your customer, with images of dishes readily available and all the options in front of their eyes.
Customers ordering through online menus also removes the need to wait for an available staff member to write down orders and enter into the POS. Table ordering can also efficiently split bills and process payments - all very valuable traits especially during the time of Coronavirus.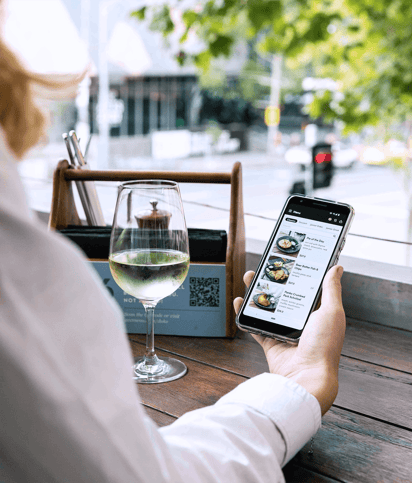 There are a number of digital menu apps using QR codes, including Melbourne's Mr Yum.
The app allows customers to scan a QR code for in-venue orders as well as delivery & pick-up.
Instagram's New QR Code Feature
Following in the footsteps of Snapchat, LinkedIn and a number of other social platforms that have already implemented this feature, Instagram has launched their version of the QR code.
Users can generate their QR code within the app, customise it & share it to conveniently let others find their account. Businesses with physical locations can also print this out so customers can easily scan and follow their Instagram page while in venue.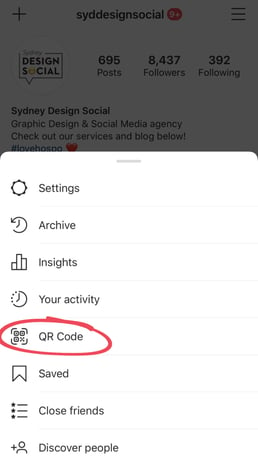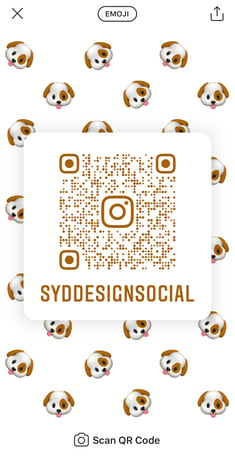 Generate and customise your QR code by tapping the hamburger icon on your profile.
Test out this QR code by scanning with your camera app!
This isn't Instagram's first experiment with scannable codes. In 2018, they tested out 'Nametags' which was a similar system but the code could only be scanned within Instagram. With a proper QR code, users can scan without all the extra taps within an app.
Stay up to date with the latest news in social media, hospitality & more!